11 years later, SimCity 4 hits the Mac App Store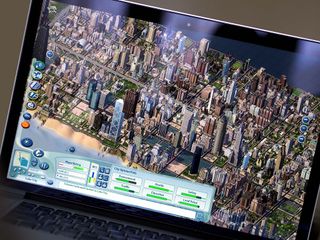 Sim City 4 Deluxe Edition has once again arrived on the Mac and this time around, the game has been updated to support OS X 10.8.5 Mountain Lion and above. Originally released on the Mac back in 2003 and on Steam in 2010, the new release includes bug fixes, performance enhancements, and other updates such as native resolution support. As a package, SimCity 4: Deluxe Edition includes the best-selling SimCity 4 and SimCity 4: Rush Hour Expansion Pack.
Some key new features in this updated version of SimCity 4:
Full control over the environment and the ability to unleash natural disasters to create (and destroy) a world all your own.
Ability to deploy emergency vehicles and join in the action as they battle blazes, mobs, and more.
New transportation options, including monorail and ferry system.
Interconnectivity with The Sims, allowing players to import their sims into their city.
If you're looking to purchase the new release, you'll find it on the Mac App Store right now with pricing set at $19.99. If you worried about space, the game weighs in at only 1.14GB so, not only is it a fun way to waste some time it's not going to take up much of your hard drive. And, of course, there's the new revamped SimCity that you can also play, though it's both more connected and insular than the older version.
Editor-at-Large at Mobile Nations, gadget junkie, energy drinker, ranter.
$20?! How about they release a DECENT intel update for all of the people who've owned the game for the last decade? I loved it, but intel processor switch killed it and their few and far between half assed patches didn't do much to help the instabilities that came from the previous patches.

I have SimCity 4 & Rush Hour, in their original boxing, in this draw right here - It's be nice if there was a way to input the game codes to get a download...
But I still haven't broken the latest Simcity in yet!
xD

I'm okay with this, as the only other SimCity game I have is original and 2000

Will it run on the current Mac minis?
Get the best of iMore in in your inbox, every day!
Thank you for signing up to iMore. You will receive a verification email shortly.
There was a problem. Please refresh the page and try again.