16GB, 32GB, or 64GB: Which iPhone 4S capacity should you get?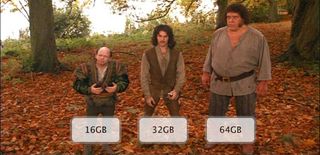 So you know you're getting an iPhone 4S, and you've chosen which carrier to get it on, now you need to decide which storage capacity you wish -- 16GB, 32GB, or 64GB?
No problem. Let's break it down, shall we?
It would be nice if we could just walk into the Apple store, find a demo iPhone 4S, and say "Siri, based on my exact needs, which size iPhone 4S should I get?" but sadly even Siri isn't that artificially intelligent... yet. There are a few things we can look at, however, to help decide.
The current US prices for iPhone 4, with full carrier subsidies are:
16GB: $199 or $12.44 a GB
32GB: $299 or $9.34 a GB
64GB: $399 or $6.23 a GB
It looks like you can pay 2x the price for 4x the storage, a pretty sweet deal, but it doesn't really work out like that. After $199, Apple is basically getting you to pay a $100 premium for an addition 16GB of storage (check out how much a 16GB SD card or thumb drive costs by way of comparison). The $200 premium for an additional 48GB of storage is more interesting if only because the double density NAND Flash Apple is using to reach that size is probably a bit more expensive for them. But $200 more expensive? (Hey, that's where Apple's fat margins come from.)
So if you're looking at this purely from a "how can I pay Apple as little as possible" perspective, the baseline 16GB model is usually the way to go. Of course, there are a lot of other factors to consider.
iCloud promises to give us all unlimited online storage for iTunes purchased content -- iBooks, music, movies, TV shows, and apps, and 5GB of additional storage for backups, data, etc. You can also purchase more iCloud storage for the following yearly fees:
10GB: $20/year
20GB: $40/year
50GB: $100/year
This might make it tempting to save some $$$ up front on onboard storage and make up for it with the free 5GB iCloud, with the option to buy more storage as a safety blanket.
It's not a crazy idea but it's important to remember that online storage isn't always as available, fast, and convenient as onboard storage. For example, you can't just play a movie from iCloud, you have to download it at the same time you watch it, which means you have to have enough space available on your iPhone 4S to handle the download. If you want to watch a lot of movies, you may have to watch, delete, watch, delete, over and over again.
iCloud isn't as open as things like Dropbox, so you can only really store what Apple lets you. If your movies and videos don't come from iTunes, that's an important consideration. Also, in our tests iCloud's free 5GB could get filled up pretty quickly by photos and especially videos.
Bottom line, iCloud means you can get away with managing more content on your device, but you still want to have enough local storage for what you need, when you need it.
8mp photos and 1080p video
iPhone 4S can take 8 megapixel photos and shoot 1080p video and those can be some big files. Justin Horn of When Will Apple did the math on the videos and worked out:
I take a ton of photos and videos on my iPhone 4 16GB and run out of space all the time. It's a pain in the butt to have to go through and figure out what to delete if I'm not near my computer and can't sync stuff of, so if you're really into the camera, that's something you need to consider.
The other thing that can fill up our iPhone quickly is content.
Games can be big, and with iPhone 4S' Apple A5 processor, we might see even bigger ones with more textures and richer environments. Infinity Blade is 600MB, for example. How big will Infinity Blade 2 be?
iTunes movies can be 1-3GB in size for SD depending on the length. If you prefer watching HD, they can be 3-5GB.
iTunes TV shows can be a quarter to half the size of movies, but more than make up for it by the number of episodes typically available.
If you get your movies and TV shows from somewhere other than iTunes, you're still looking at about 400MB an hour for SD and over 1GB (sometimes way over) an hour for HD.
Music files are generally quite small but can add up as well, especially if you have lots and lots of albums you want to keep with you everywhere.
If you don't use a lot of apps, if you don't want to have a lot of movies and TV shows, or a huge amount of music, if you don't intend to shoot and keep very much 8mp photos or 1080p video on your iPhone, you'll probably be okay with 16GB.
Some people like to keep their iPhones light and do all their gaming and media on their iPad, and some people manage their photos and videos very well, transferring them to their computers regularly and reliably.
If you keep your iPhone lean, you can probably save yourself some cash and get by on 16GB.
If the iPhone is your primary device, if you play games on it and watch movies and TV shows on it, if you have a decent sized music collection you want to keep with you, and if you shoot an average amount of photos and videos, 32GB is probably your sweet spot.
Some people like to have one device that, while it doesn't do everything all the time, it's capable enough to do most things most of the time. As long as there's some extra space to give extra time to managing apps and content, like Goldilocks it feels just right.
If you do a fair but not overwhelming amount of stuff on your iPhone, your probably better off going for 32GB.
If you're a power user who wants to keep as much as possible for as long as possible, if you have a large amount of apps and games, TV and movies, and a huge music collection you simply have to have with you all the time, or you shoot photos and video almost non stop and don't want to have to bother transferring it all the time... we'll, you've probably been waiting for a 64GB option for a while now!
Some people really do want their iPhone to do everything, all of the time, and never (or rarely) have to worry about running out of space. They probably want 128GB -- or even 256GB if they could get it! -- but they'll use the most they can, whenever they can.
If you really feel like you need it, you probably didn't need me to tell you so, and you've already decided you're getting 64GB. Enjoy!
What if you choose the wrong size?
Remember, in most places you have time to try out your new iPhone 4S and return it if you don't like it. Make sure, as soon as possible, you put your iPhone 4S to realistic use. Load up all the apps and games you want with you, load up your movies and TV shows, go out and take some photos and shoot some video. Give it a complete and thorough workout and see.
If it feels like you got too much storage, say 64GB and you haven't even gone past 2GB, or if you got too little, say you're already at 15GB of 16GB, then take your iPhone 4S back and exchange it for one that better suits your needs.
If you come to this realization too late, after the exchange period is over, remember you can buy additional iCloud storage, or look at other options like Dropbox which will let you keep your stuff available online and potentially free up some much needed space on your iPhone.
If you're still not sure, hit up our iPhone 4S Forums to get the help you need to make up your mind.
Senior Editor at iMore and a practicing therapist specializing in stress and anxiety. She speaks everywhere from conferences to corporations, co-host of Vector and Isometric podcasts, follow her on Twitter @Georgia_Dow and check out her series at anxiety-videos.com.
I ORDERED THE 16GB ONLY BECAUSE I KNOW iPHONE WILL COME OUT WITH A BIGGER AND BETTER iPHONE NEXT YEAR :-)

I ordered the White in 64GB

should i get the 32gb or the 64gb

Iphone 4S 64GB ...$535,
Iphone 4S 32GB ...$475,
Iphone 4S 16GB ...$450,
Iphone 4G/HD 32GB .$400,
Iphone 4G/HD 16GB .$350,
Ipad 2 3G WI-FI 64GB ...$600,
Ipad 2 3G WI-FI 32GB ...$550,
Samsung Galaxy S 2 ....$330,
Samsung Galaxy Note GT-N7000 ...$390,
For details contact through skype or icq..,
skype :blaketonystore,blaketonystore@gmail.com
icq: 617476257

hello.. m from india an i want to buy 4s.... contact me 919923870200..
thank you

Hi will have the Apple iPhone here in our company kindly reply to this Email bestcellphonestore@yahoo.com

If you have 75+ apps, 1500+ songs and 1000+ pics, go for 64 gb

Another factor is resale value. The 64gb will fetch a much higher price on Ebay whent he time comes.

But not much higher. Ask those ipad 64gb users who took a big hit on reselling when the new one came out. Regardless, this isn't a good reason to spend more.

I'm not psyched to spend 400 bucks on a phone, even if it is awesome. I think I'll have to settle for the 16gb or wait till my contract needs renewed so I can hopefully get some credit towards buying one of these bad boys!

Princess Bride!!! love it

That picture is priceless!

The Princess Bride pic takes this post to a whole other level

Lol love the princess bride pic. TiPb rules!

I went for the 64 GB so I won't have to worry about running out of memory. I have the 32 GB iPhone 4 now and I have never used up all the memory but I have come close so I thought why not just have twice as much and not have to worry about it. I do take a lot of photos and I will need the room for that as well.

as a first time user of iphone (or even any apple product) who was anticipating purchasing the 16 gig model i appreciate and thank you for
this article...i will be moving up to the 32 gig which should cover my needs with some to spare...a tip of daSquid hat to youse

I feel that if you think you need the extra storage then the 64gb is a better deal then the 32. My problem is I think I can talk my wife into letting me get the $300 dollar phone, but the $400 may seem excessive. Honestly I don't need the 64. Its just the principle of paying an extra $100 for another 16gb when $200 gets you and extra 48.

You are paying $100 to double the space from 32GB to 64GB.

why don't they just put a poll in the post rather than making people use the forum?

I currently use cloud storage to handle my pics and documents, and am good about transferring large bits of video to my PC. I stream my home music library using Audiogalaxy, and my video library with Air Video. So I can keep my 16gb phone light.

Those 1080p video clips are gonna be monsters, I don't wanna back them up to iCloud.

I bought the 64GB version because of the HD Video. I sure hope it is worth it. I am expecting great things out of the camera. There was a company about a 12-18 months ago who had developed a new CMOS image sensor that was ultra-low-light capable compared with anyone else. I have been waiting for it to come out in a phone, which was its target audience. Can't remember the name of the company, but I sure hope it is in the new iPhone camera.

Just ordered mine!.... 32gb for me and a white 16gb for the wife. New contract with Vodafone UK. Selling the old ones plus the Vodafone £118 credit back, overall the 2 phones will cost me nothing!... better still, just had text saying it's shipped for delivery Monday 10th please be available to sign blah blah, but I'm sure that bit m,use be a mistake.

I went for the 16gb. I don't really keep much music on the phone, and I use the dropbox app to transfer my pics off the phone right after I take them.

Got a 64 black. I wills always go for the most storage I can get.

I've got my wife heavily into iCloud on her iPhone 4 already. I use the cloud quite a bit on my Android. I'm considering grabbing one of these & frankly the 16GB should fill the bill quite nicely.

Rhapsody +Netflix + iCloud = 16gb

Excellent write up. Very informative, thanks @GeorgiaTIPB!

I went with the 32 GB option this time. My 3GS is 16 GB and I found that I was running out of space between my music and apps.
Now that iCloud and iTunes Match are available (and I am already on both), I probably could have gone with another 16 GB iPhone. But, I remember saying to myself two years ago that 16 GB was way more than I needed and there would be no way I would fill it up. I should have remembered the same thought I had in the early 80's when I got my first computer that had a hard drive (yes, I am from the era where we once only had floppy drives...I'll be 40 tomorrow). I had a whopping 20 MB hard drive. How on earth was I going to fill that up?
So, I am hoping that 32 GB plus iCloud will get me through the next two years.

lol, I had a 10 GB hard drive, so I know what you mean. I am trying to decide whether to keep the 16GB or go to the 32, decisions, decisions, decisions.

I share your dilemma. I've never filled up my 3GS. However, I have had to swap Pictures from time to time. Moreover, the memory size of the new camera is more memory intensive. Tough to decide. I'd hate to come up short, but will probably be upgrading in two years so 64G is too much. I think 32G should be safe.

That was really helpful...Thanks!!

The girlfriend always says bigger is better. Then she looks disappointedly at me... :(

Huge picture nerd right here so I ordered the 64 figured why not plus in the end its a higher resale value, but if you use spotify or netflix on a regular basis you can deff get away with 16gb

Does anyone know if the weight difference will be much 16G vs 64G?

it will be negligible, if any

Does it make much sense to get the 64GB with everything being backed up to computers via iCloud?

How many songs can I store on the iPhone 4s with 16gb?

I had to go with the 64gb. Considering that I will probably have to wait at least 2 years before getting my next iPhone. I wanted to future proof my purchase. I have a 3gs with 16gb of storage now, and I'm always running out of space. Not to mention I have to check the "convert music to lower bit rate" option in iTunes just to get my music collection over to my phone. It was hard to come up with the extra 200.00, but in the long run, I think it will be worth it.

64GB For Me..
- Games w/New A5 Dual Core Processor (500mb - 1GB) - Popular Titles
- 60mins 1080p Recording = 10.4GB, (I'd like at least 2 Hours b4 Dumping)
- Jailbreaking Tweaks, Themes and stuff (1GB, [Tops])
- Music 5mb Track (HQ) - 200 Tracks Per GB, Say 400 Tracks [Tops].
- Videos (Several Episodes, 300-500mb per episode)
- 8 episodes @ 500mb = 4GB approx, ----- Now were up to 32GB ------- (Approx, Give or Take) Power User's Collection of tons of apps (4gb) Massive Photo & Video Collection (20gb) (Remember! 1080p!!) 1000 HQ Music Tracks = (5gb) Storage Device Usage, Additional Jailbreaking Stuff (3GB) ------ Thats Your Lot --------- - I'm choosing the 64GBm I'd rather have more then less, plus I love my gadgets, videos and music. And Im definitely gonna jailbreak it as soon as I can.
Anil - JustAnil.com (Coming Soon!)

Why not get an android and use an SD card. Get what you need and if you need more, buy a larger SD. That way, your not stuck with a useless iphone out of memory.
Learned the hard way, ex-iphone user

Well, because I like having a far superior LCD. I like having a far superior camera. I like having a far superior music device. I like having access to a far superior App store. And I like Siri. And i like that my phone is on the same platform as my laptop But thanks for the advice.

the pic is priceless...subliminal messages if i know one. NOT midget one or the fat one, so go for the normal looking 32g

Going for the 64GB, I got the 32 Iphone 4, now I am withing the 30 return so for $100, the 64GB for me is an easy choice. Went to the AT&T store and they said they should have the 64GB in tomorrow by 1:00PM, very cool can't wait.

Very useful information!
Thanks

I don't know people need more than 16GB really. I have about 1100 songs, 130 apps and 40 ringtones on my iPhone 4s and I am only using 4GB of space. So I would imagine that I could load about ... ( if you take out 3GB that you don't get. 16GB = 13GB) 3300 songs, 390 apps, and 120 ringtones. I think I also have like 100 pics though I don't sync my pics to iTunes. So add 300 pictures.
What are you people doing with your phones!! get an iPad and a laptop.

1100 songs? Well, you're obviously not hugely into music. I have about 40GB of songs... would love to have it all on my phone. But would I pay an extra $100 to have it all on my phone with a 64GB model? hmmm...
Why does Apple have to crank up that price so much? 32GB at $299 and 64GB at $399? The extra 32GB only costs Apple like $15 extra in parts per phone making $399 a little steep. $349 would be more fair.
But who wants to have a $400 phone on them? THAT'S THE REAL QUESTION!

Thanks im30vaughn for the break down. I was worried I would need to get the 32Gb or higher.(ie spend more of my hard earned cash). Your break down helped out alot. I wont need more than 500 songs on my phone and found your post very helpful. Keep posting!

You keep using this word. I do not think in means what you think it means.

This is exactly what is going on with me.
I am going tomorrow to exchange mine for a 64gb.

Any chance, once jailbroken, to have the camera connection kit working as an external storage device?

IPHONE 4S 16G slower when use internet than 32G?

The performance is the same regardless of memory size you choose.

than why you say phone with bigger memory wil be better, does it have better response or web viewing ?

well written. thanks for making my decision easier.

Something to keep in mind about iCloud is it matters how your connected. Your 3G data usage may go through the roof $$$or worse if you cannot connect at all.
Best to worst situation ..
Fast wifi. (Best performance and low cost)
3G. (Watch out for higher data usage,charges)
Edge. (Your out of luck, edge is too slow)
iCloud is down. (Your out of luck period)
Having a phone with enough memory is instant gratification regardless of if you have a data connection or not.
Buying a 16GB cheaper phone and depending on icloud will not be instant gratification. Even with the best connection there will be a wait...
You could actually wind up spending more on the increased data usage than it would have cost buying a phone with more memory in the first place.

Thanks, now I can choose as for the first time I understand this secret. (I'm old) Young people are so helpful.
M

Thanks, now I can choose as for the first time I understand this secret. (I'm old) Young people are so helpful.
M

Thanks, now I can choose as for the first time I understand this secret. (I'm old) Young people are so helpful.
M

I hate to sound so generic, but thanks for this article. It gave me the exact perspective I was looking for. I'd just ordered a 32GB and was feeling like I'd maybe chosen the wrong one - but now I feel much better. So again, thanks.

I use Audible.com for audio books. Will I be able to download them and other books on tape from my computer... like i can to my ipod? If so I may want to consider more than 16GB

Thank you--very well written--can actually understand--appreciate it!

I was suggested this web site by my cousin. I am now not sure whether or not this put up is written via him as no one else realize such unique approximately my trouble. You're amazing! Thanks!

Very Informative! Thanks!

Return of The King... Foreverwww.musicwillchangeforever.com

what if you have a smartphone but you want an iphone 4s?!?!?!
what do i do?
help?

32 gb thats what you need get love do it

i have the choice between 32GB and 64GB but i dont know if i want to blow away $100 just to have double the capacity. I have a ipad 2 with 64GB and its pretty damn full (i have 2 GB left), but thats just because i have so many movies on it. What im asking is, is there any point of loading movies onto you iPhone, or is the screen just way to small and the battery capacity crap...??
i rly need help on this... and all of u guy, give me your advice, like i said, i wud pay for a 64GB but i just want to know if it makes sense
cheers

I believe i have read somewhere that you can connect the iPhone to your TV and watch the movies on your phone on the TV. That is pretty cool!
Other that that, I am looking forward to getting my first smartphone and first Apple product at the same time (i have a 3 years old Nokia right now).

im getting 32gb hip hip hoara you rock

Amazing topic, really help me. I´m going for the 32gb.

Hi i am kavin, its my first occasion to commenting anyplace, when i read this article i thought i could also create comment due to this good paragraph.

I'm so glad I found this information. It's giving me a lot to think about before I get my new iPhone!! I thought I knew exactly which one I wanted, but now I'm not so sure!! Thanks for all the great info!! (and I'll be sharing this with my friends who are wanting iPhones also)

Dear Sir,
Good day,
I have been regularly buying phones for the officials of my company.
About a week back I purchased Apple I Phone 4 S 16 GB and on a very first day realized that the battery last only for 2 hours, I have taken the phone to the Tressor system, Chakkarpur, Gurgaon the authorized service center of Apple and understand that this problem is faced by number of other users and it will take them 3 - 4 days for replacement. I will like to highlight following:
a. The company like Apple selling one of the most expensive phone in India has opened a service center in a village Chakkarpur where to arrive is a great deal of time with no signage, Incidentally it took me 1 hour to locate the service center.
b. During my presence in the service center of 45 minutes, there were minimum 5 clients having similar problem, Incidentally some of them had phone replaced 2 - 3 times as the battery does not last for more than 2 - 3 hours.
c. Apple is replacing the phone and needs 3 - 4 days, how they expect client to manage for these days as in I phone slim card is used and it is again very cumbersome to get it changed to the normal sim card.
I look forward for your comments.
Regards,

I feel like I should get 32 but I always think size matters should I get 64?
I have an 8 gb 4 I hate deleting stuff because I sometimes want it. I went through 8 gb of data in just 2 months. WHAT SHOULD I GET?

i have a iphone 4s for sale new in box for 400

i will be buying my iphone very soon but i dont know which one to get. she i get the black or the white, the 16 gig, 32gig, or the 64gig. i stress about it everyday and i still dont know. what should i do i really need help like asap...WHICH GIG DO YOU THING THE STARS GET???

I chose the 64 gb and I'm happy, i have a few books, 2,879 songs, 50 music videos, 130 apps, a few games and most are utilities, about 10 keynote docs, an 5 pages docs, and 1876 iphoto pictures, plus photostream pics (it does take a few memory out of your device) plus like 100 pics in cameraroll, and game saves. I also have HD games like call of duty zombie keynote, pages, imovie, iphoto, need for speed etc... I have about 28 gb free space, the weird part is that i'm just a HS student (sophomore)

hi. i can not decide, i need to think more and more....

iwant to buy iphone 4gs 16 gb

i have my i phone 4 s 64 gb this weekend

Howw do you use up 64 Gigs???? That I don't get... But My problem is I'm stuck choosing between a 16GB and a 32GB. I think I have about 1000 songs on my iPod now, about 30 apps, and like 1 movie, I'm not sure I'll use up 32GB, Help?
Reply

Good day very nice web site!! Guy .. Beautiful .. Amazing .. I'll bookmark your web site and take the feeds also?I am happy to seek out a lot of helpful info here in the submit, we want develop extra strategies on this regard, thanks for sharing. . . . . .

If you are looking for a good deal and you have Sprint as your carrier you can save $50 on the I4s until September 15th... Loving my I4s 64 g...

Buy iPhone 4S and other Apple products. More details on ruslan.smorchkov@gmail.com

I am trying to decide which i phone 5 to get. I am not in to music or watching movies on my phone. I take a fair amount of pics and play games a lot. Should I get the 16, 32, or 64GB??

I only have about 25 apps, no games, no videos, less than 10 pictures and I have 9/16GB remaining. I'm on the fence as to whether that amount of space will be sufficient for me, but considering that 99% of my pics/videos are taken on a Canon S95 and my PC runs 24/7 (easy dumping), I'll probably be fine.
Get the best of iMore in in your inbox, every day!
Thank you for signing up to iMore. You will receive a verification email shortly.
There was a problem. Please refresh the page and try again.