1Password 7 for Mac is here, adds drag-and-drop, new design, more security features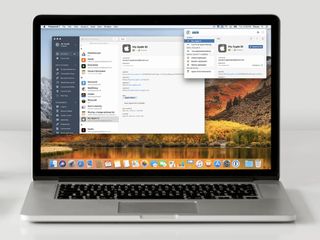 AgileBits just launched the latest version of 1Password for Mac (opens in new tab) and it's filled to the brim with new features, including new organization options, Watchtower improvements, a new design, and an overhaul of 1Password Mini.
1Password 7 for Mac - Download Now (opens in new tab)
I've had the immense pleasure of using 1Password 7 (opens in new tab) for Mac for a while now and I'm thrilled to say it's now available for everyone! The latest version of my favorite password manager adds heaps of new features and improvements that make the app that much easier, swifter, and more secure to use.
It all starts with an overhaul of 1Password mini, the little app that runs in the background, providing passwords and auto-filled logins in the browser. As of 1Password 7, though, mini can help you fill in passwords for apps — heck, it even supports drag and drop functionality. Now every. single. time. iTunes asks you to authenticate, you can use 1Password mini to drag and drop your login details. Mini is also getting a lot more powerful — you can edit your passwords, add documents, and more.
1Password 7 has a fresh coat of paint, too. Along with detailed information for individual items, you'll also notice richer notes and support for tagging. 1Password 7 also supports Markdown in notes and sports a new custom font called Courier Prime Bits.
In what I'd argue is the best update to 1Password, the app's Watchtower service is getting even more powerful. Watchtower already warned you when your passwords were weak, reused, and potentially compromised — now it does a whole lot more. Using the haveibeenpwned service, 1Password 7 will alert you when any of your passwords have been breached. The app will also shame you into adding two-factor authentication! Using the twofactorauth.org service, the app will check to see if you've added 2FA to your logins. Lastly, it'll let you know when sites with logins are using insecure connections over HTTP.
There are also several under-the-hood improvements:
1Password and 1Password mini have been combined into a single process. This boosts performance and increases 1Password launch times. Basically, everything runs faster and better.
1Password now uses Apple's Secure Enclave to protect your master password.
Syncing data using 1Password memberships is more secure, too!
There are many, many improvements. You can learn more about the all-new iPassword 7 for Mac over on the AgileBits blog (opens in new tab). 1Password 7 for Mac is free for everyone who has a 1Password membership. Those with a standalone license can get 1Password 7 for $64.99. That said, AgileBits is running a launch special during which licenses will cost $49.99.
1Password 7 for Mac - Download Now (opens in new tab)
Get the best of iMore in in your inbox, every day!
Mikah Sargent is Senior Editor at Mobile Nations. When he's not bothering his chihuahuas, Mikah spends entirely too much time and money on HomeKit products. You can follow him on Twitter at @mikahsargent if you're so inclined.
Thank you for the fantastic review, Mikah! ❤️

This inna review but an ad you paid for and you know it.
I'm a long time 1password user but I won't be forced into yet another subscription just because 1 Password wants me to and is being deceptive abOUT IT.

Unlike our competitors we don't pay for reviews. We have never taken a dime of Venture Capital so we don't have money to burn on silly activities like that.

1Password's features are increasingly being put behind a subscription wall. The people that originally paid the one-off price have basically been ignored. I was a loyal user of 1Password, I loved the application, but I can't support this awful business practice.

Hi Danny, I'm sorry to hear this. You can see from the announcement post that most new features are available to both subscribers and license holders. There are some features that require a connection to the server and in those cases we do indeed require a membership to use them. 1Password X is a great example of this as it needs to be able to run on Chrome Books where we have no local app to connect to.

It's nice to see that standalone licenses are still available for purchase, and that most features are still available to license holders. I can accept the subscription model being necessary for the features that require it, it just appears that license holders are being phased out, but maybe I'm wrong.

It's certainly understandable as we're quite smitten with memberships and aren't shy to write about them and explain why they're the best for the majority of people. But we've heard from many users that they prefer to purchase software the good 'ol fashioned way so we're doing that, too. As long as people are happy to pay good money for good software, we'll happily sell it to them. 🙂

You are being ignored because they have adopted a new business model and they want you to get on board or stop crying about it and move on to something cheaper. Innovation isn't free, so pay or move on.

You must have failed basic math because its not cheaper.
There are many other options besides 1password and they have been flat out lying and deceptive about this upgrade.

This is the best update to 1Password?! No standalone licenses from the app store is a massive step backwards for those of us that prefer this mechanism. This is highly consequential information and a very strange omission from iMore.

Yeah it sucks that we needed to make the Mac App Store different than our direct download. It certainly looks bad on the surface and gets the "OMG SUBSCRIPTIONS COME FROM SATAN HIMSELF" arguments roaring. Most readers don't ever get to the part where we're still selling standalone licenses for those who download directly from us. The thing is, we didn't really have much choice here. When the Mac App Store was announced we worked our tails off to get 1Password there because we knew it was awesome and we believed that it was just the beginning. So removing 1Password from the Mac App Store was never an option. But what about paid upgrades? "If the App Store is this cool for the first release, just imagine how amazing it will be in a few years. Paid upgrades will be here by time 1Password 5 rolls around." – Me, circa 2012, while getting 1Password 4 ready for the Mac App Store. Fast forward to today and the Mac App Store has kept upgrade pricing the way it was on launch day and added support for Apple Subscriptions. We already waited 5 years for a paid upgrade and couldn't wait any longer. Our subscriptions work perfectly well for the current Mac App Store environment while licenses do not, so we took the plunge. We have a post on our blog that details our thought process on this titled "Getting 1Password 7 ready for the Mac App Store". It explains our thought process and why we chose to only sell licenses through our website.

Another lie from 1password.

I'm sorry but I don't understand what you're trying to say? I read the blog post but it doesn't explain how you were left with no choice? A choice would be to leave it in the app store and allow standalone licenses. A choice would be to not do this. Those are two choices you clearly had and you chose one. I keep seeing responses from agilebits that this will be better for everyone in the long term, or the licensing is so confusing for people, or subscriptions are the best way to use 1password (clearly not true for many people, but the rhetoric persists). The fact that standalone licenses still exist outside of the app store is good, points for that, but to imply people are demonising subscriptions or the choice to deny standalone licenses via the app store because they don't understand this is ridiculous. I've also heard standalone licenses are considered an advanced option now by agilebits. Great! Why hide it then? Why not make it a clear option on the website. Seems needlessly passive aggressive. That blog post also shows the extent to which agilebits are going to to misrepresent things. It states that "1Password subscriptions are eligible for free upgrades". Now is that a lie? Because it sure seems like one, given the subscription fee is paying for those upgrades. But lets try to stay positive and being generous, i'll say it's not a lie. So if not a lie, you aren't charging subscriptions for upgrades, but standalone licenses you are. So if you're going to be consistent, take the "upgrade" price that the app store wont let you charge and make it the permanent price, bringing better parity between the two. Problem solved. Of course that wont happen because subscriptions dont get free upgrades do they. So you don't want to be made out to be the bad guys but youre engaging in propaganda to make it seem like those that want the standalone licenses are legacy that don't want to pay for anything, or they just don't understand there's a better way the poor saps. Or the other argument seems to be the fact that they're available outside the app store, so stop you're whining, your view is invalid. The discounted upgrade price on standalone licenses is temporary outside the app store is it not? So you could do the same thing within the app store, could you not? Whats the difference? Now, its a business and you can run it any way you want, but just say it already ... you're incapable of describing and managing your own licensing and pricing model adequately so you're squeezing out stand alone license users slowly but surely. Because its better for everyone, right? Seems very very sneaky to me. Alot of people know what the subscription model is and fully understand it. Alot of people have no problem with paying full price for the software. Alot of people want to pay full price for a standalone license in the most convenient way. I really don't mean to be negative, I actually love 1password, and if you're making choices that indicate I'm not a customer you want to provide a service to anymore (or simply can't figure out how to maintain existing customers while enticing new ones) so be it. It's the way you're doing it that is irritating. (When I say you I mean many of the agilebits representatives on your own forums and the various mac/apple based sites). It's particularly irritating because you are otherwise a great company seemingly full of very nice intelligent people.

I'm in the same boat here. I love 1Password, but I want to be assured that I won't be left behind being someone who refuses to pay a subscription. There are so many great apps such as:
- Tweetbot
- Pixelmator (Pro)
- Transmit
- Coda
- Paw
- Affinity Designer/Photo
- iA Writer
- Querious
- CARROT Weather
- DaisyDisk …and more, all of these do not use a subscription model. If a paid upgrade comes out for one of these apps, I have the choice of sticking with the current version. All these products are sustainable without a subscription model. I accept that 1Password may need the subscription model for certain features as mentioned above, but it should be an added extra JUST for the features that require the subscription model (i.e. access to a server that AgileBits maintains or has to pay for themselves), and it shouldn't be the main pricing model.

I was a bit confused as to where to find the standalone license, turns out it's only in the non-Mac App Store version of the application. You can also get it here https://1password.onfastspring.com/1password-7-for-mac
Thank you for signing up to iMore. You will receive a verification email shortly.
There was a problem. Please refresh the page and try again.