2016 MacBook Pro event preview!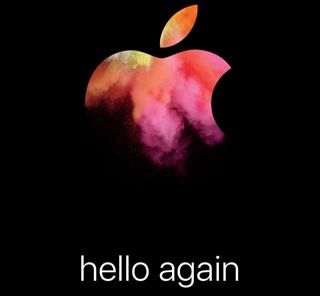 The invitations are out! After skipping October last year and saying goodbye to Town Hall back in March, Apple is opening up their Infinite Loop venue one last time, for one more event. Widely anticipated is the new MacBook Pro, but hope are also high for updated iMacs, Macs Mini, Macs Pro, 5K displays, and more.
iMore will be there to bring it all to you live, but for now, here are my best guesses!
When is it?
Thursday, October 27, 2016 starting at 10 a.m. PT/1 p.m. ET.
Will Apple stream it?
They've streamed every event for the last few years, so it's close to a lock you'll be able to watch on Apple.com or through the Events app on Apple TV.
Where is the event?
Town Hall, part of Apple's Infinite Loop campus in Cupertino, California.
So, new MacBook Pro, right? RIGHT?!
Right!
Apple last updated the 13-inch MacBook Pro back in March of 2015 with then-current generation Intel Broadwell processors. There were no chips appropriate for the 15-inch MacBook Pro at the time, so in May of 2016 Apple updated it with previous-generation Haswell processors. A month later, Intel shipped those chips. That's a stark reminder of how dependent Macs remain on Intel processor roadmaps — and sometimes the roadmaps of graphics processor vendors like AMD as well.
Intel has since introduced the next-generation Skylake, which Apple adopted it for the 12-inch MacBook in March of 2015, but hasn't updated either the 13-inch or 15-inch MacBooks Pro with it.
Microsoft did choose to go with Skylake for its SurfaceBook convertible, but it was plagued with issues, including a failure for the machines to sleep, which caused them to get incredibly hot in bags.
Like with the MacBooks Air, Apple's design for the Pro has been largely emulated by the industry at large, and merely bumping the specs to current generation chips isn't that interesting anymore. That's why rumors have included DCI-P3 displays, OLED function rows, Touch ID fingerprint identity sensors, and beam-forming mics capable of handling "Hey, Siri!"
Some of that would require incredibly tight integration with Intel, especially if Touch ID is really in the cards. You need to protect that data from the sensor to the secure element, and that token from the secure element to the Keychain. On iPhone, Apple controls all the silicon and can do it themselves. On Mac, no such luck. At least not yet.
Either way, new MacBooks Pro are the closest we have to a sure thing going into the October event.
What about MacBooks Air? Retina?
If you have your breath, I wouldn't hold it. When Steve Jobs pulled the original MacBook Air from a manila envelope at Macworld 2008, it reset all expectations. The current 2011 design has been unabashedly adopted by almost every other manufacturer on the planet. It's become iconic. But it's also an icon that's reaching the end of the line.
The new MacBook has replaced the old MacBook Air as lightest laptop in Apple's lineup, just like the Air replaced the old MacBook. The Air exists now to fill Apple's "starting at $899" price point, much as the old MacBook did before it was retired.
Once the a second revision of the MacBook — and it's Retina display — comes down in price, it'll likely do to the MacBook Air what the MacBook Air did to the old MacBook — replace it.
Never say never, but I think we've seen the last of major new Air revisions.
And the new MacBook?
Apple already bumped the 12-inch MacBook this year, taking it up to a current-generation Intel Skylake Core-M processor. Intel crippled the m3 enough that you can feel it struggle at times, but the m5, and especially the m7, are fast enough for any mainstream computing needs. The current MacBook is still aspirational, the way the original MacBook Air was, but it'll become everyday soon enough, just like the 2011 MacBook Air redesign did.
It'd be great if Apple introduced a 14-inch MacBook as well, setting it up as a full-on Air replacement. If that happens, it'll be when everything is in place to properly drive the bigger screen experience, even if the mainstream price points are still to come.
So, likely not this month, but hopefully next go around.
What about the iMac?
For the last couple of years, the iMac has been updated in October. In 2014 that included the introduction of the 27-inch Retina 5K iMac. In 2015, the introduction of the 21.5-inch Retina 4K iMac and the update of both sizes to DCI-P3 wide-gamut color space.
The 27-inch model has current-generation Intel Skylake processors, though the 21.5-inch was introduced with previous-generation Broadwell processors. That's thanks to Intel not producing Skylake processors with the integrated Iris graphics appropriate for the 21.5 inch. How Apple addresses that this year will be interesting to see.
If Apple keeps to pattern, we'll get a bumped 27-inch iMac this month... and we'll see what Apple can do with the 21.5-inch.
And the Mac mini?
Apple's bring-your-own-mouse-and-keyboard Mac, the mini, hasn't been updated since 2014's unibody model. It's currently on Intel's two-generations-back Haswell architecture as well. There was no Broadwell update and, so far, there's been no Haswell update, much less Skylake.
Mac mini hasn't been on a yearly update cycle since 2012. It skipped 2013 and skipped 2015. It's never skipped two years, though, far as I can recall.
While beloved by Apple-centric home theater enthusiasts and those who want Mac servers at home, it's primarily positioned as the least expensive point of entry for Mac desktops. It's easy to think that probably makes it low on the attention list, but there could be more at play here, as well.
Either way, I'm hoping we get an updated Mac mini this month as well. It's a great little machine but needs to be kept modern.
Dare I ask — the Mac Pro?!
The New Mac Pro was first shown off with "no longer innovating my ass" fanfare back at WWDC 2013 and it first started shipping at the end of the year. Since then, nothing.
Xeon chips are used in the Mac Pro, but Apple chose not to update when the Haswell versions were introduced. Apple has also chosen not to upgrade the graphics cards for the last few years either, which could, on a machine designed for OpenCL, have improved performance despite no GPU update.
It's possible Apple's been waiting on Xeon Broadwell or even Skylake to update. That'd be a long, long time between updates, though, especially for the high-end customers who want or need bleeding edge performance — the very customers Mac Pro is designed for.
One more thing: iPads Pro?
Last fall Apple introduced the 12-inch iPad Pro with USB-3 speed Lightning connector. This past spring Apple introduced the 9.7-inch iPad Pro without USB-3 speed but with DCI-P3 display, 12 megapixel camera, rose gold option, and True Tone color matching.
I'd love, love, love for Apple to give both iPads — and the iPad mini — all the same stats, so it goes back to simply choosing the right size for you. I'd also love, love, love to see what an Apple A10X Fusion chipset could do in the already impressive Pro line. (Aside from giving Intel another round of fits, that is.)
Alas, that might be more of a spring 2017 thing.
How much longer do I have to wait?!
Not much! Everything kicks off next week Thursday! So, keep it locked to iMore!
Get the best of iMore in in your inbox, every day!
Rene Ritchie is one of the most respected Apple analysts in the business, reaching a combined audience of over 40 million readers a month. His YouTube channel, Vector, has over 90 thousand subscribers and 14 million views and his podcasts, including Debug, have been downloaded over 20 million times. He also regularly co-hosts MacBreak Weekly for the TWiT network and co-hosted CES Live! and Talk Mobile. Based in Montreal, Rene is a former director of product marketing, web developer, and graphic designer. He's authored several books and appeared on numerous television and radio segments to discuss Apple and the technology industry. When not working, he likes to cook, grapple, and spend time with his friends and family.
Any possibility that a 4K Apple TV gets announced?

No, not until there's a reason to do it. No content means no reason yet.

Most of Netflix's new original content has been 4k since at least March. Sent from the iMore App

There's plenty of 4K content around, on YouTube, Netflix etc. Plus the iPhone records in 4K so really the Apple TV should be able to play it

There will be no 4K Apple TV, sadly. Sent from the iMore App

@ Sent from the iMore App

Wonder if the headphone jack will survive?!!! I need to get audio to my hifi (without lag - guitar player) so that's kind of important to me. I don't care about stuff like new function keys, siri mics or much else, just something to replace my 2012 MacBook Air

You might get a spec bumped Air... Sent from the iMore App

It wouldn't make sense for the headphone jack to still be there if they've removed it off the iPhone. Not sure how they're going to do it on the Mac, but there will be an adapter, so no issues really

Actually when Iook at my setup more closely I use the headphone jack and a USB port on my MBA - so possibly I'd need 2 adaptors involving extra cash and offsetting any weight reduction in the machine itself. If that were to happen then perhaps a Mac is no longer the right machine for me. Will see, hope it doesn't go that way.

We don't know if the USBs are definitely going yet. If the adapter is anything like the iPhone's headphone jack adapter, then it's going to be small and that's not going to offset any weight reduction

That's a good question. See a lot people listen to music on there MacBook. Sent from the iMore App

It will be interesting to see what they release Posted via the iMore App for Android

The colors on the invitation suggest wide gamut displays. Maybe for the new Macbook Pro's and possibly a Thunderbolt 3 (USB-C) Display? And a new Mac Pro and/or Mac Mini to drive it?

That is strange 27th October. Why after the Microsoft event? Isaiah Heart.

So Nadella can make it to the event which he really wants to be at....Not microsofts. He wants to check out his new devices!

Thank the gods. My 2009 Pro kicked it over a year ago and I was waiting for the refresh, and that never came. I've been patient and now it finally is coming when I was starting to lose hope. Waiting for this has been such a rollercoaster of emotion. Sent from the iMore App

I agree with your thoughts in the article... logic then leads to to believe if they are simply spec bumping iMac and Mac Mini and holding an entire event focused around MacBook Pro then we are in for a big overhaul. Sent from the iMore App

Let's hope. Sent from the iMore App

Usually those events are more than an hour, too much time for a MacBook Pro overhaul, remember the last big overhaul of the MacBook Pro, the Retina, was a tiny part of the WWDC. And the last one of the iMac, the one in which they reduce the thickness and wipe out the DVD drive, was also a fragment of a big one in 2012. Ditto for the 5K iMac, also no more than half an hour.

Airport and Time Capsule could use some updating too.
A new Apple Display would be very welcome by many as well.

Would love to see an Airport update that brings Mesh Networking. Sent from the iMore App

mac mini please.
kabylake. or quad core skylake
ddr4.
graphics card option.
Throw those 5400 rpm hard drives in the garbage where they belong.

Sorry, but I have a macbook air and a macbook. Yeah the macbook is really light and small, but it isn't even remotely in the same league as the air with regards to performance. The macbook is not great. The keyboard absolutely SUCKS. It is a weak system that gets bogged down pretty easily.
The Air is way better. Real keyboard, real CPU (i7), not the M CPU's which isn't much better than an IPAQ (remember those).

Wait , It seems that I have to sell my kidney to get the new MBP :)
Well ,
shut up and take my money
go fxxk yourself and take my money
screw you and take my money

Nobody bets on the new MacBook Pros being 4K or even 5K? I would like to see that kind of screen there.

No 'kaby lake' processers? Posted via the iMore App for Android

So sad - the 13" Air is still the epitome of design aesthetic for a clamshell laptop, and a bump to a smaller bezel Retina display would be near perfection., Maybe a MacBook 14" with M7 and three USB-C (make one Thunderbolt 3) - come on Schiller, through us a bone already...

Ohhhh it's on next week! Can't wait!

I'm completely uninterested in the flashy new dynamic function key row. I hope they have something else exciting to announce...

Ok, no one else is daydreaming about it, so will mention new Airport Extremes. And new hardware with Bluetooth 5.0.
Standard isn't out yet, but then, neither is the hardware.
Hugh

What about the possibility of why Apple hasn't/ or won't update the Mac Pro, being a 'high performance' machine as the reason why is hasn't been updated? True, better hardware comes out all the time, but maybe Apple felt the Mac Pro was a power house when they released it, and still is, why update it? you can't say that to laptops, or desktops, but i would say this may be an an advantage with the Mac Pro as the lack of updates because it is still performs like it should. I still hate the OLED strip on the new Macbook Pro images that replace function keys.. May be mechanical now, but if this new OLED strip are now all touch sensitive, and dynamically updating may mean more convenience, over mechanical, but just means more bugs to be found. For example, an update to OSX could break volume now much more easily than it could with a physical key. PS.. That Apple logo and smoke looks like a 'Cirque du Soleil" is about to start :)

"more bugs to be found" is a silly reason to not implement something new, if that was the case they wouldn't have implemented Retina displays, or the force touch trackpad. They test both the new Macs and the old Macs with new OS releases, that's why old Macs can still run the newest OS

Apple will be unveiling several new items, but the 'hello again' is new hardware in the form of Apple's version of an Alexa Echo. See: https://www.theinformation.com/apple-opening-siri-developing-echo-rival The mist in the Apple Logo is "the cloud" and what I suspect is greater service capabilities via AI technology that does not require any new hardware, other than better speaker / microphone ala Amazon Echo. There will be updates to iMac and MacBook Pro, possible Mac Pro, but the big deal will be new Siri features to a connected dedicated device. And with Siri hooks into MacSierra, some new features there too.. Once you give access to Siri, you can upgrade Siri in the cloud all you want, does not need new hardware. And as I suspect the original Siri team that stayed with Apple has been working on extending Siri, but Apple takes its own time, and obviously didn't see a need to purchase Viv. Which Apple is notorious about buying back technology from old engineers. http://appleinsider.com/articles/01/01/08/apple_acquires_soundjam_progra... Apple has been working on the PII issue for awhile, that is what has been holding back Siri, not control issues, or brain drain, but how to build machine learning with "Differential Privacy". If you plan to sell user behaviors to plug-in cloud services like Viv, its a few factors easier, but if you want to keep that learning private but personalized and secure, you slow down development and depend on very fast clients. Client are now fast and fairly secure, and the PII is being hidden fairly well. Watch I could be wrong.. But I am sure I am right ;-)

Maybe we don't see any new MacBook Air anymore. The air just does not fit in the system. MacBook and a MacBook Pro is just fine when the price from the MacBook comes down a little bit. Maybe they leave the old MacBook Air still around Sent from the iMore App

The MacBook Air is still a lot more powerful than the MacBook, for a lot of people the MacBook doesn't quite have enough power but the amount of power the Pro has is not needed for them and the Pro costs a lot more than the Air, it's a nice middle ground. The MacBook also has the "1 port" problem, hopefully that will get fixed though as of its next iteration

They may have a 14" macbook. 12" and 14" instead of 11" and 13" of the air. That could be????? I would be down for a 14" MB in space grey with 8gb ram and 1tb storage. I love the fact that Apple waited until MS announced their hardware event and dated theirs a day later. Ha ha. Show Nadella what real devices and OS systems are.!

Let's just kill bezels all the way around and consolidate to 12" MacBook (with M class processors), 14" MacBook (with full Core processors), 14" MacBook Pro (Core+Iris), and 16" MacBook Pro (Core + AMD/Nvidia). Now that 's a lineup anybody could sink their teeth into.

SSD iMac's no moving parts, no fans make it so. ha ha

No fans means limiting power, I don't think it's possible unless you're ok with a weaker machine

Liquid cooling and heat pipes!

MacBooks Air. Mother, fetch the elephant gun...

I hope they announce the sale of the air buds!

Hahaha provided I receive one today for free then I will come tomorrow. Isaiah Heart.

Has anyone thought that the "Hello again" could mean the return of the 'Cheese Grater' Mac.
As a Pro User, I cant see us going to iMac dual Screens. I could be wrong but this return of the desktop mac could be just the ticket for the Pro User being forced to Windows 10 (yuk)

The design of the Macbook Air, certainly iconico like many other apple in the history of industrial design, there will be a before and after the presentation from the first mac or ipod
Thank you for signing up to iMore. You will receive a verification email shortly.
There was a problem. Please refresh the page and try again.