Best iPhone Accessories to Improve Your Golf Swing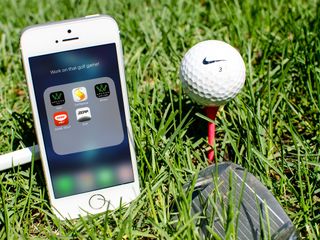 Put that accelerometer in your iPhone to work and let it help you improve upon your golf game. There are some pretty cool accessories that help you with your swing and putt, so the next time you slice 'er into the bushes, maybe pick up your iPhone instead of launching your iron down the fairway.
GolfSense 3D golf swing analyzer
GolfSense is a lightweight sensor that you clip to your golf glove. It analyzes your swing in real time and then transmits that data to your iPhone, where you can view, in detail, your movements and ways to improve upon your swing in the companion app.The sensor creates a 3D map of your swing, allowing you to compare your movements with your last swing or other swings (for example, if you hit a terrible drive, you can compare the swing to your best drive to see what went wrong). If you feel like sharing your swing, you can do so on Facebook or Twitter, or you can email it to your golf coach. All for only $8!
Game Golf live tracking system
The Game Golf live tracking system is a way to see and improve upon your entire golf game. It features a range finder, swing analyzer, GPS tracking in real time, as well as a ton of other information on how to improve your game. You just need to get the companion app and you'll get the stats that the pros get.By telling the app which club you used, you'll get information like how often you use that club, your distances, putts per hole, shot dispersion, and lots more. This system has more than 33,000 courses in its database, so you can tell the app which course you're on and it'll give you stats and tips specifically tailored to your current situation.Then share your game with other golfers via Facebook and Twitter. If you're looking for a complete and comprehensive look at your golf game, check out this system. You can grab this for about $94 on Amazon.
Arccos Driver performance tracking system
The Arccos Driver automatically tracks every drive you make and is made specifically for that aspect of your game. The device attaches to your driver via the little hole in the top of the club, and it analyzes your swing to record your distance and accuracy.You can play driving games that reward distance and accuracy, and you can even take on your friends in driving competitions, like "King of the Hole" (no, I'm not being lewd). Just download the companion app and start tracking. The Arccos Driver is about $34.
Zepp Golf 2 3D swing analyzer
Zepp Golf is another swing analyzer that clips onto your golf glove, but it's considerably smaller than GolfSense. Zepp Golf tracks your club head speed, swing plane, hand path, tempo, backswing position, hip rotation, and more. Then, it transmits all of that data to the Zepp Golf app, where you can view all of your swing metrics, as well as a pro swing library, your Smart Coach training system, and more. $150 in Amazon.
Arccos 360 golf sensor system
For another system that gives you a comprehensive picture of your complete golf game, check out the Arccos 360. It analyzes your swing, your putt, your drive, distances, and more, all in real time, and gives you tips and tricks during your game, showing you your strengths and weaknesses to help you make decisions while on the course.The systems consists of a thumbtack-like device that screws into the hole in the top of your club and its companion app, which has a database of over 35,000 courses worldwide. If you're on a course that isn't found in the app, just email Arccos and they'll add it. This system is for the serious golfer, since it's about $250.
Tittle X Trugolf E6 golf simulator
OK, when you're through with giggling at the name, have a look at the Tittle X Trugolf E6. It's a virtual golf simulator that connects to your PC via your phone. It relays the info via Bluetooth, and your phone then sends the swing information to your PC. It does require a little bit more than your average PC, needing 25GB of free hard drive space, 4GB+ of RAM, and a decent graphics card (PC needs an NVIDIA GTX 460 or better with 1GB of video RAM. That being said, if you have a smart TV or a Chromecast or another casting device, you can just cast straight from your phone to a TV.Once you have your system nailed down, you just attach the sensor to the provided swing stick or to your favorite club, and swing away, Merrill. You can play full rounds of golf, analyzing each swing as you go, and there's even a kid's "Safety Stick," so you can get the little ones interested early on. The Trugolf E6 comes with 12 virtual courses, a swing analyzer, and the swing stick (a 7.9-gram club).The best part is that this is only $189 on Amazon.
Do you swing?
Are you an avid golfer looking to improve your game? Do you think these tech accessories are worth the investment? Which accessories do you use to help with your golf swing?
Let us know in the comments below!
Updated April 2018: Updated pricing for every accessory and added the Tittle X Trugolf E6 golf simulator.
Master your iPhone in minutes
iMore offers spot-on advice and guidance from our team of experts, with decades of Apple device experience to lean on. Learn more with iMore!
Mick is a staff writer who's as frugal as they come, so he always does extensive research (much to the exhaustion of his wife) before making a purchase. If it's not worth the price, Mick ain't buying.