Accessibility is why I'm still wearing my Apple Watch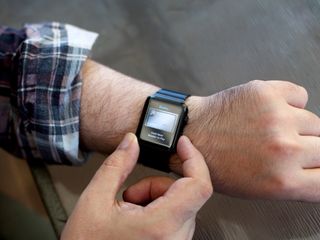 (Image credit: iMore)
Serenity Caldwell's recent piece on why she's still wearing her Apple Watch inspired me to write my own take on why I'm still wearing mine.
Telling time
This goes without saying, I suppose, but even Apple says Apple Watch is "at its heart, an incredibly precise timepiece." On the whole, Apple Watch is a remarkable wearable computer, but its foremost function is right there in its name: telling time.
This distinction matters to me for the simple reason that Apple Watch has gotten me regularly wearing a watch again after several years of having a naked wrist. It's nice having a well-made, fashionable object with which to see the time without constantly pulling my phone out my pocket. That my watch also has things like notifications, Siri, and Apple Pay is icing on the cake.
Energy savings
The fact that I no longer need to always pull out my phone to see the time also has an accessibility benefit: it saves me energy.
As someone who lives with cerebral palsy, this is critically important. My condition is such that, aside from reduced strength and partial paralysis in my muscles, it takes a considerable amount of energy to do even the most mundane tasks. As such, I need to be cognizant of opportunities to conserve as much energy as possible. In this case, getting my phone in and out of my pocket is a great example. It's not so easy for me to reach into my pocket because of the way you have to feel your way in and around to find what you're looking for. Smaller objects like loose change are more troublesome to grasp, but even something larger like my phone can be tricky. My muscles have to work hard to get in and out of my pocket, which oftentimes results in fatigue and pain. Do that several times a day, every day, and you start to curse having to reach in there.
It seems trivial, but given my circumstances, the little things end up making the biggest difference. Because my Apple Watch acts as a satellite for my iPhone for many things---notably, notifications and Apple Pay---I commit to wearing it all the time because I know I can be alerted to VIP emails or iMessages from my girlfriend right from my wrist. Ergo, my phone needn't come out and my hand muscles can rest. In this context, then, the Apple Watch is worth wearing for energy reasons alone. It's fair to say it's my "killer app," so to speak.
Living a better day
Another byproduct of my cerebral palsy is I don't move around very easily or gracefully. Therefore, I'm not one to adhere to a strict exercise regimen, nor am I a gym rat as many of my family and friends are. It's okay, though, because I walk a lot, and the Apple Watch helps me greatly in being more active than before.
While I remain unconvinced that watchOS will ever be a platform as app-centric as iOS, I do quite enjoy a few apps on my watch. One of those is the built-in Activity app, which I'm constantly checking throughout the day.
The great part about Activity is the "game" aspect of it. To me, staying active during the day is not only about getting the blood flowing, but also about filling in the circles. It's a fun way for me to track my progress, and I find that any incomplete rings motivates me to push harder to fill them in. (Most days, I can fill in Move and Stand. Exercise is challenging; I've completed all three rings in a day only a handful of times.)
Overall, I appreciate Apple Watch reminding me to stand once an hour---raising my awareness to get up and move---and I love watching the circles journey towards completion. Although I'm limited in how much and how well I can exert myself physically, Apple Watch is there pushing me to keep going as much as I can.
Bigger screen, big difference
Prior to the Apple Watch's launch last April, I was convinced I wanted the 38mm model because I have smaller wrists than most men, and I was afraid the 42mm one would look silly on me.
As it turns out, those fears were completely unfounded.
Thanks to my girlfriend, I did indeed get a 38mm Sport version on launch day. And it was great; the screen is small, but not prohibitively so. I was happy to have it and liked it very much.
Not long thereafter, Apple sent me a 42mm review unit so that I could compare the watch's sizes. Immediately upon receiving it, I noticed a striking difference between the 38 and 42mm models. As I said, the smaller one is perfectly usable, but the larger screen is so much better: everything on screen is bigger and easier to read, which, of course, is better for my eyes. Better still, the larger Apple Watch actually looks great on my wrist.
In hindsight, it was awfully shortsighted of me not to choose the 42mm Apple Watch to begin with. For someone who's visually impaired, Apple Watch's screen is so small that it makes sense to go as big as possible. I don't know why I glossed over that during pre-orders, but I won't make the same mistake twice. The next Apple Watch I get will most definitely be the 42mm variety.
Bottom line
As it is today, the Apple Watch is the quintessential 1.0 product in many ways. It's sluggish, requires an iPhone, and it remains to be seen whether apps will be as central to its usefulness.
And yet, I wear mine daily and wouldn't want to be without it.
If the watch's appeal to me hinged solely on its technical merit---how it performs and the quality of the software it runs---then I likely would have thrown it in a drawer months ago. Instead, I like to look at the watch with a more holistic perspective. Yes, it's kind of slow and apps aren't great, but I don't mind that much. What Apple Watch does do for me arguably makes more of an impact on my life. Besides, it's cool to think I have a miniature computer strapped to my wrist that can pay for my coffee and stuff. It's a very James Bond (or Dick Tracy) kind of feeling.
It may be early days yet for wearable technology, but I'm bullish on Apple Watch's future and am excited for its maturation.
Get more iMore in your inbox!
Our news, reviews, opinions, and easy to follow guides can turn any iPhone owner into an Apple aficionado
Steven is a freelance tech writer who specializes in iOS Accessibility. He also writes at Steven's Blog and co-hosts the @accessibleshow podcast. Lover of sports.