Add text to your photos and share them to Instagram with Overgram for iPhone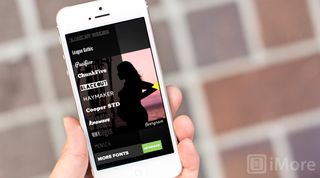 Overgram is a gorgeous new photography app that lets you select from a wide range of fonts and customization options to add font to your photos to then share on Instagram, Facebook, Twitter, or Tumbler. The user interface is very smooth and intuitive and makes adding text a breeze. You can choose different fonts, sizes, alignment options, and more.
Overgram is a free app, includes 10 fonts and will place a watermark on your image. but a quick in in-app purchase of $0.99 will remove the watermark. For over 225 fonts, a choice of a variety of stock backgrounds and additional customization options like more than just square cropping, you can download the original app called Over. Unfortunately, there is not an an-app purchase in Overgram that gives you all the same features of Over. This is particularly disappointing because Over doesn't support the iPhone 5's larger screen, yet. However, I'm confident it will be updated soon, so if the extra features interest you, you should jump on it now because Over is currently on sale for $0.99 (originally $1.99). There is a button in Overgram that will take you to the App Store to download Over if you want to give the free version a spin before committing to Over.
If you pick this one up, let us know what you think and share your photos in in the iMore photography forum!
UPDATE: Over has now been updated with iPhone 5 support.
Overgram - Free - Download Now
Over - $0.99 - Download Now
Get the best of iMore in in your inbox, every day!
Former app and photography editor at iMore, Leanna has since moved on to other endeavors. Mother, wife, mathamagician, even though she no longer writes for iMore you can still follow her on Twitter @llofte.
Hey Leanna, great find. This seems like a great app. Just curious, how are you confident that overgram will get the same upgrade features as over soon? Have you talked to the app developer? Do you know if we buy over that we will be able to get the in app upgrade for overgram also or will we have to buy it again?

Yep, I've been in contact with the dev. Support for Over will continue (see comment below!). Overgram doesn't have any features that Over does not, so there's no need to get the upgrade for Overgram if you get Over. But, yes, the upgrade for Overgram is separate from Over as they are two different apps. I do think it'd be better if Overgram had an upgrade to get all the features of Over -- it'd be simpler that way.

Hi Leanna, thank you for this article and your confidence! Indeed the update is on its way for the full version of Over to fill up that beautiful iPhone 5 screen. I am waiting for Apple to approve it right now. Great picture and text above! Warm Regards, @AaronMarshall

I use Typic personally but this looks great as well! https://itunes.apple.com/us/app/typic/id559973543?mt=8&at=10l3Vy

When will Overgram be available for the Android platform?
Thank you for signing up to iMore. You will receive a verification email shortly.
There was a problem. Please refresh the page and try again.