Affinity Designer for iPad: Everything you need to know!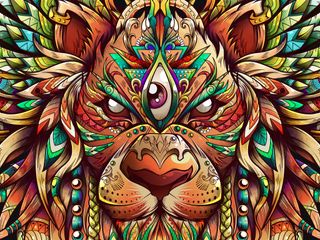 Serif Labs, the creators of Affinity Photo for Mac and Windows, launched an iPad version of its popular Affinity Photo (opens in new tab) image editor last year to much acclaim. Now, the company is has officially launched its other major app, Affinity Designer, on the iPad as well. It's an incredibly cool app for designers on the go, and it's just as feature-packed as Affinity Photo.
Here's everything you need to know about Affinity Designer for iPad.
What is Affinity Designer for iPad?
Affinity Designer is vector graphics design software, allowing you to create original concept art, logos, typography, UIs, digital paintings, and pretty much anything else your imaginative heart desires. Just like with Affinity Photo, Serif Labs has brought as many of Designer's desktop capabilities to the iPad in a mobile-friendly fashion.
So there's already a version of Affinity Designer for Mac?
Yes indeed. Affinity Designer serves as a competitor to apps like Adobe Illustrator, and is available on the Mac App Store now.
What features does Affinity Designer have on the iPad?
Smooth vector tools: Affinity Designer for iPad offers vector tools that allow you to create with, and I quote, "pinpoint precision." You can pretty much do everything vector-wise that you can do in the Mac version of the app, like drawing and manipulating nodes and Bezier handles, dividing and combining shapes using non-destructive Booleans, and more. Affinity Designer for iPad also boasts vector brushes, stabilization for freehand vector drawing, 1,000,000% zoom, fluid and customizable shape creation — I could seriously go on and on. Basically, if you prefer to bring your ideas to life using vector, you're set.
Built-in Pixel Persona: With Affinity Designer for iPad, you can seamlessly switch between vector and raster, allowing you to sketch, paint, and make pixel selections without ever needing to leave the app.
Over 100 brushes: If you're more of a traditionalist (or like to incorporate more traditional elements in your designs), don't worry, Affinity Designer for iPad has you covered too. The app has a pretty sizable library of brushes, giving you paints, pencils, inks, pastels and gouaches. You can even customize them, tweaking the Touch or Apple Pencil dynamics to better suit your artistic style.
Complete color and layer control: Affinity Designer for iPad truly makes you the master of your own creative destiny. Color-wise, the app offers support for all major formats, 16-bit per channel editing, ICC color management, a smart color picker, and spot colors for professional printing. You can also make super gorgeous gradients, too. Layer-wise, Affinity Designer also gives you a plethora of tools to work with, including non-destructive adjustment layers, live blend modes, and layer effects like shadows, glows, 3D, and bevel. Oh yeah, and you can work on "huge designs, with 1,000s of layers." Thousands of layers.
Overwhelmingly cool typography tools: Love hand-lettering? What about customizing pre-existing fonts to fit your needs? No matter your typographical proclivities, Affinity Designer totally delivers. With guides and grids galore as well as kerning, tracking, leading, framing, and tons of other font-related capabilities, you can get the message across in whatever way grooves with your vision.
UI design capabilities: Live pixel preview, simultaneous symbol editing, artboard and icon creation, slice exporting — Affinity Designer for iPad has a ton of features that allow you to craft UIs with major flexibility.
Created specifically for iPad: Sure, Affinity Designer was created for the Mac first, but Serif has pretty much rebuilt it from the ground up to work in tandem with your iPad and all the cool stuff it can do. It's fully optimized for iOS 11 (so yes, that means drag and drop), is super fast thanks to iPad's Metal technology, offers multi-touch control, and supports the magic wand of all iPad illustrators, the Apple Pencil.
For an exhaustive list of features, you can check out Serif Labs' dedicated Affinity Designer for iPad page here (opens in new tab).
What about file support?
According to Serif, Affinity Designer has the most advanced export capability ever seen on iPad. When you're ready to export your masterpiece, your file options are as follows:
EPS
PSD
SVG
PDF
JPG
PNG
TIFF
GIF
How much will Affinity Designer for iPad cost? How can I get it?
Affinity Designer for iPad is currently priced at an ultra-affordable $13.99 — a special introductory offer that's 30% off the full price of $19.99. You can get it for your device now by tapping the link below!
Affinity Designer for iPad - $13.99 - Download now

(opens in new tab)
Questions?
Have any burning Affinity Designer questions you need answered ASAP? Leave them in the comments below, and we'll do our best to help you out!
Get the best of iMore in in your inbox, every day!
Tory Foulk is a writer at Mobile Nations. She lives at the intersection of technology and sorcery and enjoys radio, bees, and houses in small towns. When she isn't working on articles, you'll likely find her listening to her favorite podcasts in a carefully curated blanket nest. You can follow her on Twitter at @tsfoulk.
I absolutely love Affinity Designer in Mac and bought it day 1 for my iPad. For anyone wanting to get into graphic design these days I'd honestly say unless you're wanting f to work in a print shop, don't bother with Adobe, just start learning the Affinity Suite. It's much more intuitive can do almost everything Photoshop and Illustrator can do (and a lot of stuff they can't) and does it all elegantly in a very Mac like manner. (Or in this case iPad manner) Designer is a lot like what Macromedia Fireworks was trying to be back in the day before Adobe bought and killed the competition. I can't stress enough how good these apps are! (And they're making a competitor to InDesign that's entering beta at the end of this summer.)

Adobe are a pretty crappy company these days. They've joined the repugnant subscription model offering no single license purchase, many year old software bugs haven't been fixed, their software comes with lots of bloat, ugh, do I need to go on? I've got Pixelmator Pro, Affinity Photo, and Affinity Designer, I've absolutely no need for Adobe anymore, and the best part is I OWN these products, not like a subscription fee where if I stop paying then they stop functioning.
Thank you for signing up to iMore. You will receive a verification email shortly.
There was a problem. Please refresh the page and try again.