Affinity Designer is a new graphics design suite available for Mac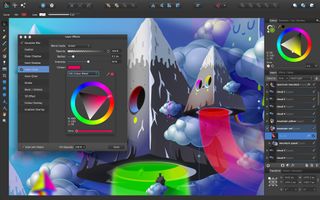 Affinity Designer is now available on the Mac App Store. The team has spent the past four years working on the graphics design suite, but now the time has come for consumers and enthusiasts to purchase the software and get started on some breathtaking work. Affinity Designer is listed with a 20 percent discount at just $39.99 (£27.99 / €35.99) through next week only, so be sure grab your copy now.
The best part about Affinity Designer is there's no subscription fee. Once purchased, the software is yours to own. It's also promised that new features bundled in future updates will be delivered at no extra cost for the next couple of years. If you already have the beta installed, simply close it and make the purchase through the store – while a message will pop-up saying it's already installed, one can continue with the full installation (will overwrite the beta).
For those who share the Facebook post announcing the release, or follow the team and retweet the announcement tweet before October 5 will be entered into a draw to win a 15-inch MacBook Pro Retina.
Source: Affinity
How does this compare to Adobe's Illustrator?

He probably doesn't know. He's just passing on a press release.

It compares well. Excellent import/export options. CMYK support, smooth gradient, speed, insane zoom and speeeeeed. All for $40 introductory offer. Even at the $59 pricing it's going to be a steal and it'll knock Sketch 3 out cold. Serif has Affinity Photo and Publisher coming so we're seeing the first product in a trio of apps coming. I've already purchased.

Looooooks Amazing! Thanks!
Thank you for signing up to iMore. You will receive a verification email shortly.
There was a problem. Please refresh the page and try again.