11 amazing action extensions for iPhone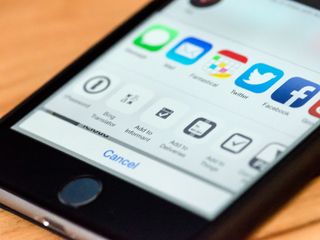 iOS has let us copy, paste, and print for quite some time now, but iOS 8 shook things up, allowing developers to build action extensions right into their apps that make them more useful and intuitive than ever. With action extensions, you no longer have to copy a password from your favorite password management app or use an in-app browser; instead, you can call it up via the Share sheet whenever you need it. You can also perform translations on the fly, thanks to apps like Bing Search, or even add a delivery to your favorite tracking app with just a tap. Read on for some of our favorite apps that support action extensions!
Workflow
Workflow automation has come to iOS and oh, how glorious it is. Ever wanted a task like saving photos from Safari to Dropbox to be simpler? With Workflow, pretty much everything can be simpler. From saving photos to creating GIFs in a few taps, Workflow lets you create any number of actions that you can trigger right within the Share sheet.
Bing Search
The Bing Search app is just what it sounds like — an easy way to access Bing Search. As an action extension, however, it's much more than that. Once enabled, you can use Bing to translate any webpage to your native language. That means if you ever stumble across a website that you can't read, just pull up the Share sheet and tap on the Bing translate button. Voila, you're done! It doesn't get much easier than that.
1Password
1Password is a password management app that not only securely stores all your passwords, logins, and other kinds of credentials, but also can help you generate safer and stronger passwords. As an action extension, 1Password lets you quickly autofill that information into just about any form. When you find something you need to fill, just tap the Share button and select 1Password. It pulls your stored data right from the app, letting you easily access the password or information you need. 1Password can be downloaded for free but required a $9.99 in-app purchase to unlock premium features.
Dashlane
Dashlane is a password management app similar to 1Password: The main difference between the two is that while 1Password has a higher up-front cost for the entire suite, Dashlane offers subscriptions to fit your needs. Aside from storing your passwords and logins, Dashlane can also help you generate super-strong passwords. In terms of action extensions, Dashlane is available anywhere and can be triggered from any Share sheet for all your password and autofill needs.
LastPass
If I'm including Dashlane and 1Password, I can't leave LastPass out. Aside from having an action extension that autofills passwords and logins, LastPass can be used with other kinds of useful services such as Google Authenticator, password sharing between families, and much more. For anyone that needs more than just your run-of-the-mill password manager, LastPass is a great choice.
PDF Converter
PDF Converter by Readdle lets you quickly convert just about anything into a PDF document, and with action extensions, you don't even have to launch the app. Instead, call it up via the Share button and convert any Safari page — or content from another app — into a PDF that you can then send off to anyone you'd like.
Deliveries
Anyone who needs to track a lot of packages knows the value of having an all-in-one place to do everything. Deliveries is not only awesome at tracking every kind of package imaginable, it also includes a Today widget so that you can track everything at a glance and an action extension so you can quickly add tracking numbers right from Safari without having to copy, paste, or even launch the Deliveries app.
Pocket Informant
Pocket Informant is one of the most feature-packed calendar and reminder apps you can find. The premium version can even sync directly with Google, Toodledo, and Evernote. And its action extension lets you send things directly to Pocket Informant right from the web or within apps that are supported. Creating tasks and reminders just got a heck of a lot easier.
Things
Things is a task and project management app that's available for the iPhone, iPad, and Mac. You can add tasks to Things and sort them later, create individual projects to manage, and much more. With action extensions, you can send items from Safari or other apps directly to Things, no app opening necessary.
Zip-It
Zip files and the iPhone have rarely played nice together. With Zip-It, not only is it easy to view the contents of compressed archives, you can do it in as little as two taps thanks to action extensions. View a zip file in Safari and open it right through the Zip-It extension. The Zip-It app also lets you password-protect zipped files, view contents without actually opening them, and store things in iCloud Drive.
View Source
View Source is an app and action extension that lets you view the source code of any web site. Just call up the extension in Safari and tap it. You'll instantly be shown the source code. You can also view assets and stylesheets, and copy them right to your own photo library. View Source has lots of other useful features within the app for simple source code browsing.
Your Favorites?
If you've been enjoying action extensions as much as we have, let us know your favorites in the comments!
Get the best of iMore in in your inbox, every day!
iMore senior editor from 2011 to 2015.
Workflow is fantastic! The ability to send a photo through Whatsapp straight from the photos all makes it worth it alone. Also very good your downloading YouTube videos, sending web page images to friends without having to save them first and much more! Can't recommend it enough! Sent from the iMore App

Hi, do you know how I can send more than 1 picture with an Workflow Extension?
I'd like to send 100 pictures via WhatsApp but thats unpossible :-(

Zip-it is only available for the iPad according to the posted link. It's not a universal app apparently.

I only have it on my iPhone. Never even used it on my iPad. Ah i see what i did, i included the iPad not iPhone link. Fixed, sorry about that and thanks!

Workflow is $4.99, not $2.99. I'll wait for it to drop in price.

Well worth it, hardly worth not having it to save $2- the price may never come down.

You're in luck then, the price dropped to $ 1.99 today. But even if you miss it, the app is worth the regular price.

Still cannot see how the password manager extensions make logins easy. They are only useful it seems if I go to sites through the browser. I use apps for most actions and I don't see any way to login other than copy and paste. Am I missing something? Sent from the iMore App

I guess you do! See these links for how it is working now so you do not have to copy/paste anymore. "Extension - 1Password for iOS - version 5"
https://guides.agilebits.com/1password-ios/5/en/topic/extension "Agile Blog | Introducing the 1Password App Extension for iOS 8 apps"
https://blog.agilebits.com/2014/07/30/introducing-the-1password-app-exte... [just now experimenting 1st time with the Clips extension for these links, hope it works ;-)]

And this one: "Agile Blog | Apps ❤ 1Password" https://blog.agilebits.com/1password-apps/

Thanks. I realized the holdup is with the app developers. I found one app that is setup for the function and it worked beautifully. I guess I need to wait for the rest to get on the ball. Sent from the iMore App

Great list - I have a few new apps to try. Thanks.

Note you can create a bookmarklet (I have it on my iPad Favorites Toolbar) that let's you view the source in a browser tab for any page.

Agree with Workflow being no.1. Great piece of kit, that. Personally, I'd take take QuickPDF (from the makers of Zip-it) over PDF Converter, if only because it puts a slightly less hideous launcher icon on my home screen. Seriously though, why are all PDF related app icons so ugly? Is it some kind of unwritten rule? Here's one I've used quite a bit. Not genre-busting, but incredibly convenient;
http://www.mailtoself.com/

Drafts is my favourite extension by far. Most of my workflows involve creating or manipulating text notes from various sources and Drafts, Clips, Instapaper, Pinner, Prizmo and Editorial cover all my needs. I also tried Workflow but found it too basic / general.

I made another FREE extension called ReaderApp that replaces Reader View when it is not available (which happens a lot more that I'd like); you can also highlight text like in iBooks and read the articles offline:
https://appsto.re/us/dgI44.i
Thank you for signing up to iMore. You will receive a verification email shortly.
There was a problem. Please refresh the page and try again.