Angry Birds Seasons updates for 2012 Holiday season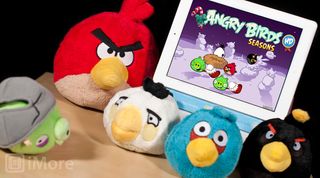 It's December 1, which means the new Angry Birds Seasons update is out with a new level every day until Christmas Day -- like an advent calendar.
The 25 new levels will take place in a snowy winter landscape under the aurora borealis and there is also a new ice element that will surely make you slip and slide. In addition to the 25 levels in the advent calendar, there are also three secret levels that can be unlocked for some special wintry treats. Lastly, there is a special Harbin level in honor of the upcoming Angry Birds area in the Ice and Snow World in Harbin, China.
It's important to note that in order to access each new daily level, you need to have an internet connection enabled.
We are receiving many reports of the new update only causing the game to crash at launch. I am not experiencing this issue on my iPad 3, so it isn't affecting everyone. If you've updated to the latest version of Angry Birds Seasons and are experiencing constant crashing, please let us know in the comments below as well as which device you are using to play.
If the game is running great for you, let us know what you think! Personally, I love the advent calendar style of Angry Birds Seasons because I'm not tempted to advance to the next level and instead take time to get three stars on them all. Now excuse me while I continue playing the first level as I have only earned 2 stars so far.
Former app and photography editor at iMore, Leanna has since moved on to other endeavors. Mother, wife, mathamagician, even though she no longer writes for iMore you can still follow her on Twitter @llofte.
Working great for me! iPad 3 running iOS 6.0.1

I'm using an iPad 3 64gb and the Seasons update crashes every time I try to open it. Very frustrating.

I'm using an iPhone 4 and it's crashing every single time, haven't been able to get past the loading screen :o(

I have an ipad 2 with the newest OS and it keep crashing on me. I can't get past the Loading.... screen.

I was able to play Day 1 on my iPhone 4 but it said I have a Network Communication Error when trying to play Day 2. Have done a hard and soft reset and even deleted and re-installed the app. Nothing helps.

Angry birds seasons crashes at launch. Using iPad 2.

I just dowloaded an update posted today and now I can play.

Seasons was working fine on my iPhone 4S up until this morning. Went to load and it took a while to get past the load screen. I can choose the new levels but it won't load any of them. It says there's a problem with the Internet connection. I can load web pages with ease so it's definitely a glitch.

As soon as I try to launch a bird they simply crash to the ground, one bird will work fine, next one crashes. Using PC, internet connection in working order. Very frustrating.
Thank you for signing up to iMore. You will receive a verification email shortly.
There was a problem. Please refresh the page and try again.