Annapurna brings soothing game 'Flower' to the App Store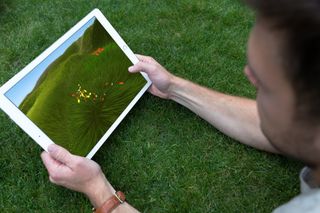 Flower for iOS, which Touch Arcade was the first to spot, is an extremely calming game in which you harness the power of the wind to guide flower petals through vibrant, beautifully designed environments. The only real object is to collect more petals. Perhaps more importantly than that, though, players are encouraged to explore and interact with the surroundings in the game at their own pace, immersing themselves in the super captivating and meditative sensory experience. In Flower, there's no text or dialogue to read, and no real "messing up" — it's all about the journey.
Flower is almost completely tilt-controlled, meaning that it's really intuitive and easy to play (even for people like me who have serious trouble steering). It's definitely the sort of game that was created to be enjoyed by everyone, whether they're an experienced gamer or not. If you regularly use your iPhone or iPad to self-soothe, I would definitely recommend adding this to your collection. (It'll nestle in really cozily among apps like Monument Valley (opens in new tab) and Samorost 3 (opens in new tab) I've loved this game since it debuted on the PS3 in 2009, so I downloaded it as soon as I heard it had been released for mobile. Even playing it for a short few minutes helped to quiet my head.
thatgamecompany is also the developer behind the upcoming Sky, which made an appearance at Apple's iPhone 8 and iPhone X keynote.
Flower is available for $4.99 on the App Store (opens in new tab).
Thoughts? Questions?
If you've played Flower before, do you plan on getting the mobile version? If you've never played it, do you think you'll try it? What are your favorite calming iOS apps and games? Let us know in the comments!
Tory Foulk is a writer at Mobile Nations. She lives at the intersection of technology and sorcery and enjoys radio, bees, and houses in small towns. When she isn't working on articles, you'll likely find her listening to her favorite podcasts in a carefully curated blanket nest. You can follow her on Twitter at @tsfoulk.
Thank you for signing up to iMore. You will receive a verification email shortly.
There was a problem. Please refresh the page and try again.