'Announce Messages with Siri' officially debuts with first iOS 13.2 beta update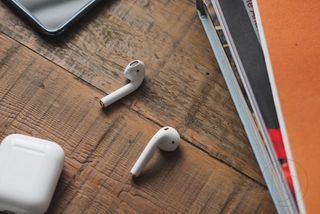 (Image credit: iMore)
What you need to know
'Announce Messages with Siri' feature makes its debut with the first iOS 13.2 beta.
The feature lets Siri read out messages through AirPods.
Unfortunately, the feature only works with AirPods right now.
Apple unveiled iOS 13 back in June, announcing all the new features it would offer. One of those was "Announce Messages with Siri," but it was delayed beyond iOS 13.0 though the wait wasn't as long as we anticipated. Apple is rolling the feature out now with the iOS 13.2 beta 1 update.
iOS 13.2 beta 1 was released today, bringing along many new features along with necessary bug fixes. Users who download the beta will be able to use the "Announce Messages with Siri" feature. What it does is when you have a pair of AirPods on, Siri will transcribe the messages you received without needing to peek into your iPhone or Apple Watch.
A special alert tone will ring before Siri begins reading out the message. It's similar to other Siri readings like in CarPlay.
Unfortunately, the feature is reserved for AirPods right now. Apple has not announced if other Bluetooth earphones, including Beats with the W1 chip, will support the feature in the future.
Announce Messages with Siri is turned off by default. You'll be able to turn it on by going to Settings > Siri & Search > turn on the Announce Messages toggle.
If you are on the iOS 13.2 beta, let us know how you like the feature in the comments.
Get the best of iMore in in your inbox, every day!
This is only available for the AirPods².
I haven't been able to get the option to enable/disable it with my original AirPods.

It looks like the Announce Messages feature is only available for some people, perhaps with some iPhone models or in some countries.
It does not show on my New Zealand iPhone XS Max (with AirPods 2, and rebooting and re-pairing does not help).

It's a shame this hasn't been rolled out earlier. Using iPhone in the car is annoying because of this. Even with CarPlay, Siri won't announce messages. You have to ask her specifically to read new messages. Back when I was a Windows Phone user I had this capability for many years. And using iPhone in the car with Bluetooth is even worse, you get zero notifications of calls or messages. Hoping they fix this.

The few times I've asked Siri to read me my messages, she told me my phone was locked. Which kind of defeats the purpose of me wanting to have my messages read to me when I'm in the car and shouldn't be looking at the screen. It's very frustrating that this is a feature restricted to one type of headphones. Why wouldn't it work with EarPods, I wonder.

That's true, plus is it not available for CarPlay? This is where I want to use it the most

I was so excited to use the announce with siri I went out and bought the powerbeats pro today. Imagine my disappointment when I found out the feature is only for AirPods. I imagine this will change? I sure hope so.
Thank you for signing up to iMore. You will receive a verification email shortly.
There was a problem. Please refresh the page and try again.