App for That: How to draw shapes on your photos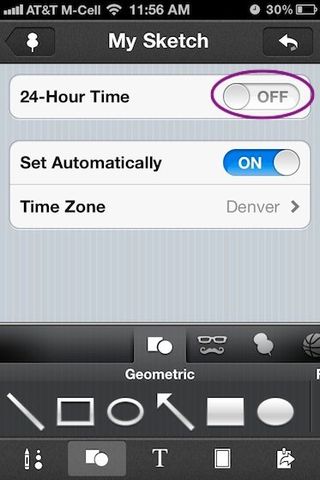 There are hundreds of thousands of iPhone, iPod touch, and iPad apps for just about everything -- so how come the one you need, the one you know just has to be there, is so hard to find? Enter TiPb's weekly feature where staff and readers alike sort through the App Store and help you find just the right App for That. This week, Darryl asks:
I had actually used a desktop app called Skitch (opens in new tab) to draw the circles, but a dedicated iPhone app would be much more convenient! To see what we found for Darryl (and me!), follow along after the break!
Sketches 2 [$4.99 - App Store link (opens in new tab)] is an iPhone and iPad app that comes with various shapes and stamps to add to your photos. You can also switch to freehand mode and draw whatever you want. Additionally, you can add text and integrate apps to draw directions.
Once your sketch is complete, you can export it to your photo album, share it via twitter or email, or download your drawings to your computer in PDF (full vector format), JPG or PNG.
LateNiteSoft also has the classic Sketches availalbe on the App Store for a lower price of $1.99 [App Store link (opens in new tab)]. This version has fewer features and is not universal for iPhone and iPad.
Anyone else have any App for That suggestions for Darryl? Let him -- and all of us -- know.
Having trouble finding what you need in the app store? Head on over to our App and Game Feature Forum and let us know what you're looking for. The TiPb community will do our best to find you just the right App for That!
Get the best of iMore in your inbox, every day!
Former app and photography editor at iMore, Leanna has since moved on to other endeavors. Mother, wife, mathamagician, even though she no longer writes for iMore you can still follow her on Twitter @llofte.
Awesome! Thanks for the intel Leanna. And the credit for asking the question! I'll give it a try :)

Awesome! Thanks for the intel Leanna. And the credit for asking the question! I'll give it a try :)
-Darryl

Free? AppStore has it for $5.99 currently.

Free? AppStore has it for $5.99 currently.

Don't let the name fool you, Adobe Ideas was a disappointment. For iPad (only) there is "iDraw," this is an amazing app. Manipulate photos, or drawings, with just about every tool that you would expect from Adobe Illustrator's tool box and more.

Awesome! Thanks for the intel Leanna. And the credit for asking the question! I'll give it a try :)
-Darryl

Adobe Ideas is NOT free. It's $5.99!!!

I use the "Pen and Paper" app. You can draw a picture or import a photo, add text, arrows, shapes etc.. When done you can save, print or e-mail as a PDF. A stylus is a great accessory for this program. $1.99 in the app store.

Adobe Ideas is NOT free. It's $5.99!

Photogene also allows you to draw or use circles and different shapes in photos.

To use such apps is lot of fun around, I haven't used such a app still now so would be loving to use it and pass it to my friends, so that they can enjoy too.

BREAKING : Hackers Finally Found A Bug That Brings Untethered Jailbreak For iOS 5 : http://j.mp/u4kNfG

Topi (a free messaging app) lets you draw freehand on pic's or blank canvas and send it to the person/group you are chatting with, share it on Facebook or save it on your phone.
It also has a Live Sketch feature which is a realtime whiteboard where multiple people can draw on the same image at the same time.
(For full disclosure, I am a member of the Topi.com team)

You Doodle is free and has a pretty simple shape feature - http://appstore.com/youdoodle