App for That: How to take passport photos with your iPhone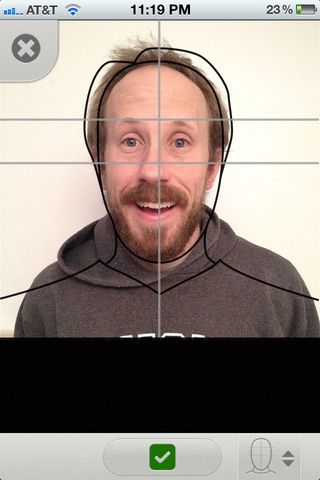 There are hundreds of thousands of iPhone, iPod touch, and iPad apps for just about everything -- so how come the one you need, the one you know just has to be there, is so hard to find? Enter TiPb's new weekly feature where staff and readers alike sort through the App Store and help you find just the right App for That. This week, our very own Chris Oldroyd asks:
To see what we found for Chris, follow along after the break!
ID-Photo - Biometric passport/ID photos [$1.99 - App Store link (opens in new tab)] is and iPhone and iPad app for creating passport and identification photos. It knows the sizing requirements in 14 countries and will set up your photo to be printed at the legally required size.
When taking your photo, ID-Photo overlays guidelines onto the camera so that you can be certain that your photo will meet the requirement. It also lets you make adjustments to contrast, brightness, sharpening, and grayscale. Additionally, the app has a list of tips for taking your photo and examples of both acceptable and unacceptable photos.
Once your photo is prepared, it is very easy to email or print to an Airplay compatible printer. Just tell ID-Photo the paper size and it'll take care of the rest!
Anyone else have any App for That suggestions for Chris? Let him -- and all of us -- know.
Having trouble finding what you need in the app store? Head on over to our App for That Forum and let us know what you're looking for. The iMore community will do our best to find you just the right App for That!
Former app and photography editor at iMore, Leanna has since moved on to other endeavors. Mother, wife, mathamagician, even though she no longer writes for iMore you can still follow her on Twitter @llofte.
"Once [you] photo is prepared, it is very easy to email or print to an Airplay compatible printer."
It should be "your".

Not to point out things but isn't "Enter TiPb's new weekly feature" and "The TiPb community will do our best" just old? It should be iMore, isn't it? :)
On topic- looks like a useful app.

can you print lots to a USletter size piece of paper ?

You need to be sure you are allowed to submit digital photos for passports and IDs- when I first tried it around 5 years ago in the UK they refused to accept digital, because of the ease of altering the photo.
I am sure the ubiquitousness of digital now will have caused a change in many places, but you may want to check.

It is normal and allowed these days as long as the background is white. When I had them done it was printed out and taken through digital cameras.

Aww if I knew about this 2 weeks ago.

Don't know about other countries but here in the U.S. all you need is one or more physical pictures to be submitted for a passport. This app would save you money, time and aggravation. I wouldn't expect any country in their right mind to accept a "digital only" submittion or even how that would work without seeing the person face-to-face.

I know that in Canada, the name and location of the studio the photo was taken at is required to be stamped on the back of the print. So check your form first before you snap your picture and expect it to be acceptable!
Thank you for signing up to iMore. You will receive a verification email shortly.
There was a problem. Please refresh the page and try again.