App picks of the week: Games, games and more games!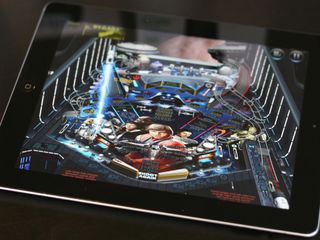 It's Saturday, so it's time for our weekly roundup of apps for Mac and iOS devices that caught our eye. This week we've got lots of great games for you.
Batman: Arkham series - Rene Ritchie
Arkham has become a thing. The main games are blockbusters. DC Animation is even going to release a movie based on the ElseWorld universe in which Arkham exists. It's not Adam West. It's not The Dark Knight. It's not Tim Burton or Chris Nolan. It's not The Animated or The New 52. It's become its own thing, and a pretty big thing. The next game, a prequel called Arkham Origins, will be hitting shelves on October 25 (see video above).
I can't say it's my favorite Batman interpretation ever. In many ways it embodies the worst of the medium's excesses. Some, however, will no doubt find that to be the best thing ever. But the stories are well written, the graphics are expertly rendered, and the gameplay is pure, adrenalin-filled fun. They're not only among the best Batman games ever (Lego Batman is equally and oppositely awesome) but among the best superhero games and action games period.
And they're available for the Mac, along with an offshoot for the iPhone and iPad (see video below).
Note: IGN is giving out free codes for Batman: Arkham City Lockdown. Not sure how long that will last, so go quickly!
Star Wars Pinball - Peter Cohen
If you like pinball, and you like Star Wars, download this! Zen Studios is giving away the Empire Strikes Back table through September 9th. Two other tables, Boba Fett and Clone Wars, are available as in app purchases for 99 cents each.
If you already have Zen Pinball, it's the same tables, but they're excellently done with very realistic physics and terrific and responsive flipper motion. There's also a leaderboard system. You align yourself as either a Jedi or a Sith and work towards upgrading your status from padawan to master. The game is optimized for Retina Display equipped iOS devices.
Terraria - Ally Kazmucha
Terraria is full of 32-bit goodness and lots of worlds to explore. You start by customizing your own personal character and naming the new world you're about to explore. You will stumble across tons of items to add to your inventory and many puzzles and monsters you'll have to work your way past.
There's tons to explore and if old school games like Zelda are your thing, odds are you'll like Terraria. From crafting weapon combinations and different potions, it brings old school gaming right to your iPhone or iPad. The only thing I'd complain about is that sometimes the controls to move around are a little glitchy and can get in the way of what's on the screen. Nothing too serious to deter me from playing but it'd be nice to see them tweaked a little.
Futuridium - Simon Sage
Futuridium is basically an abstract Star Fox game with dubstep. Players have to guide their ship around a tight course and destroy all of the targets there on a limited amount of energy. It's a good thing that taking out those blue cubes also gives you additional energy, adds score multipliers for consecutive destructions, and getting enough of them provide you with continues. Futuridium can be extremely challenging since a crash will cost you a lot of energy, and there are a lot of blocks to get rid of, even on easy mode. Controls pretty straightforward: tap onside to do a 180-turn, and swipe the other to move. Firing your cube-cannon can be done with a button in the bottom-right, but I prefer to toggle on auto-fire in the menu. Futuridium's outstanding soundtrack and trippy offset visuals make for one wild ride - be sure to check it out.
Blackbar - Joseph Keller
Blackbar is a text game that has you try to get around government censorship to read messages from your friend Kentery. The government's Communications Department censors some of the words in Kentery's letters to you, and it's your job to figure out what words have been redacted. Along the way, you will receive messages from the government warning you about the inappropriate nature of you correspondence, as well as letters from members of an anti-censorship resistance. While the gameplay is simple and straightforward, it can take some time to solve the puzzles of Blackbar, and and there's a feeling of accomplishment as you make your way through the game. Blackbar is available as a universal download on the App Store.
After having read Simon's mention of the latest game from Adult Swim called Giant Boulder of Death, I decided to give it a go. I mean a game where the basic principle is to smash as many things as possible is right up my alley and with it being free it's pretty much a no brainer choice. It's an insanely simple game, guide an oddly spiteful boulder with tilt controls as is trundles down a valley smashing everything in its path but maybe that's what's so great about it. You can play it with very little effort making it great for something to do while relaxing on the couch over the weekend.
So that's the stuff we love this week. What's new in your fie that you can;t live without? Sound off in the
Get more iMore in your inbox!
Our news, reviews, opinions, and easy to follow guides can turn any iPhone owner into an Apple aficionado