App Store offering up older versions of iOS apps for some, leaves many unanswered questions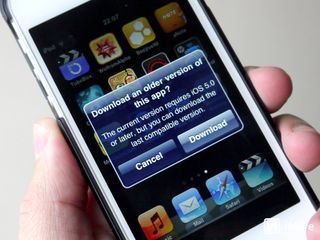 When iOS 7 hits tomorrow, app compatibility with older versions of iOS will become a thing again, though it looks as if Apple may be about to implement a solution for owners of older hardware. A Reddit thread has emerged, alerting us to some folks being offered a download of an older version of an app whose latest version requires a newer build of iOS.
Understandably, there's more than a few folks out there on the Internet that are getting extremely excited by this. But, there's no official confirmation on anything from Apple, and regardless of the official status, it leaves us with more questions than answers.
The first of those is whether or not it will remain turned on come September 18, when iOS 7 pushes out to millions of iOS devices all over the world. Since it's a server side function, at this point we have no idea if this will actually continue. Or how about, given the state of older applications, how well is this actually going to work? Older apps could be relying upon older API's, and if the older API's have gone away, what then happens to that app? Or app reviews; will a developers rating be affected by reviews for the most current version of an app somebody can use?
So, there's lots of reports of re-downloads for older versions, yet still tons of questions remain. If you try it out let me know if and how well it works for you!
Source: Reddit via Ryan Christensen
I've been a raving lunatic over this issue, which never seems to come up in the shows I watch. Now, I'm raving with (mostly) joy. Is that a thing? Well, it is now. Because it sure took them long enough.

Same for me West3man! I was elated to see this news. I have (ok, my kids have) an iPod touch 2nd Gen and an iPad (1st Gen) that are perfectly serviceable to play the ios 3-5 games made for them. But if you don't have a good time-machine or copy of your .ipa's you "lose" many apps to newer upgrades. I will be very happy to try this out on a few games on the aforementioned devices.

The Apple Store app loops between trying to upgrade and the newest version isn't compatible.

Cut the rope now works on iPod touch 2nd gen with 12
Different stages. :)

I am happy to hear this my iPhone 3G Jukebox has been left out in the cold at times. So it's a good development in whatever form it takes. However like the floppy supporting legacy has to end at some point or you pay for it. Sent from the iMore App

I'm so happy with this move of apple , I already downloaded 13games which were not not compatible before in my 2nd generation iPod touch , some games were not downloaded at first attempt , after repeating again and again it downloaded.

This is great news, and keeps old customers happy.
I have recycled my old iPad1 to my kids, and having more apps available for them gives it a longer lifespan; and so I feel Apple does support customers better. Reviews are not an issue, as the appstore defaults to showing reviews for the "current version", so your reviews are linked to the version of the app you use. Ratings may cause some issues, especially when some older versions will be tied to the now dead OpenFeint; people might give zero stars if the app or game is buggy.

Glad to know. Informative and on the mark article. Well done Richard.

works with my "in everyday use iPod Touch 2nd Gen with iOS 4.2" to download apps that vanished from the device due to "operation by a 3 year old" :) apps gone from the last two years are back.
For exemplo, TWiT from ShiftKey, so that I can listen to live TWiT.tv when Rene is on :) And yes, it's still my everyday device to listen to podcasts live MacBreak :)
Get the best of iMore in in your inbox, every day!
Thank you for signing up to iMore. You will receive a verification email shortly.
There was a problem. Please refresh the page and try again.