App for That: How to sync unread tweets between iPhone and iPad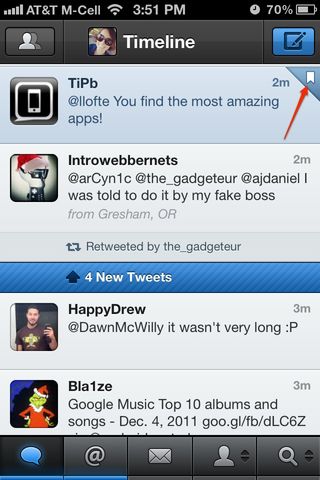 There are hundreds of thousands of iPhone, iPod touch, and iPad apps for just about everything -- so how come the one you need, the one you know just has to be there, is so hard to find? Enter TiPb's new weekly feature where staff and readers alike sort through the App Store and help you find just the right App for That. This week, @Bitterblade asks:
We're going to switch things up a little this time, and instead of recommending a specific app, we're going to take a look at a service that can be used between multiple apps. To find out what it is, follow along after the break!
Tweet Marker is a web service that marks your last read tweet. As long as you have the service set up on at least two different Twitter clients, you can free jump between the two apps without losing place of which Tweet you read last. Just enable the feature in the apps' settings, and you're good to go!
Here is a list of Twitter apps that support Tweet Marker:
Bonus: Twitterrific also has a Mac version [$4.99 - Mac App Store link (opens in new tab)] that supports Tweet Marker. The Chrome extension WebMarker does as well.
Anyone else have any App for That suggestions for @Bitterblade? Let him -- and all of us -- know.
Having trouble finding what you need in the app store? Head on over to our App for That Forum and let us know what you're looking for. The TiPb community will do our best to find you just the right App for That!
Former app and photography editor at iMore, Leanna has since moved on to other endeavors. Mother, wife, mathamagician, even though she no longer writes for iMore you can still follow her on Twitter @llofte.
my friend's mother made $185509 so far just working on the internet for a few hours. Read more here... http://zapit.nu/1cm

Echofon is an app for all iOS and Mac that has this functionality built in. Works well. I think there is a free and paid version. I use the paid version and haven't been able to find any other app that works as well as this one for timeline sync. I actually haven't found any other twitter app that has this functionality. I constantly switch between iPad, iPhone and MacBook, so I really need this functionality.

I use Echofon and must have missed this feature. Is it something in settings that I have missed?

Tweetings has iPhone, iPad and Mac apps, with both tweetmarker and tweetings sync, works flawlessly. You can also theme the mobile version, supports a night theme, custom sound tones, and muting. Love it.

Echofon. Apps available for iPhone, iPad and Mac. Syncs flawlessly.

In echofon you can turn on Sync with desktop for each account you want to sync.

Echofon was the first and for a long time only Twitter app with sync of read tweets. Not mentioning this is a bit embarrassing for you as "The #1 iPhone, iPad and iPod touch blog".

The problem with Echofon all around is that it is not necessarily the best client on any particular platform and you lose out on some of the more "modern" clients (especially on iOS). The beauty of TweetMarker is that it is a public available API that any client can implement. With this implementation I can now use any client that has the API built in. For now, I have standardized on Tweetbot (iPhone), Tweetings HD (ipad), and Twitteriffic (Mac). I have tried using TL on Twitterlator Neue and found that the implementation is not very good as it seems to set the marker for other clients to read and scroll to, but when the in the Neue app, it doesn't do very well in moving to the last set marker.
Thank you for signing up to iMore. You will receive a verification email shortly.
There was a problem. Please refresh the page and try again.