This app wants to help create a litter-free world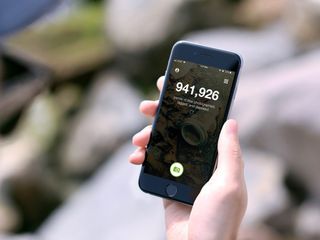 It all started in 2012 when entrepreneur Jeff Kirschner was on a walk with his children in Oakland, CA and his daughter spotted a plastic tub of kitty litter in a creek:
After that, Kirschner began logging every piece of litter he picked up on Instagram, captioning it with the hashtag #Litterati. Pretty soon, a community grew, with individuals from all over the world documenting their impact on the environment in photos complete with hip, artsy filters. Then in 2016, Kirschner officially launched the standalone Litterati app, allowing for a tech experience that better fit the goal of a litter-free world.
With Litterati, users can take photos of litter before they dispose of it responsibly. After a photo is taken within the app, you can tag it appropriately based on what exactly it is — for instance, if it's a Pepsi can, you can tag it with "Pepsi" — and then upload it along with your current location. Beyond just taking serious pride in doing your part to keep your neighborhood clean, the idea is to break down litter data on a global scale. Where are problem areas that have high concentrations of litter? What companies contribute the most to trash production? What sort of impact are certain organizations — i.e. schools — having on the environment around them?
Cool idea, right? Unfortunately, right now Litterati is a pretty limited app. You can photograph, tag, and upload litter to the database, but that's it. To see any of the collective data, you have to head over to the Litterati website. However, Kirschner and his team want to change that, and have since launched a Kickstarter campaign in order to expand the app so it's more useful, accessible, and beneficial. New features would include the following:
Groups: Groups would be a section of the app where organizations such as schools, environmental groups, scout troops, and companies, could go to better understand their combined litter impact to drive change for their communities.
Maps: Though you can already access a world map of litter on the Litterati website, this would be a more helpful and specific version that would allow interested users to search, browse, and filter by location or brand, shedding light on neighborhood-specific litter issues.
Data analysis tools: According to the Litterati app, the community has already picked up around 950,000 pieces of litter. Data analysis tools would assist with making that data productive and showing how to prevent litter instead of just dealing with the aftermath. These tools would provide extra information like retail locations, trash can placement, and even weather and topography, that way individuals will be able to track what influences litter patterns and make more mindful decisions as a result.
If you're able and would like to help make this app a huge step toward a litter-free future, head over to the Litterati Kickstarter page and contribute to the project. If you donate $30 or more, you can get snazzy rewards like Dopper water bottles and ECOBAGS totes designed by National Geographic explorer Asher Jay. If you're feeling super generous, you can pledge $2,500 or more and Jeff Kirschner will come give a live presentation for your company, school, or club.
Thoughts?
Do you think Litterati is a good tool for encouraging litter awareness and prevention? If you've already participated in the Litterati movement, how has it changed how you view litter in your area? Share your experiences and opinions with us in the comments.
Master your iPhone in minutes
iMore offers spot-on advice and guidance from our team of experts, with decades of Apple device experience to lean on. Learn more with iMore!
Tory Foulk is a writer at Mobile Nations. She lives at the intersection of technology and sorcery and enjoys radio, bees, and houses in small towns. When she isn't working on articles, you'll likely find her listening to her favorite podcasts in a carefully curated blanket nest. You can follow her on Twitter at @tsfoulk.