Apple Watch vs. Android Wear: Why most all smartwatches suck for small wrists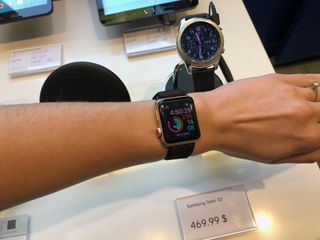 As anyone who reads iMore or my Twitter feed knows, I like my 38mm Apple Watch a lot. It fits well into my day-to-day activities, it helps keep me fit, and, oh hey — it fits my wrist.
And unfortunately, this is not something I can say for any other smartwatch out on the market today.
It's been more than three years since Apple announced the 38mm Apple Watch, and the device has been shipping for more than two. So what gives? Why aren't the engineers behind Android Wear — which arguably has a lot going for it on its software side — building smaller watches?
To this, I say: Manufacturers still have a lot to learn about the smartwatch market.
You're wearing it wrong
If wearable technology is the next big thing for our tech-connected society, why is Apple the only company paying attention to the smaller-wristed set? Lady or dude, there are quite a few people on this earth whose arms don't resemble the trunk of a Sequoia tree — many of whom would be excited to use a smartwatch.
And for that reason, I love that Apple supports multiple sizes for the Apple Watch. Smartwatches are one of the more personal technology purchases available out there today, and the company is committed to making them accessible to people young, old, large, or small. Engineering LTE inside a 38mm Series 3 was no small feat; Apple could have limited it to the 42mm set, but it chose to attack the problem and make it accessible to all.
I can't say the same for the rest of the smartwatch market. I've been looking avidly across the Android Wear (and Android Wear-adjacent, like Fitbit) lines since 2015 for alternative smartwatch options, but have struck out every time.
It's not that I dislike my Apple Watch — it'd probably be my favorite smartwatch even if I were limited to a 42mm size. But I want to like Android Wear. Competition is good, and Android Wear does some smart things with notifications that I'd love to see over on the Apple side. Its hardware (mostly) isn't terribly-designed, either: On the contrary, for those with applicably-sized wrists, the watches look quite natural.
Today, however, I can't even consider or recommend an Android Wear watch — because I have yet to find one that fits on my wrist without making it look like the technology equivalent of an iron shackle.
Don't look now, but a Gear S3 is trying to eat my wrist.
On my wrists, I find Android Wear watches too large for comfort, let alone style. My wrists are small, but they're not waiflike — I have about a 57mm height in which to wear a watch. But everything aside from the 38mm Apple Watch feels more like a pair of handcuffs than a comfortable timepiece.
Even the 42mm Apple Watch feels too large on my wrist. I could wear it, but as I said in my initial thoughts on Watch sizing back in 2015, it's the difference between wearing something comfortable and wearing something simply to have access to technology. I've carried a variety of bulky tech devices over my years in this field, but having something on your arm is different: It's personal, and if it doesn't blend into your daily activities, you're going to notice it constantly.
And to those who might argue about how big "boyfriend" watches are in fashion, here's the thing: To wear a watch this way, you need to have it loose around your wrist like a bangle; you can't do this with smartwatches unless you're willing to ditch reliable health tracking (most of the reason I wear a watch in the first place).
After chatting with my pals at Android Central, I made a list off the top 15 smartwatches out on the market right now, and compared their respective casing sizes and weights. There are many more Android Wear options and along with other watch manufacturers beyond this list, which I've looked at as well, but these are the ones from major manufacturers that are still being sold (RIP, Pebble) or have notable size differences. (Fossil and other watchmakers are starting to do some interesting things with Android Wear watches, but their smartwatch lines remain as large or larger than major manufacturers, so they didn't make the cut.)
The results are as unsurprising as they are depressing:
Swipe to scroll horizontally
| Category | Style | Height (Length) | Width | Depth | Weight |
| --- | --- | --- | --- | --- | --- |
| Apple Watch Series 1 (38mm) | Rect | 38.6mm | 33.3mm | 10.5mm | 25g |
| Apple Watch Series 3 (38mm) | Rect | 38.6mm | 33.3mm | 11.4mm | 26.7g (28.7g w/LTE) |
| Apple Watch Series 1 (42mm) | Rect | 42.5mm | 36.4mm | 10.5mm | 30g |
| Apple Watch Series 3 (42mm) | Rect | 42.5mm | 36.4mm | 11.4mm | 32.3g (34.9g w/LTE) |
| Fitbit Ionic | Rect | 44.45mm | 38.1mm | 12.2 mm | 30g |
| Gear S2 | Round | 39.9mm | 43.6mm | 11.4mm | 30g |
| LG Watch Style | Round | 42.3mm | 45.7mm | 10.8mm | 46g |
| Gear S2 Classic | Round | 42.3mm | 49.8mm | 11.4mm | 30g |
| Gear Sport | Round | 42.9mm | 44.6mm | 11.6mm | 50g |
| Asus ZenWatch 3 | Round | 45mm | 45mm | 10.8mm | 48g |
| LG Watch Sport | Round | 45.4mm | 51.2mm | 14.2mm | 89.3g |
| Gear S3 Classic | Round | 46mm | 49mm | 12.9mm | 59g |
| Gear S3 Frontier | Round | 46mm | 49mm | 12.9mm | 63g |
| Huawei Watch 2 | Round | 48.9mm | 45mm | 12.6mm | 40g |
| Huawei Watch 2 Classic | Round | 48.9mm | 45mm | 12.6mm | 47g |
Lightest/smallest in bold, heaviest/largest in italics.
The Series 1 38mm Apple Watch is currently the smallest, lightest, and thinnest smartwatch on the market. The only watch that comes close to beating those numbers? Its slightly heavier and thicker Series 3 sibling.
Theoretically, the next smallest watch out there is the Fitbit Ionic — but I say theoretically because the Ionic's measurements are obscured and confusing. They're not available on the main Ionic page at all, and the one place you can find them (the Ionic's purchase page) has incredibly misleading metrics.
Most smartwatches list the screen size of their case, along with its height, width, depth, and weight without a band attached. The Ionic avoids mentioning its weight, height, or depth — instead, it lists a questionable width (contradicted by a Fitbit moderator on the company's forums), along with… the height of the display only. It also lists a secondary width of the screen as being 35.99mm diagonal, but that's literally the glass front, not the display — the display is only 29.2mm-by-21mm.
If you're confused, well… so was I. Fitbit has no reason to obfuscate its watch measurements and weights — until you take into consideration that, based on those measurements alone, Fitbit's watch appears to be smaller than the 38mm Apple Watch. (It is not: A head-to-head at Wearable clearly shows the differences in casing sizes — and that's when compared to a 42mm Apple Watch, not a 38mm.)
I also took to Twitter to ask about the Ionic's size, where ZDNet's Matthew Miller was kind enough to supply me with ruler-based measurements.
https://twitter.com/palmsolo/status/918180327578673152 https://twitter.com/palmsolo/status/918181515627962368
iMore editor Daniel Bader, who also has an Ionic, used a curved tape measurer to properly grab the measurements of the convex screen and came away with measurements of 44.45mm height, 38.1mm width — similar in size to the 42mm Apple Watch.
After the Ionic, the aging Gear S2 is the next-smallest option — but as a result of its round face, the Gear S2 is a full 10mm wider on the wrist than the 38mm Apple Watch; wearing it feels more like trying to style a black hockey puck than a smartwatch.
Marketing and technical challenges
When I first ran into this back in 2015, I figured the problem to be more of a marketing challenge than a technical one: Targeting the consumers most likely to buy early-adoption gadgets (men with larger-than-average-sized wrists) over the general consumer market.
But as the years progressed, Apple found massive success attracting women to its watches, while other watchmakers… released similar sizes in rose gold. The 2017 LG Watch Style was arguably designed to appeal directly to women, but even then, LG couldn't get the case smaller than 42mm-by-45.7mm — a massive difference from the Apple Watch's 38mm-by-33.3mm. And it apparently didn't work: The $250 smartwatch has seen massive discounts since its launch (including a crazy drop to $108 in August of 2017, just six months after its release).
Part of that struggle is in the round face design (and it's why I suspect Apple has yet to publicly offer that option). Round faces, by their nature, will be slightly wider than a rectangular casing. But many analog circular watches for women are closer to the size of a fitness tracker than a smartwatch — in order to make a display that was easily tappable and readable, manufacturers had to supersize the watch body into something that fit the software design.
There are "connected" Android watches that manage to be reasonably-sized and round: Fossil's Q Neely and Q Jacqueline come in at just 36mm in diameter, smaller than all the smartwatches I listed above. But they come with a major caveat: They're not true smartwatches. They're analog watches that have a few smarts built in — step counting, sleep tracking, notification haptics, and some button triggers to work with your phone — and that might be enough for some Android users. Without heart tracking, a screen, and apps, however, I can't in good conscience call them smartwatches.
There's also hardware internals to consider: Apple's technology is impressive, and what they've crammed into a 38mm device is nothing short of a feat. It's the advantage they get from designing the whole widget. Heart rate sensors, 18 hour battery life, the taptic engine, LTE, GPS, the S3 chip — there's a lot going on under that hood.
That said, some of the consistent critiques against Apple's smartwatches are a lack of always-on display and multi-day battery life — features that the company can't add right now if it wants to keep the case size compact.
In contrast, most of the Android Wear options I mentioned incorporate both of these oft-requested features — but it's at the expense of their case size. Ultimately, these companies are betting that more users will prefer lengthy battery life or the option of an always-on display to a watch that fits their wrist properly.
In 2015, that was a bet these companies could make: The smartwatch industry was nascent and largely limited to the tech-obsessed. But their time is running out. Apple may not be releasing its watch sales numbers, but the company is more than happy to boast about its current spot as the top watchmaker in the world — and yes, that includes traditional watches, too.
Whether other smartwatch manufacturers want to acknowledge it or not, size matters. This is anecdotal, but most every Apple Watch I see in the wild around Boston or Montréal isn't on the wrist of a technology-savvy friend — it's on young mothers, baristas, joggers, and students. Smartwatches are moving into the mainstream.
And unless Android Wear wants to get left behind, it needs to figure out how to build smaller watches — and fast.
**Updated October 17 to highlight Fossil's connected watch line — and why they aren't real smartwatches.
Master your iPhone in minutes
iMore offers spot-on advice and guidance from our team of experts, with decades of Apple device experience to lean on. Learn more with iMore!
Serenity was formerly the Managing Editor at iMore, and now works for Apple. She's been talking, writing about, and tinkering with Apple products since she was old enough to double-click. In her spare time, she sketches, sings, and in her secret superhero life, plays roller derby. Follow her on Twitter @settern.