Apple has officially revised the App Store's cryptocurrency guidelines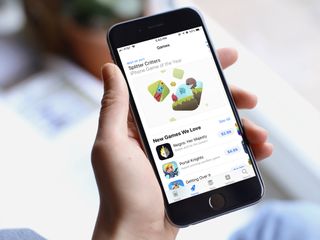 (Image credit: iMore)
Well, it's official, all you crypto enthusiasts out there: Apple's App Store Review Guidelines (opens in new tab) have been updated to reflect new policies regarding cryptocurrency in apps. Though there are multiple changes to the guidelines concerning this issue, the company seems to be putting a special focus on cracking down on apps used for cryptocurrency mining. The newly added section of the Business portion of the document, called 3.1.5 (b): Cryptocurrencies, reads as follows:
(i) Wallets: Apps may facilitate virtual currency storage, provided they are offered by developers enrolled as an organization.
(ii) Mining: Apps may not mine for cryptocurrencies unless the processing is performed off device (e.g. cloud-based mining).
(iii) Exchanges: Apps may facilitate transactions or transmissions of cryptocurrency on an approved exchange, provided they are offered by the exchange itself.
(iv) Initial Coin Offerings: Apps facilitating Initial Coin Offerings ("ICOs"), cryptocurrency futures trading, and other crypto-securities or quasi-securities trading must come from established banks, securities firms, futures commission merchants ("FCM"), or other approved financial institutions and must comply with all applicable law.
(v) Cryptocurrency apps may not offer currency for completing tasks, such as downloading other apps, encouraging other users to download, posting to social networks, etc.
In addition, the company has updated the guidelines' Hardware Compatibility section (2.4) with the following rule:
Some are speculating that this change is due, in part, to an open letter recently penned by a group calling themselves the Developers Union that requested Apple overhaul its App Store policies. Though the letter predominantly focused on allowing free trials for all apps in the App Store, it also requested that Apple make more "developer-friendly changes" to its Review Guidelines. While this particular alteration may not seem to be a developer-friendly move at first glance because of its restrictive nature, it will actually be a boon for devs who create apps that offer cryptocurrency transactions. If their app adheres to the guidelines, it will reinforce their legitimacy and allow consumers to feel more confident that they aren't being swindled in some way. And, of course, an app that doesn't drain your battery or strain your phone running background tasks is pretty desirable as well.
As VentureBeat notes, this will effectively put an end to all cryptocurrency mining on iPhone, iPad, iPod Touch, Apple TV, and Apple Watch because the App Store is the sole source of software applications for those devices. However, since Mac users can download third-party programs from outside the Mac App Store, it's likely that mining will still occur on that platform without Apple's blessing.
Thoughts? Questions?
How do you feel about the changes to the App Store Review Guidelines? Share your thoughts in the comments.
Get the best of iMore in your inbox, every day!
Tory Foulk is a writer at Mobile Nations. She lives at the intersection of technology and sorcery and enjoys radio, bees, and houses in small towns. When she isn't working on articles, you'll likely find her listening to her favorite podcasts in a carefully curated blanket nest. You can follow her on Twitter at @tsfoulk.
Thanks for telling great information about the cryptocurrencies in apple. Cryptocurrencies have been accepted worldwide and will soon be introduced in apple watch app development by various organisations so people can trade cryptocurrencies on their apple watch. Various companies provide apple watch app development