Apple has set up a 3TB hard drive replacement program for some 27-inch iMacs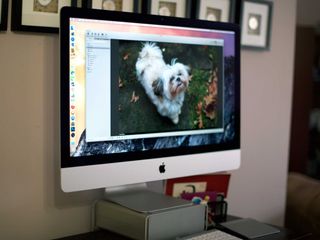 If you own a 27-inch version of the iMac with a roomy 3TB hard drive, you might be able to get a free replacement for that drive. The company has quietly started a replacement program for those systems.
Here are the details, as revealed on Apple's website (opens in new tab):
If you have an iMac that fit the requirements of the replacement program but have not gotten an email, you can go to Apple's site and enter the PC's serial number to see if it is eligible. Apple adds that if you have an iMac that fits the replacement program, and have already paid for a hard drive repair or replacement before now, you may be able to get a refund.
Source: Apple (opens in new tab): Via: MacRumors
Get the best of iMore in in your inbox, every day!
I have been writing professionally about technology and gaming news for 14 years.
I've had some strange drive issues with my 27" iMac w 3TB Fusion drive for a long time now but I've never bothered to take it in to Apple. Sadly it says my serial number isn't in the range. Hopefully they'll expand it if enough people report issues.

This fits my timeline but I've not had any problems. The thing is, I assume, I have to wait for a failure before anything will be done. I'll just have to be happy with solid reliable performance.

Turns out those Seagate drives that Apple favors have been having terrible reliability problems of late (said to come from the fact that Seagate shifted production to China after the devastating floods in Thailand last year). I read a report (I now forget where) that examined data from surveys of several big server farms and looked at the reliability problems they have been having. Seagate was the big loser for last year (but their situation seems to be improving).
I changed my plans to upgrade the drive in my MacBook Pro to a Seagate 2TB drive in favor of a HGST 1TB 7200RPM drive. HGST had the best reliability (at least for last year) according to the report, and the larger drives seemed to have more problems. Can't wait to see what the next report says...
Thank you for signing up to iMore. You will receive a verification email shortly.
There was a problem. Please refresh the page and try again.