Apple Pay: Inclusive and empowering by design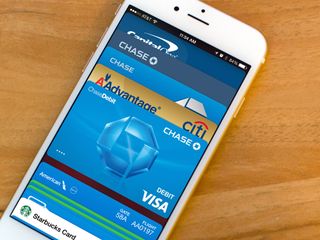 After Apple introduced the iPhone 5S last year, I wrote a piece on Medium about Touch ID and accessibility. In it, I posit that the fingerprint scanner would prove to be a huge usability win for users with disabilities because unlocking one's phone was no longer a chore. Over the next 12 months with my iPhone 5S — and now over the last month with my iPhone 6 — I've found my prediction to be correct: more than improving on security and convenience, Touch ID is a terrific accessibility tool.
These same exact sentiments are applicable to Apple Pay. I've used Apple Pay twice since iOS 8.1 was released three weeks ago — once at the Apple Store, once at McDonald's — and have found it to not only be "easy, secure, and private", but I've also found it to be a great accessibility tool.
No longer am I forced to go through my wallet, trying to find the credit card I want to use, and then struggle to swipe the card through the point of sale terminal. (Not only is it difficult to see which card I want, but because of the reduced strength and dexterity in my hands caused by my cerebral palsy, it's even more difficult to pull out the card and swipe it.)
Instead, all I need to do is pull my phone out of my pocket, put my thumb on the Home button, and I'm done. There's no eye strain, no dexterity issues, nothing. Just tag and go; it's fantastic.
I'm not alone in my struggles to use my physical card to pay. Jason Snell recently forwarded to me an email sent to him by a reader who expressed his excitement Apple Pay. That's because, as a blind iPhone user, Apple's mobile payment system makes in-store card transactions more accessible, while also giving the visually impaired a sense of empowerment and independence.
It's worth noting that in discussing Touch ID and Apple Pay here, there's a common refrain: "it's a great accessibility tool". This is by no means coincidental. That both technologies have such obvious merit in terms of accessibility speaks volumes of just how well-designed and well-executed Apple has made them. Touch ID and Apple Pay are mass market, marquee features --- they're not designed for accessibility's sake in the same way dedicated Accessibility options are — but they work so well as intended that everyone can use them with ease, regardless of any visual or physical impairment.
Here's what John Gruber wrote on Daring Fireball regarding Apple Pay's accessibility:
I would add one word to that last sentence, because it's not just good design. Apple Pay (and Touch ID) are, in my mind, pillars of good, inclusive design. It puts everyone on a level playing field without, as Gruber points out, special modes or settings.
That Apple Pay on the iPhones 6 (and soon the Apple Watch) works so effortlessly that it instills feelings of empowerment and independence for users with disabilities is profound.
It remains to be seen if Apple Pay will be the game-changer for the mainstream as Tim Cook extols it will be. But it's worth recognizing that Apple Pay is already a success with the disabled — and it's all thanks to its inherent design. That's no small feat, and I think stories like these are positive steps towards breeding curiosity and moving toward critical mass.
Master your iPhone in minutes
iMore offers spot-on advice and guidance from our team of experts, with decades of Apple device experience to lean on. Learn more with iMore!
Steven is a freelance tech writer who specializes in iOS Accessibility. He also writes at Steven's Blog and co-hosts the @accessibleshow podcast. Lover of sports.