Apple releases iOS 4.0.2 for iPhone, iOS 3.2.2 for iPad, kills Jailbreakme.com, PDF exploit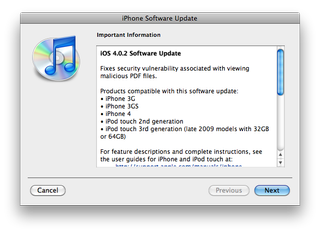 Apple has just released iOS 4.0.2 for iPhone and iOS 3.2.2 for iPad which on the surface seem only to patch the zero day, in the wild PDF rendering exploit that enabled Jailbreakme.com, but could have also potentially allowed all manner of malware attacks against the iPhone Safari browser.
At a whopping 579.3 MB for iOS 4.0.2, it does seem like there should be something more substantial in the update -- proximity sensor fix anyone? -- but if there is, Apple isn't saying.
Kudos, however, for moving at what is for Apple security, lightning speed.
If you don't care about the Jailbreakme.com, or care about potential malware exploits more, head on over to iTunes and start your download. If you notice anything else fixed or changed, let us know in comments!
Get the best of iMore in your inbox, every day!
Rene Ritchie is one of the most respected Apple analysts in the business, reaching a combined audience of over 40 million readers a month. His YouTube channel, Vector, has over 90 thousand subscribers and 14 million views and his podcasts, including Debug, have been downloaded over 20 million times. He also regularly co-hosts MacBreak Weekly for the TWiT network and co-hosted CES Live! and Talk Mobile. Based in Montreal, Rene is a former director of product marketing, web developer, and graphic designer. He's authored several books and appeared on numerous television and radio segments to discuss Apple and the technology industry. When not working, he likes to cook, grapple, and spend time with his friends and family.
Theirs alway's some kind of security flaw's in any os you Jailbreak or root!!!! But its nice too see apple doing what they need to do to fix it fast though!!!

Considering the jailbreakme.com did nothing but brick my phone when I tried to restart it, I will be happy to update.

Download is only showing 378.0 MB

Glad they came out with this...now all the 12 year old's jailbreaking iPhones in Apple Stores will have to find another prank.
I'm not going to download this unless the proximity sensor issue has been addressed. I'm jailbroken and loving it!!!

My update is only 366.5 MB so I'm not sure why yours is over 500MB. Its going to take a while since I'm downloading a 1GB Mafia 2 demo on my PS3 at the same time so yeah...I'll be here a while.

"At a whopping 579.3 MB" - oh no... not another "OMG, why is this small update so big?!"

Not interested if it kills jb

A "security vulnerability associated with viewing malicious PDF files"! I suppose that's one point of view... Come on anyone that uses the web jailbreak does so on purpose. They are not being fooled and therefore it's neither malicious or a security vulnerability unless you are Apple.

@Tazzy!!! The JB introduced no security holes, these were courtesy of Apple. The only issue that can arise is the installation of SSH without changing the password. Get informed.

@Rob- jailbreakme.com did not brick your phone- you did. When done properly it is idiot-proof (or did you prove that statement wrong?)
@Mark- the malicious PDF files don't have to be the jailbreak site. It could be any PDF that you unknowingly open. Please join Rob in the idiots corner.

@Mark
I think you're missing the point. Yeah, jailbreakme.com used the exploit, but other malicious sites could too. So it's not only patching the jailbreak but a huge security flaw in iOS.

HungWell, please join both of them for being the idiot who thinks he is smarter than everyone else.

Apple really needs to start working on a way for them to do OTA patches. Waiting an hour to download an update for my phone which is essentially the entire OS with one tiny fix is ridiculous.

I am enjoying FaceTime over 3G. No thanks, Apple.

@PeterM11:
Stop whining, you big baby. I wish I had your problems.
"Omigod... I had to wait like, for an hour or something for a software update. Bwawawawa. During that time I was rendered totally incapable of appreciating how unbelievably lucky I am not to be lying in a ditch bleeding or starving to death in some God-forsaken corner of the world. Poor me.

What if I restore my phone as new now - am I forced to download 4.0.2?

PTA is usually much slower I am digging the iTunes way my comp is still faster then my i4.

An hour? What are you guys downloading over a phone modem?
I just updated over wireless and it took 5 minutes to download....a few more minutes to install and it's done.

i just download it and install it in less than 8min

I can't update because my iPhone is unrecognized by my PC (and every other PC I've tried), though it charges when connected to the wall charger.

The reason Apple dies not push out patches and instead make you download the entire OS is exactly so that JB is broken every time. Everythig Apple does, and I mean everything, can be explained by their desire for control.

Thanks for not fixing the proximity sensor issue. I'm having so much fun muting calls and placing them on hold with my cheek.
-Sent from my Cheek

anyone who is JB'ed will certainly NOT update to 4.0.2... i won't... not until the next JB comes out :D

Does this mean we have to wait till mid september for proximity fix?

Shocker I have to download the entire OS again for a X.X.1 release. I'll wait.
There is already a fix for the proxy sensor, at least for me, restore as new. No problems since.

If you already JBd will this affect it or just people who want to in the future?

@Mystic:
Peter11 is correct. An hour, and having to hook up to the computer is ridiculous. Nobody else does it this way.
Childish comparisons to totally unrelated worse case possibilities are just silly.

Mine is showing as 579.3 MB. (iPhone 4)

Six minutes total to download, backup, and update on MacBook Pro. What's the big deal?

Personaly why the hell would I upgrade to 4.0.2? To help apple get rid of the JB they hate? This security flaw has been hyped up as usual, has anybody heard of any iPhones being hijacked by way of the PDF flaw? Apple can go shove it, I love my JB iOS4. Why should I be locked down to apples stupid strict restrictions!? You all watch, let them patch it, There will be another security hole exposed for there next major upgrade. Just like any other software the ios is NOT perfect, there will always be security flaws.

This is all well and good but what happened to a proximity sensor fix in the next ios update? If I mute or hang up on another phone call will my face I will scream.

No thanks. I'm sticking with 3.1.3 on my iPhone 3G until Apple fixes the performance problems in iOS 4.x. However, if anyone could confirm whether 4.0.2 fixes those problems, by all means let me know.

damn you people b*tch way to much

This made my proximity sensor WORSE! I'm at the end of my relationship with Apple with regards to mobile phones.... Need to consider my options.

Hm. Gonna wait till a proximity sensor fix comes with the update. I'm jailbroken and have the root passwords changed as well as the package installed that asks whether I want to open PDF files, so no known vulnerabilities.

get a palm pre! Hacker friendly! Palm actually has a program to let you do it. On the phone.

update fixed my iPhoto 09 sync issue. Photo sync has been buggy since I upgraded iPhone 4. Worked on first sync after upgrade, awesome!!

lets hope they fix the cr@p battery life for 3GS on iOS4 !!

Hey everyone! Free update to fix things!
What's with all the complaining? Seriously, based on all the comments most of you should just sell your iphone and bitch about another device. Don't wanna upgrade - then don't. Like your JB - good for you. The rest of us just got an update to make our phone more secure and we like the fact that it happened so quickly.
Now shut up.
You are yucking my yum.

My update is 580mb, I wonder y people have different mb download.

4.0.2 isn't available in UK yet....
Just synced with iTunes and it only shows 4.0.1 as available for download.

I'm getting some nice 1603 errors with this.... Greaaaat. Never been JB or anything. iPhone 4.

1602 error actually.... fuuu

Just tried to update my iphone 4.. crashed halfway through the process now itunes won't recognise my phone.. awesome :/

After much frigging around I now have 4.0.2.

I will probably do the iPad OS update just because Safari and Mail still crash intermittently after changing the iPad. However unless there is a compelling reason I've usually stayed away from x.0.x upgrades and waited for full point upgrades. On my 3G I made the mistake of going from JB iOS 4 to 4.0.1 to get rid of the JB which slowed the phone down too much. The result was my 3G smoked battery like cheech and chong. I went from 96% to 7% in 8 hours from just texting. So my i4 is still on iOS 4 to this day.

Does this make the signal bars look normal again?

Nope. Also I'm not doing this pointless update. I like my JB

I thought Apples didn't get malware? ;)

The article said "If you notice anything else fixed or changed, let us know in comments!"
Great, we have 50 comments and #38 is the only one who is actually reporting a fix.

Glad to see Apple prioritized fixing a remote root exploit as serious enough to warrant its own immediate release. Disappointed to see they are apparently not issuing a fix for iOS 3.x devices, as 2G phones/iPod touches are still at risk, as are a large number of 3G phones while iOS4 performance discourages updating.

I have not had proximity problems since the upgrade. Perhaps they stuck that in? Anyone else finding this helps with cheekmute.

wth?! I couldnt wait 2 hours so I ejected it and quit iTunes and it just bricked my iphone now I have to restore it because it was in Recorvery mode... ALL this for a stupid update about hacking in PDF files? yeah no thanks..

I think the dev team should create a PDF for IOS3.x devices that installs the warning message about opening a PDF... no jailbreak, just the warning. Now that would be some PR...

@ E2K, got a jailbroken iphone 4, i am having sync issues with iphoto. dont want to update but sure want iphoto working fine:-(. my vidz wont sync correctly!!!

Updated to iOS 4.0.1 last week and noticed that my signal strength DECREASED as soon as it finished. I was standing next to someone else last night who had an iphone and they had all bars and I had ony 2. Will the 4.0.2 fix that??

blah blah blah. Apple, my phone app has NEVER frozen, crash , hung or stalled on me EVER. I've had the 3G and 3GS for a total of three years. I upgrade to 4.0 and the trouble begins. I've never gotten so many back to back dropped calls EVER. After 4.0 , now it's a fact of ' iLife '.
Apple, you're making AT&T look REALLY bad. I've had AT&T for 8 years now and even though I got an occasional dropped calls back in 2006 when I had my lil samsung slider [D807] phone and once or twice when I got my FIRST smartphone BlackJack II , I've NEVER gotten back to back failed calls or dropped calls like I do now on the iPhone.
Apple, please GET YOUR CRAP TOGETHER ! Hire a team of people that really know what they are doing with cellPHONES ! Why is it that iPhone owners get the most signal problems that Blackberry or other brands. Antennagate my A*S , Curve and Bold owners don't complain about dropped calls as much as WE do and THEY dont even get upgrades to fix antenna issues. My iPhone 3GS is just a iPod Touch trying to be a cell phone...
Apple, get it together ! iPhone 3GS owner.

With iOS 4, my Ford vehicle usb no longer works with my iphone 3gs. with iOS 4.0.2 it's fixed. amazing!!! apple swore it wasn't their issue, but ford did nothing to my vehicle and now suddenly, it's fixed. How odd? NOT!

i have the new ios 4.0.2 update and its cool for some things but my apps tend to freeze alot. facebook app gets like a blackish fade and i have to restart my phone for it to be useable again. i dont know if its something im doin wrong but i just use it and it messes up.
but over all the updates cool. i still wish with the 3G we can make everything faster, like video loading and searching isnt always fast with full service.