How to add symbols to your iOS 4 folder names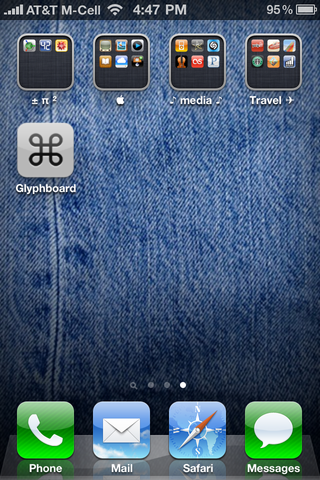 Just when you thought your folders were organized and cleverly named just right, we're here to turn the naming game up a notch by adding symbols with Glyphboard. I'm sure many of you have a folder filled with Apple apps named "Apple". I definitely do. But why be so boring and predictable when you can name it with the Apple logo instead? To learn how, follow us after the break!
First, you must visit http://mrgan.com/gb/ with Safari on your iPhone. Then follow the instructions to add the website as a bookmark to your homepage. Now, exit Safari and tap the bookmark you just created. This opens a web app called Glyphboard.
(opens in new tab)
Glyphboard includes 48 characters that can be copied and pasted anywhere else on your iPhone such as email, notes, calendar, and of course, folders! Glyphboard also provides a box at the top so you can paste several icons within the web app and copy them all together. This is a time-saver for those of you that may want to use more than one character at once.
(opens in new tab)
Now get to it! Give your folders a unique touch with Glyphboard and share your creativity. Head on over to the TiPb forums and show off your latest folders.
[iPhone J.D. via Daring Fireball]
Former app and photography editor at iMore, Leanna has since moved on to other endeavors. Mother, wife, mathamagician, even though she no longer writes for iMore you can still follow her on Twitter @llofte.
haha. i do have a apple folder. thanks.!

I have an Apple folder to called MobileMe...I use Emoji as my Folder App Symbols

Thanks guys! this was really helpful! it works fine! :)

Emoji work well for this too.

Yes, emoji works well, and the symbols in the folder names remain even after you remove the emoji keyboard.

not working in ios4 3gs :(

Emoji works fine on my iOS4 3GS.

@Jeff: I mean the Glyphboard does not works. Everytime I open the Glyphboard icon, it's always quit. Could you give step by step how to add Glyphboard on homescreen?
Thanks

Doesn't work for me .. just closes when opened like it's not ready for OS4 ? Tried setting it several times

Not working for me neither (3GS with iOS4)!

iPhone 4 works fine. I got the Apple logo and the music note! Nice find!!!

Lol just use iemoji it's better cause it has color

Works fine on 3GS ios4
Good luck

Hi, on the PC, you can do this in iTunes when messing with the screens. You can copy and paste from Character Map and they show up on the iPhone. I haven't tried all characters but the font needs to be Arial. There's a heck of a lot more to choose from though.
I would assume the same is true with the Mac equivalents.

You can also use any of the many free and paid Unicode apps. It's the same thing. Unicode FTW!
⌇⌇⌇⌇⌇⌇⌇⌇⌇⌇⌇⌇⌇⌇⌇⌇⌇⌇

Since iOS4 on a 3GS, certain webapps (for example this one) always close on startup :( Anyone else having this problem?

Very cool, but How does it work exactly, how they make it open in a non-web page, see-ing as how it doesen't show the generic safari header.

Emoji look much better for this usage than those Glyphboard characters.

Pretty cool. But Emoki definitely has more symbols. I love Emoji.

Agreed, why would you recommend Glypboard and it's 48 characters when there are so many alternative free apps that allow you to use Emojis? Of which there are plenty, plenty more than 48!

this is great. always wanted the apple icon

I'd like so find a way to change the main icon of the folder rather than just placing an icon in the name area. Ideas other than waiting for the JB app to do this?

Emoji doesn't have an Apple logo!

Not working.. suddenly close .. iPhone 3GS iOS 4.0 JB

Works fine on my 3GS/iOS4.
This is good. I wouldn't have known I can use emoji as folder names if I hadn't read through the comments.
Thanks!

Thanks for the tip, LeAnna. Nice find... Great job.

Dosent work on 3GS iOS4 JB for me either...quickly closes\crashes

How do you paste it to your folder ?

Nice - thanks! Where did you score the denim wallpaper?

Watch Twilight Eclipse Online Free 43fgbmnk http://identi.ca/watchtwilighteclipseonlinefree45 bcjk34

Watch Twilight Eclipse Online Free fgxcdvg5bh6 http://identi.ca/twilighteclipsefree1 bcjk34

I understand this question. Let's discuss.

If on iOS 5 just use Emoji
No App Needed
First go on settings
General
International
Keyboards
Add New Keyboard
Emoji
⏪☎➿

I'm on 5.1.1 and that pixelated stopwatch turns out to be an emoji 2. And the tick, telephone, heart, club, spade and aeroplane.
They are actually weird black versions of emoji
Get the best of iMore in in your inbox, every day!
Thank you for signing up to iMore. You will receive a verification email shortly.
There was a problem. Please refresh the page and try again.