How are you organizing your iOS 4 Folders?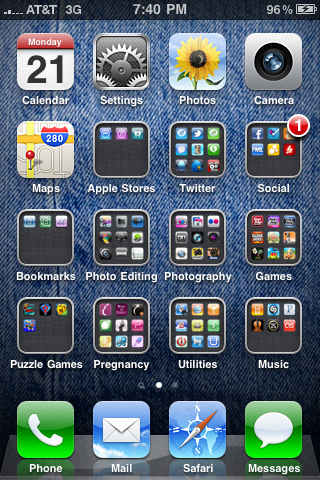 One of the big new features of iOS 4 is the ability to organize your apps into folders. Each folder can contain no more than 12 apps and can be placed anywhere you like, including the dock. Folders are completely customizable and the process is simple.
Already a folders-making machine? We want to see them! Head on over to our iPhone Forum and add your screen shot to the showcase. Make sure you tell us how you're organizing them. By category, by workflow? Do you have Folders in your dock? Are you using them to help get things done or just better keep track of your fun? Show us!
Not sure how to set up Folders yet? Read on after the break!
There are two different ways to create and organize your folders. The first is with your iPhone. Tap and hold on an app until it starts to jiggle. Next, drag the the app on top of another app you want to group it with it. The icon of the bottom app will slightly enlarge with a dark boarder and both icons will become translucent. At this point, you can continue holding or release; both actions will open your new folder containing both apps and named something the OS finds appropriate, but you can name your folder whatever you want. To add more apps to your folder, tap outside the folder and drag apps onto the folder icon. Releasing your hold on the app within seconds of placing it on the folder drops the app into the folder but doesn't open it. If you hold the app over the folder for a few seconds, the folder will open so you can place the app at a specific location in the folder. Once you're done adding apps and organizing your folder, press the home button. To remove an app from a folder, just drag it somewhere outside of the folder while in jiggly-mode.
(opens in new tab)
(opens in new tab)
(opens in new tab)
The other method is in the Apps tab with iTunes. The only significant difference is that you're using a mouse instead of your finger, so you must double-click to open a folder. Everything else is the same. Just sync your iPhone when you're done!
(opens in new tab)
Okay, now head on over to the iPhone Forum and show your freshly made Folders off. (You can screen shot them by holding down the sleep button on top of your iPhone or iPod touch while you click the home button below the screen.)
Get to it!
Get the best of iMore in your inbox, every day!
Former app and photography editor at iMore, Leanna has since moved on to other endeavors. Mother, wife, mathamagician, even though she no longer writes for iMore you can still follow her on Twitter @llofte.
Most of them were already pages, now I have only two pages (the second one with only one folder with system apps like Cydia, App Store, Settings, etc).
http://img.ly/1yOD
(From portuguese: Diversão = Fun, Jogos = Games, Multimídia = Multimedia, Som = Audio, Imagem = Image, Escritório = Office, Redes / Mapas = Social Networks / Maps, Outros = Other)
Hopefully Apple will someday implement paging inside those folders, sometimes you need more than 12 spaces.

Maybe it's just me, but I don't see the point of folders on the iPhone iOS 4. Considering I can use the Spotlight to find whatever I want in a jiffy...
Its the same thing as using Outlook, I don't put emails into folders either. One search will check the ENTIRE Outlook hierarchy. Well, that's just me; albeit I did try it on the iPhone, just simply not impressed with it...

@Ivan I have NEVER used spotlight. One feature I miss is the ability to disable this.

I typically use spotlight for everything its easiers than trying to sort through everything.

Now that we have folders, for me, spotlight isn't really necessary. That and multitasking which is convenient for those apps that I need to switch back to and I don't have to search spotlight or through folders.

i wrote a fair bit of it here >> http://www.productiveorganizer.com/iphone-and-ipod-touch-productivity/ho...
but generally this is how i group them Marketplace Reader Messenger Utilities 1 & 2 Calculator Cloud Storage Info & Search Media Financial Svc 1 & 2 Password Singapore Office Game Testing To Do

Consider this strategy - a page or two of folders flanked by apps outside of folders on either side.
My first page has the apps I use constantly, not in folders, easy and quick to identify.
The next two pages have folders of various categories, none of which are full.
THEN the pages that follow are all games, outside of folders, and I know they're all games.
Whatever you have the most of, leave out of folders so you don't end up with multiple folders of the same kind of thing forcing you to hunt through them, like Games 1, Games 2, Games 3, etc.

Who needs that many twitter apps?! And congrats on the forthcoming baby.

I've got all my stuff into only 2 pages now using folders and I love em!
Looky here! http://bit.ly/bH8cUw & http://bit.ly/dmHLF3
Really happy with iOS 4 so far. Can't wait to play with it on my new iPhone though!

All mine are set into folders according to what itunes says they are. Things that I had onto pages as other categories, are now where Apple says they are suppose to be. Inside each folder all apps are alphabetically organized A to Z, and all the folders are on one page by themselves alphabetically organized A to Z. I know what your thinking, this guy is OCD...well I was until the other day than I realized I am CDO(alphabetically organized A to Z)!

in iTunes, I added a couple of unsynced apps, then dragged them into an already existing folder (that had been created on the phone). But, when I synced, the added apps didn't sync over to the phone (and no error messages either). So, I don't know what the problem was there.
To me, too many folders defeats the whole purpose of one-touch access to apps. I still have my three home screens to quickly see them and launch them... and use only one folder with some web clips.
I couldn't handle all those tiny icons pictured above. Ughh...

I hope soon on an iOS 4.x fix to bypass the 12 item limit for folders... so orribleeeee!!!!

@steve you sir will never be happy

So far I just have a folder for games and junk. If I need to find an app, I do a spotlight search.

I find that having folders on my home screen is much faster than using spotlight. Wish folder icons could be customized, or maybe show just 4 apps for better details...

I have Games, Social, Misc, Utilities, Stores, Productivity, and Entertainment

I'm a folder make fiend!
http://www.flickr.com/photos/42863397@N05/4727663704/

@chris: because she did the Twitter app review roundup: http://www.tipb.com/2010/05/20/iphone-twitter-roundup/

Folders are practical yes, but they make the interface so ugly!
I like the big shiny icons, specially with the Retina display.
Like others mentioned, Im gonna use folders for junk.

Love the folders but they don't love me. (Horror Story follows:)
I have over 1200 apps (long story), so I really wanted this too work. I made a few folders on the GS, then synced the phone. That worked, but that's were the problem began. I went into the Apps tab, made about 4 folders and press Apply. iTunes restored the app config from the GS, ignoring my iTunes changes. I figured I did something wrong, so I set up one folder in the App tab and pressed Apply. After a full sync, "boom", the folder was gone.
Okay, I just figured that iTunes doesn't handle folder creation if you have a lot of apps. No surprise since it sometimes failed to place icons where I wanted in earlier versions.
I decided to do the work on the phone. Putting in many hours, I organized a portion of the apps (not all 1200 are on the phone, but there is over 8GB of apps there besides 16GBs of audio). On one page, I created 16 folders of 16 apps (apps I am evaluating - 1 Games, 2 Games, 3 Games, etc.). I created various other folders and had pages with one, two, or three folders (News, Finanace, etc.). The rest I left as icons for easy access. I finally got it to my liking last night; I started downloading Real Racing, Slacker, and Twitter and went to sleep.
When I got up, I unlocked the phone and was greeted with "Enter your iTunes password." I did and was told it couldn't download Slacker or Twitter. After hitting RETRY 4 or 5 times, I clicked the DONE button to cancel. At the point, the springboard locked up with the grey type fog that shows up when showing the multitasking tray but with the dock emptied of apps.
30 seconds later, when I was beginning to sweat, the springboard returned. It took a moment to comprehend the damage: The first home page had been reconfigured into the default configuration seen in the WWDC images. My carefully arranged apps were totally randomly distributed on the other pages. The folders, except for the default Apple "Utilities" folder, poof, gone. Some of my most important apps were nowhere to be seen, pushed out into the ether on virtual pages.
Oh, yeah, the dock was repopulated in the default configuration, too. (However, all the apps I had used were still in the multitasking drawer in the order of last use, even if not visible on any home page.)
Moral of the story: Immediately back up your changes to iTunes!
Has anybody had a similar failure?

I did my upgrade to iOS4 and then had to spend over an hour moving apps around and reorganizing them. As a former JBer, I already had folders and now I have rebuild them.
I have things like News, Media (Pandora, Last.FM, etc), Tools, Unused, A game page with folders called: Board, Shooter, Defense, Kids, Card, etc. I've got a folder called Bills and others like this. I don't use all of the apps all the time, so I prefer to use folders instead of having all the pages of apps.

@(9_) Yeah, I assumed it was review related. Just being silly. :)

Folders make it look ugly.. And I prefer the jet black background which there is now no choice for. Think am a rubbish iPhone user as I can't think of anything other than spell check I like aboutthe new software. I was so excited about the upgrade to os and it's one big let down even started to look at my iPhone 3GS in a negative way. Not a happy customer. Desperatly seeking a samung ultra no

Update: Auto-reconfiguration that I experienced doesn't place the icons randomly after all. You get the WWDC layout on the first page including the one utilities folder, followed by alphabetized icons: lowercase preceding numbers, preceding uppercase. Thus iBooks following Settings, followed by other iApplications, followed by numeric apps (I had one named 250 Spanish), followed by icons beginning with A, then B, etc.

i dont like so much the folders... makes me have to tap another tap lol... besides i dont have many apps (like 15 or 20 only) so its better off for me to leave them as they where. IMHO.

Folders missing a seriously important feature: icons for folders (either chosen from an app or from generics). How on earth can you tell the folders apart? Otherwise, it's helpful. I had too many cluttered pages of little used apps before.

I agree with Jeff. Icons for folders (like the icons for music genres in iTunes or just showing one particular app icon to represent the group) would make them MUCH more visually appealing. I really hope they implement that in the future. It would make it more consistent visually. In my opinion, the way it is now, it just looks weird showing all the little mini-icons in groups. I personally think they look kind of ugly the way they are currently. For now, I just use the folders for app categories that I have a lot of apps in. I don't like how they look, so I try to use as few as possible. For my most-used apps, I just leave them the way they are and don't put them in folders.

I love my "crap" folder! put in all the useless built-in apps that came with my 3GS. Love that Iwent down from 8 pages to 2. put my faves on home page all the rest go on page 2 - looks so much nicer

Damn, that is ton of twitter apps for one phone :D

could be a bit off topic:: how do i sort my text messages into folders (using iphone4)? is that possible?... thanks!

Well, guys... I have mine like this:http://yfrog.com/jo6r5ujhttp://yfrog.com/edes7j

Wait until you see them on the iPhone 4, those little tiny icons are very readable.

I have 14 folders, so all of my 75+ apps are accessible from my home screen. The folders include: College, Date/Time/Cal, Food, News, Reference, Productivity, Utilities, Entertainment, Music, Finance, Weather, Shopping and Travel. I blogged about my favorite apps that I put into each one at http://www.kchblog.com.

Organized all my folders. Installed new app. Folders all gone and apps are alphabetized.
Organized again but same thing happened. Like folders but guess they don't like me!

@rmcorr what did you use to get those emoticon-type things? i didnt think that the folder name fields supported it.

i have a question..is there anyway to remove apps or hide icons for apps that you dont ever use? or use so infrequently that you really dont need to have them on your screen? any help with this would be greatly appreciated..thanks.. new to iphone from droid btw..hehe..

Thanks for all Ur information!!!