Apple releases iOS 8.2 with Apple Watch support and several improvements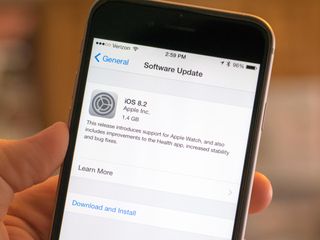 iOS 8.2 brings support for the upcoming Apple Watch. This includes the Apple Watch app, which will let you pair your watch to your phone, as well as download apps for it. The initial beta release of iOS 8.2 included the WatchKit SDK, which allows developers to build apps for the Watch.
Below is the full list of changes found in iOS 8.2:
This release introduces support for Apple Watch, and also includes improvements to the Health app, increased stability and bug fixes.
Apple Watch support
New Apple Watch app to pair and sync with iPhone, and to customize watch settings
New Activity app for viewing fitness data and achievements from Apple Watch; appears when Apple Watch is paired
Available on iPhone 5 and later
Health app improvements
Adds the ability to select the unit of measurement for distance, body temperature, height, weight and blood glucose
Improves stability when dealing with large amounts of data
Includes the ability to add and visualize workout sessions from 3rd-party apps
Addresses an issue that may have prevented users from adding a photo in Medical ID
Fixes units for vitamins and minerals
Fixes an issue where Health data wouldn't refresh after changing data source order
Fixes an issue where some graphs showed no data values
Adds a privacy setting that enables turning off tracking of steps, distance and flights climbed
Stability enhancements
Increases stability of Mail
Improves stability of Flyover in Maps
Improves stability of Music
Improves VoiceOver reliability
Improves connectivity with Made for iPhone Hearing Aids
Bug fixes
Fixes an issue in Maps that prevented navigating to some favorite locations
Addresses an issue where the last word in a quick reply message wasn't autocorrected
Fixes an issue where duplicate iTunes purchased content could prevent iCloud restore from completing
Resolves an issue where some music or playlists didn't sync from iTunes to the Music app
Fixes an issue where deleted audiobooks sometimes remained on device
Resolves an issue that could prevent call audio from routing to car speakers while using Siri Eyes Free
Fixes a Bluetooth calling issue where no audio is heard until the call is answered
Fixes a timezone issue where Calendar events appear in GMT
Addresses an issue that caused certain events in a custom recurring meeting to drop from an Exchange calendar
Fixes a certificate error that prevented configuring an Exchange account behind a third-party gateway
Fixes an issue that could cause an organizer's Exchange meeting notes to be overwritten
Resolves an issue that prevented some Calendar events from automatically showing as 'Busy' after accepting an invite
During their announcement of Apple Watch in September 2014, Apple said that the Watch would be compatible with several iPhone models. In addition to the iPhone 6 and iPhone 6 Plus, Apple Watch is expected to be compatible with the iPhone 5, iPhone 5c, and iPhone 5s.
Follow the links below for instructions on upgrading your iPhone or iPad, either over the air or through iTunes.
Get the best of iMore in in your inbox, every day!
Joseph Keller is the former Editor in Chief of iMore. An Apple user for almost 20 years, he spends his time learning the ins and outs of iOS and macOS, always finding ways of getting the most out of his iPhone, iPad, Apple Watch, and Mac.
What's the consensus….clean install or install 8.2 as is?

Wait a couple of days and then search tech sites for breakage reports....that's my consensus.

So has anyone did 8.2 upgrade? I dont thin ill be getting apple watch soon. I have a 6 plus and ipad air 2 and my mom has an ipad air. Let me know how the update works for these devices!!
Also whats other improvements?
Thanks

Edited as the article itself was edited to answer my question. Make sense? :P Thanks!

Apple TV too Sent from the iMore App

My sprint iPhone 6, my wifes Sprint iPhone 6 and my Verizon iPhone 6 all have an issue where the orientation gets stuck on horizontal at times and requires toggling the orientation lock off and back on to fix. Was hoping that would have been addressed.

"Fixes a Bluetooth calling issue where no audio is heard until the call is answered" Here's hoping that also applies to AirPlay which has the same bug. If you have AirPlay set (not necessarily playing anything through it) the ringtone is never played...

It appears that the FREAK vulnerability has been fixed, http://freakattack.com.

That sounds good! I wonder when the Mac patch will be out and if there will be an update for Safari for those on older iOS versions that can't or don't want to update? Sent from the iMore App

My iphone recieve no upgrade , that because i have ios 8.2 beta version? Sent from the iMore App

Please answer me Sent from the iMore App

The build number on my iPhone 6 Plus is 12D508. If the build number you have is the same then no update is needed. If it doesn't match, you may have to wait a bit longer for the update to become available.

The build number on my iphone 4s is 12D445d Sent from the iMore App

Have updated to 8.2. Only conclusion I can come to is that the Apple watch app icon is...horrible. It looks completely out of place and really doesn't exude Apple standards. So many missed opportunities to make an attractive icon. (Watch app face for one. No...lets go with profile of a watch on black) Sent from the iMore App

Yeah, fugly. It's like they put all their near-trillion dollar resources into the physical watch and forgot about hiring someone to design that icon. Never planned on getting the Watch myself (at least not the first-gen), and now I'm kind of glad since I'll never have to tap that fugly icon on the phone anytime soon. Just going to hide it away in a folder. Phew!!

Just updated my 4S. So far, I'm really pleased. Response time between pages, opening apps and such has improved greatly. No awful hangs. We'll see how the battery performs. Sent from the iMore App

What is your build number ? Sent from the iMore App

12D508 Sent from the iMore App

One off, so too early to tell, but downloading and installing a large App update (86mb) after the 8.2 install was incredibly fast on my iPad Air 2. I have no way to test, but it seemed to be at least twice as fast, both on the download and on the install. This will be interesting to see if this pattern continues. Happy so far.

One big problem! If anyone hasn't noticed, in the new iOS 8.2 update, the "Today Summery" information is not in Notification Center. Even if you have it on in Notification Center, there is no information to be shown because the update messed it up. Apple needs to fix this!

do a soft or hard reboot then the info will show back up at least that worked on my iPhone 6 plus

Oh it worked! Thank you! Also before in Notification Center it used to show the time-time of each event, but now it's just a large ugly calendar view. Do you know how to fix that too? It used to give you the option to have it show the times of each event or a calendar view.

Ah, more bloatware apps you can't uninstall... Sent from the iMore App

Bah... Exactly what I thought when my phone booted up and I seen that Watch Icon. Never gonna have one, but no way to get rid of this stuff. Same for the Health App. I rather use the Microsoft one, since it Syncs with my Windows Notebook, but I cannot remove the Apple one and it doesn't even really seem like you can "turn it off" either...

Updated. Everything seems fine as always. No issues to report right now. Sent from the iMore App

Can you Jailbreak and remove the Watch/Health apps and others that they build in and you don't want/need? There's no way to disable them on the phone... Starting to feel like an Android phone with all these preloaded apps they push out with every update (except they take up a lot more space, apparently).

Updated my 5s and iPad Air 2. Everything is working fine. Now if I could just figure out how to send MMS pictures on my iPad........ Sent from the iMore App

Annnnnd 5Ghz AC WiFi is still broke as shite in this update. Never had a problem with it until the last update 8.1.3

Not a bad update, especially the bug fixes addressed. One annoying aspect of iOS is Apple's insistence on installing apps I have no need for such as Tips, Newsstand, and now the Apple Watch app. I don't see myself getting the smartwatch anytime soon so what's the point of having the app? To remind me that I don't have the watch? Lol.

Pretty much. Lol Sent from the iMore App

Could be placebo, but animations do seem smoother especially with multi-tasking (which seems blazing fast compared to 8.1). Overall pretty satisfied. :-) Sent from the iMore App

So in the lock screen, when I try to pull up on the bottom menu, it only works like half the time. This has been going on since the beginning of iOS8. Happens on my iPhone 6 plus and two 5S's. Please fix this already Apple!! Sent from the iMore App

Updating now...446MB Sent from the iMore App

Just noticed what I think is a bug in 8.2. When opening up the Music app and playing any radio station, it seems to search through 10 - 20 songs before it finally lands on a song it can play. It does the same thing in my own personal music playlist. It appears to stop searching on songs that are downloaded on my phone but searches through songs in the cloud until it hits one on the phone. Is anyone else seeing this strange behavior? I have rebooted and done a hard reset and it still occurs. (iPhone 6+)

Just confirmed the same behavior on my iPad air. Looks like an irritating bug.

Must have been service related and not software related. Today all is well and no skipping of songs the way it did yesterday on both my iPhone 6+ and iPad air.

Hi , running currently on 8.3 beta and i did a back up then downgraded to 8.2 and wanted to restore backup but the problem itunes wont verify the old back up unless i upgrade to 8.3 which i did so is there any solution? Sent from the iMore App

Updated this morning haven't noticed any issues things seem to be running smoothly Sent from the iMore App

Okay now that I've used this for about 24 hours I have noticed some differences and problems. Definitely having a problem with the app store as another user noted cannot update anything tells you to install then flips back to the get button, my email app not functioning normally and I definitely notice a heavier battery drain Sent from the iMore App

This update seems to have FINALLY fixed all of my iTunes playlist syncing issues since iOS8 was originally released!!!

The install itself went smoothly yesterday, but I can't update any apps now. Earlier today when I tried to 'Update All' I was prompted for my iTunes password and then told that it could not connect to the store. Now I am getting the error "MZFairplay.nullResponse_message". That is the only issue I have found so far on my iPhone 6.

Upgraded to 8.2 but can't seem to update my apps, anyone having the same issue?
Thank you for signing up to iMore. You will receive a verification email shortly.
There was a problem. Please refresh the page and try again.