Apple Store iPhone app updated, claims to let you email gift cards [UPDATED]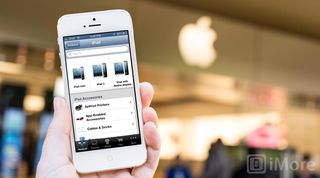 The Apple Store app for iPhone has been updated and supposedly allows users to buy gift cards and have them emailed to the recipients. We must be blind and clueless, because no one at iMore can actually figure out how to do this. The update notes also claim that these gift cards can be used with Passbook, but the only type of gift cards we can find are for iTunes, the App Store, and the iBookstore; it doesn't make sense to use Passbook for any of these stores. Apple Store gift cards, however, would be awesome with Passbook -- too bad they are nowhere to be found.
To find the gift cards that are available, you must manually search for them. There is not a section of the Apple Store app dedicated to gift cards. This is a shame, because many people may not even realize they can buy gift cards with the app. Each gift card can be personalized with a message and mailed to you or the recipient. Again, only mailing physical cards seems to be an option even though Apple claims that you can now email the cards.
In addition to the mysterious feature of emailing gift cards and integrating them with Passbook, Siri will now search the Apple Store app for you by finding products and prices.
The new Siri feature is pretty cool, but has anyone figured out how to email gift cards? I was excited when I read about emailing gift cards and using Passbook in the update notes, but now I'm just left feeling scammed. What about you?
UPDATE: We've found the email-able Apple Store gift cards! You can find them via one of these 4 methods:
Products > iPhone > View All iPhone Accessories > Apple Store Gift Cards
Products > iPad > View All iPad Accessories > Apple Store Gift Cards
Products > Mac > Apple Store Gift Cards
Products > iPod > View All iPod Accessories > Apple Store Gift Cards
You'd think Apple was trying to hide them! As of right now, it appears that only Apple Store gift cards can be emailed, not gift cards for iTunes, the App Store, or the iBookstore.
When you receive a gift card, you can add them to Passbook to later have scanned at an Apple Store. Pretty cool!
Thanks @Mriley1058 for the tip on where to find them!
Get the best of iMore in in your inbox, every day!
Former app and photography editor at iMore, Leanna has since moved on to other endeavors. Mother, wife, mathamagician, even though she no longer writes for iMore you can still follow her on Twitter @llofte.
I really hope they add a feature that lets you put pre-existing or current physical gift cards into passbook. That would be pretty special

You know, I was really hoping they would do that as well. When I first heard about passbook, I assumed that this was going to be a part of it. Unfortunately, as far as I know, it's not.

Leanna, I went to the app and immediately just searched for apple store gift card. Wasn't too hard. I would update your methods of finding them to include "just enter apple store gift in the search box and its a cinch". Really, wasn't difficult...

At the time of writing this, I did try searching "apple store gift card" and got "no results". It must have changed since then.

I'm assuming, like everything else, are Apple Store Gift Cards US only or are these available in the UK as well?

Release notes said US only.

I wonder if you can select a virtual gift card and pay for it with a a physical gift card. Then you could add the virtual gift card to passbook.

This article was perfect timing! I was going to have to go purchase an Apple Store gift card today and then mail it out. Instead I was able to email it through the Apple Store app, which saved me a couple of hours! I am surprised you couldn't do this before.

Not sure posting the QR Code in the article is a great idea. A dishonest person could take a screen shot and use your gift card.
Thank you for signing up to iMore. You will receive a verification email shortly.
There was a problem. Please refresh the page and try again.