Apple Store employees starting iOS 5 and iCloud training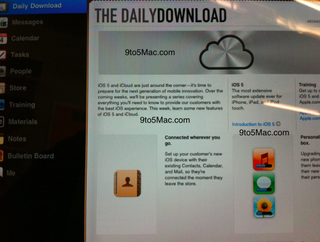 Apple's retail store employees are starting to receive training on the features of iOS 5 and iCloud. The information comes in the form of a screenshot from Apple's Daily Download. The Daily Download is an Apple internal iPad application in the form of a newspaper; which is used to communicate information to its employees on a daily basis.
The fact that this training is only beginning now appears to support rumors that iOS 5 and the iPhone 5 will not make an appearance until sometime in October. Apple clearly states that the training will continue over the coming weeks so that could all fit together nicely.
[9to5Mac]
UK editor at iMore, mobile technology lover and air conditioning design engineer.
That's awesome! Can't wait to have both.

visit www.apple-iphone.in for all apple news and updates, free apps, games and much more

I've got a feeling about september the 23rd. I'd admit I've got absolutely no evidence for this, it just sounds about right to me.

That sounds like great deal! I think I will try it! I love trying out new ecommerce websites that claim to have low prices and end up pulling monthly and/or annual memberships or per-bid fees that end up costing more than the unit itself, to compensate for their loss of a product's sale value! There is no way at all that this website would try to advertise a sales model that is indirectly more expensive than purchasing items through comparable, well-known sites, like eBay, or Amazon! That would be rubbish!
Nice try though... PRETTY convincing...

They did say the iOS 5 would be out THIS FALL , so why would anyone be surprised if it came out any time after Sept 21 ?! ;)

Got this Theme running on my iphone 4.. was skeptical at first but after a day or two of getting used to the new layout and smaller icons in etc i have to say i cant imagine switching back to the original springboard EVER!! this theme has made me phone so much better! Keep up the good work sirtimothy1
Thank you for signing up to iMore. You will receive a verification email shortly.
There was a problem. Please refresh the page and try again.