LockInfo vs IntelliscreenX for iOS 5 jailbreak: which should you use?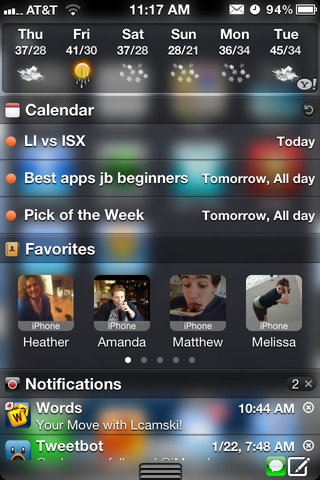 Super social and incredibly integrated IntelliscreenX takes on quick content and plug-in powerhouse LockInfo in a battle of the jailbreak notification apps
Jailbroken on iOS 5 and wondering whether you should get LockInfo or IntelliscreenX? While both are utilities that aim to give you more control over your iPhone notifications and lockscreen, they do have key differences. Which is better for you?
LockInfo for iOS 5
LockInfo by David Ashman has been a long time favorite of mine when it comes to enhancing lockscreen functionality and gaining more control over native notifications. It still lives up to its reputation under iOS 5. LockInfo is really aimed at folks who'd like to have more control of how notifications behave and how they're presented. If you don't want certain information in notification center, you can disable it but still view it on your lockscreen, and vice versa. You can completely customize what appears where and how.
LockInfo also has built-in support for several different messaging applications including BiteSMS, Quickreply for SMS, iRealSMS, and more. Regardless what messaging replacement app you choose, LockInfo probably has you covered.
When it comes to content, LockInfo adds a few nice features that aren't given to you stock. One of my favorites is access to your favorite contacts directly from notification center and your lockscreen. Tapping a contact allows you to call, FaceTime, or message them. It's a nice little feature that you wouldn't think you needed but quickly realize you don't want to go without.
LockInfo also works in conjunction with many plug-ins. Some are distributed by David Ashman himself while others were created by other 3rd party developers. Given the amount of time LockInfo has been around, there are tons of plug-ins and add-ons for it. Some of the most popular ones include ToDo by Appigo, Twitter, Weather, and RSS.
You'll find a few built-in themes that you can switch between such as a classic iOS version, the classic LockInfo version, and a few more. Since LockInfo has been around for quite a while many developers have made themes for it as well. Some complete themes will even have a LockInfo theme attached. Yes, it's that widely accepted in the jailbreak community.
IntelliscreenX for iOS 5
Intelliborn has been around for a long time and has created many apps within the jailbreak community, including the original version of Intelliscreen. While I always preferred LockInfo over the original version, IntelliscreenX has come a long way in terms of functionality. Anyone who is heavy into social media and has to have quick access to Facebook, Twitter, and RSS feeds will want to look no further than IntelliscreenX.
You can add all these widgets as separate pages and reply or post status updates directly from your notification center or lockscreen. The only down side I've seen to this is the accelerated battery drain.
Messages+ also comes built-in to IntelliscreenX as well. While I've been a huge fan of BiteSMS for a long time, Messages+ will definitely give Bite a run for its money. I love the tight integration with the default messaging app. There's nothing to install and very little to configure. It just works how it's supposed to and adds quick reply support.
Considering Messages+ is typically $7.99 on its own, you get a pretty good deal considering IntelliscreenX is $2 more. So if you're not keen on paying for LockInfo and Bite or Messages+, IntelliscreenX may be a better value for many people.
LockInfo vs IntelliscreenX -- which is better?
Both LockInfo and IntelliscreenX are highly competitive jailbreak apps and which is better can change every time one of them is updated. For now I think IntelliscreenX has an an edge over LockInfo. LockInfo is an amazing utility, but users who are heavily into social networking and Facebook will benefit more from IntelliscreenX and its tight integration with iOS 5.
If you are more concerned with having control over plug-ins and where content is presented, go with LockInfo. But for now, I'm giving my vote to IntelliscreenX.
While I may personally prefer IntelliscreenX, I know there are tons of you out there who probably disagree. Let us know what you use and why! Make sure you also check out all our jailbreak resources below for more reviews, guides, and tips!
Master your iPhone in minutes
iMore offers spot-on advice and guidance from our team of experts, with decades of Apple device experience to lean on. Learn more with iMore!
iMore senior editor from 2011 to 2015.