Apple updates iMac with Haswell, 802.11ac, Nvidia 700 graphics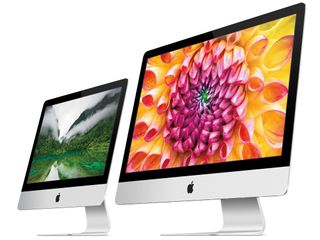 Apple on Tuesday announced updated iMac (opens in new tab) computers equipped with Intel's fourth-generation Core "Haswell" microprocessors and other improvements. They're available beginning today at the same prices as before: 21.5-inch iMacs start at $1,299, while 27-inch models start at $1,799.
The 21.5-inch iMac comes with a 2.7GHz quad-core Intel Core i5 processor and eschews discrete graphics for Intel Iris Pro integrated graphics, which Apple claims offers "discrete graphics-level performance."
The higher-end 21.5-inch model and both 27-inch models come with quad-core i5 processors and Nvidia GeForce 700-series discrete graphics processors that Apple says are up to 40 percent faster, with twice the video memory. Configure-to-order options include quad-core i7 processors and Nvidia GeForce GTX 780M graphics.
Like the MacBook Air, the first Mac model to feature Haswell processors, the iMac gets 802.11ac, or "gigabit Wi-Fi," which Apple claims is up to three times faster than the 802.11n Wi-Fi found on previous iMacs (when paired with an 802.11ac router like Apple's 2013 AirPort Extreme and Time Capsule).
Storage options include conventional hard drive, "Fusion" drive which combine flash and regular hard drive, and all-flash storage. The iMac gets PCI Express (PCIe)-based flash storage this time around, yielding faster performance (hard drives in iMacs are still SATA-based).
iMacs come standard with 8GB of RAM, configurable to 32GB, and 1TB of hard drive. Two external Thunderbolt ports and four USB 3.0 ports enable you to attach external peripherals; an SDXC card slot, headphone jack and Gigabit Ethernet port round out the connections found on the back of the iMac - all unchanged from last year. Bluetooth 4.0 is also carried over.
Apple unveiled the iMac amid much fanfare in an October event last year, but it was slow to get the new model to stores - in part, we are told, because of fabrication issues with the new glass screens produced for last year's model.
This iMac is an iterative change; the design is the same as last year, so Apple won't have the same production issues as 2012 - in fact, the company says the new models are available immediately.
Performance of the 21.5-inch machine is, on paper, pretty much the same - both models have processors running at the same clock speed as last year: 2.7 GHz for the low-end model; 2.9 GHz for the high end 21.5-inch iMac. The 27-inch model gets a bit of a bump - the $1,799 model went from 2.9 GHz to 3.2 GHz, while the $1,999 model bounced from 3.2 GHz to 3.4.
None of this should be too surprising: improving core processor performance isn't a hallmark of the Haswell architecture. Improving integrated graphics performance certainly is, which is why Apple opted for the integrated Intel Iris Pro instead of a more expensive discrete chip from Nvidia, which the rest of the iMac product line enjoys. Time will tell how well the Iris Pro performs.
We know the Mac Pro will be getting Thunderbolt 2 when it debuts later this year - delivering twice the peripheral bandwidth as the Thunderbolt found on other Macs. The absence of Thunderbolt 2 shouldn't be unexpected on the new iMac, as it's based around the same basic processor architecture used in the MacBook Air, which has the original Thunderbolt as well. It also helps Apple to differentiate the iMac from the Mac Pro, for this year, at least.
The MacBook Air heralded a new generation of Macs equipped with the latest generation of Intel Core processors, and other enhancements to improve efficiency and productivity. We fully expected Apple to adopt the technology in other Mac products, so this is a welcome enhancement. It's been a long wait since the new MacBook Air rolled off the production line in June. Refreshed MacBook Pros and a new Mac mini are sure to follow. The question then, becomes "When?"
Mavericks will be out in October, and based on Apple's history, they will release new Mac hardware around the same time as their Q4 fiscal results call. (Apple's fourth fiscal quarter for FY2013 is over at the end of this month; they typically report those results by mid to late October.) We know the Mac Pro is coming before the end of the year, but the bread and butter of the Mac line is the MacBook Pro - Apple sells more of those than anything else. Given the significant impact the Haswell processor has had on the refreshed MacBook Air, which has been a hot seller ever since its June debut, I expect Apple wanted the iMacs out of the way so it can shine a separate spotlight on the new MacBook Pros.
What do you think about the new iMac? Is Haswell, 802.11ac, and some of the other enhancements enough to make you want to buy a new desktop machine? Or are you more interested in a new laptop? Sound off in the comments.
Get the best of iMore in your inbox, every day!
Wonder if/when they'll come out with new Mac minis?? That's what I'm interested in...

This sounds like great news to me. My 24" [2008] iMac has been showing its age a bit lately.
... Now, where did I leave that sack-o-money?...

You might want to check out what the 21" and 27" looks like in person (instead of ordering online).
Going from a 24" to the 21"is a very uncomfortable downgrade, and the 27" seems like billboard at first. (did to me)
You'll probably want to budget for the 27".

I have seen the 27" in person and they are very nice. For the graphics work I do, the 27" with the greatest graphics setup is the one for me. Sent from the iMore App

I really am in a lurch until the new Macbook Pro Retina comes out.. Sold my old one a few months ago for $2500 in order to upgrade.. lol I know, did it to myself, but wanted to maximize my re-sale of my old rMBP. I was hoping to see thunderbolt 2 in the new rMBP, but does this mean it cannot because Haswell chip does not? I'm also dreading that they go integrated only in the rMBP 15", lord I would much prefer an nVidia powered GPU..

Thunderbolt 2 is an edge case right now - Intel is expecting to be able to provide it until the end of the year, and even then only in limited quantities. So no, I don't expect it to be in the next round of MacBook Pros. Ultimately, I really don't care whether the graphics are integrated or discrete - I just want to make sure they're faster than before. Results are what matter, not specs.

with GPU I'm not interested spec's either, but performance wise, the higher end nVidia's still kick the new Intel's butt when it comes to graphics so I'm hoping they don't opt for battery over performance in the Pro series like they did the Air. In the Air, it makes sense. However, I opt for the Pro for the higher performance over battery. I'm hoping they keep that in mind. What I'm really hoping; and I know it's not likely, is that they do keep that in mind and focus on getting more performance into the system while maintaining the same battery life. So an nVidia 775m or even 780m with 2 or 4gb memory with the same 7 hours of battery life when just browsing, but able to kick into overdrive with the high end graphics for video / photo / games would be awesome.. pipe dream.. I know. :)

Looks great overall, just a shame that it is thunderbolt and not thunderbolt 2.

I've got the last 27" so 11ac and incremental updates to Haswell aren't worth the upgrade. I could be enticed to upgrade for 4K display (grin). SSD on PCI Express is nice but there is no huge rush for that yet.

hope they hurry, my macbook pro is on its last leg!!

I thought my old MBP was about to give up the ghost.
Until I installed Mavericks. Solved many long-standing problems
with battery life, performance, etc.

It TOTALLY depends on whom I'm buying it for. My teenage daughter cracked her Macbook Pro screen by pushing too hard on the Apple logo, and bent the Superdrive arm. I'd not buy her a laptop. For myself, definitely - portability over all else. For a new server? Mini. Don't think I'm going to upgrade my iMacs, those are kid devices, and sufficient for a desk machine whose primary uses are Internet access and watching videos.

Really wish the smaller screen size could go up to 3 TB for storage. Need to replace my 2007 iMac but already have 1.25 TB data on it. 27 won't fit where my iMac goes now.

With the configuration I want, that is $2,918.00...