Apple wants to take your old iPhone and give you a new iPhone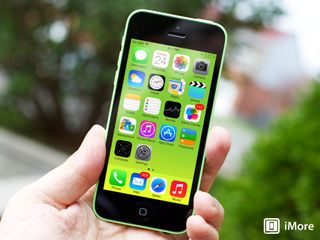 Apple is now launching an upgrade program at its retail stores where customers can bring in an old iPhone and walk out with a new iPhone 5s or iPhone 5c for free. According to the promo, users must bring in their old iPhone for recycling where they can get credit applied towards a new iPhone upgrade.
As reported on 9 to 5 Mac, Apple is specifically targeting current iPhone 4 and iPhone 4s owners by offering larger than normal trade-in incentives.
iPhone 4 users can fetch up to $99 for their smartphone while iPhone 4s will net you a $199 credit to use to upgrade to an iPhone 5s or iPhone 5c. With a two-year contract on AT&T, Sprint, and Verizon, the iPhone 5c is essentially free for iPhone 4 upgraders while iPhone 4s owners can walk out of an Apple retail store with an iPhone 5s without paying anything, except taxes.
"It's a beautiful time for an upgrade," Apple's store signage reads, highlighting Apple's recycling initiative.
The promotion mirrors what retail partner Best Buy is also offering. Best Buy's offer guarantees a $200 trade-in credit at this time for any working iPhone model, so users on an old first-generation iPhone or an iPhone 3G or 3GS could also be eligible.
The upgrade promotions come ahead of Apple's rumored 2014 iPhone launch, which could happen as early as this summer. Rumors suggest that Apple is exploring a body design for the iPhone that more closely mirrors the company's iPad designs and may come with larger displays in an effort to compete better with Android flagships like the HTC One M8 and the Samsung Galaxy S5.
Source: 9to5Mac
Get the best of iMore in your inbox, every day!
My wife just got an upgrade this week directly from Verizon. She had an iPhone 4 that wasn't keeping a charge, and they couldn't get her a replacement. They offered her an early upgrade (her contract won't be eligible for an upgrade until next Feb) to an iPhone 5s for only $99 with a reset of upgrade eligibility two years from now. She just got her 5s yesterday. I'm waiting to see what the iPhone 6 will look and feel like before I make a move from my old feature phone to either an iPhone 6 or 5s, as my re-up will be eligible right when the iPhone 6 is released. :-) EDITED TO ADD: I'm thinking this is a 2-fold strategy from Apple: 1) Get older 30-pin 4 and 4s iPhones on iOS6 out of peoples hands to get smaller-pin, iOS7/8 technology in it's place in order to "get everyone on the same page", and 2) The iPhone 6 must have some big "wow" factor we don't yet know about that will make those who upgrade now either be willing to upgrade again in a few months (at full price), or be itching to upgrade down the line, thus keeping a long-term desire to purchase past the usual holiday buying season.

T-Mobile customers left out in the cold. This is not getting on my happy side of things. Guess I will be waiting for the iPhone 6 or whatever neat gizmo that Samsung releases around the same time if it comes to that. I love my black/slate iPhone 5 and LTE speeds over the wireless network are often faster than what AT&T offers for DSL landline speeds. I'm not switching carriers but being excluded (like most all Canadians on many things) really does suck. I'd like a 5S for the extra recording speed and performance factor as well as a boost in storage capacity. As a faithful customer to both Apple and T-Mobile both over a decade at least, this feels like a kick in the daddy parts.

You can get credit for trading in your iPhone for a t-mobile phone, don't worry. You just have to leave the store with an activated phone, meaning you are not eligible for in-store credit if you buy an unlocked phone.

I'd hate to cut myself short though if the iPhone 6 is a real worthy upgrade as my iPhone 5 is paid off already but still locked to T-Mobile. I could easily request to get it unlocked and buy a newer one but was hoping for a similar deal. If I pick up a 5S now, I'd have to pay that one off or hope I get enough to cover the cost of the 6 at release date. Always a catch somewhere.

T-mobile customers actually have a better deal! Remember we don't have to pay subsidies. I went to the apple store to see what they would give me to trade up to a 5s. The trade offer was $270. Not bad, but can sell it for a lot more on Ebay. Also, remember, when buying from the Apple store the phones are unlocked for T-mo customers.
In real numbers when it is all said and done, because we just buy the phones outright or on a monthly plan with an end date, we do not have the extra $30 to $40 "line access" charge or the extra $30 to $40 subsidy charge that verizon, sprint, and at&t all have. So if added up, we save up to $720 to $960 per year, which means if we are wise to save that money we can buy that new iPhone and have some extra cash left over for the cover and screen protector.
And yes, T-mo's data speed is ridiculously fast. I average 23 mps inside and 38 mps outside.
Just for fun, I just tested my data speed: inside my office: 28 mps dowload / 19 mps upload.

I love the LTE speeds on T-Mobile and having unlimited data without overages is a great thing. I decided to stick it out with my regular iPhone 5 as I love the Darth Vader black/slate color that is awesome looking. Maybe when the 6S comes around, it shall be mine. Looked online and I currently can get a 5s for $0 down just as well as the new Galaxy S5. So while I have no EIP balance and in good standing, I can get the 6 or 6s in whatever size they come along in. Then decide to sell my 5 or keep it as a perfect backup phone.

Can you trade in a 4s for a full priced iPhone?

Did you read the article? ಠ益ಠ

Yes. And it doesn't specify whether you can buy one outright.

What about if you have an iPhone 5? Sent from the iMore App

If you have an iPhone 5 you should really just wait for the iPhone 6. You wouldn't want a 5C because it's the same thing as a 5, just in a new, plastic, colored shell. While a 5S would technically be an upgrade we're getting into the time of year where it'd be best to wait.

I have a 4...but will wait for the 6. I'll even wait for both sizes to be released before I upgrade. I've been a "free agent" from my contract for awhile now; I could've upgraded to the 5s, but I REALLY want that larger screen. Sent from the iMore App

YAY. I can't upgrade until November.... grrrrrrr.. stuck on 4s with that stupid greyed out wifi...

That is totally aggravating. Posted via iMore App

Try putting phone in airplane mode then do a reset holding power button and home button. Then turn back on. Should be fixed. At least that's how I fixed mine

does anyone know if the condition of the phone matters? i have a 4s at work that works but the screen is cracked and my wife has a 4 in perfect condition. if condition doesn't matter i'll swap out the broken 4s w/the 4 then trade it in for the extra $100

Im wondering if they wont offer a 4" screen again, so those who like a regular(small) smart phone should stock up now??? Im debating Sent from the iMore App

Is the only way you can get a 5s/c is if you're eligible for an upgrade? What if you're not eligible? Can you still go in and get it? Sent from the iMore App

Anyone know how much you typically get for trading the latest iPhone for the newest? i.e 5s-6. or 4s-5(at the time it was new)

Cost is very low Sent from the iMore App

Upgrades only. They acted like I had four heads when I told them I actually wanted to buy a phone outright

If you want to buy a phone outright you're better off selling your current 4/4S on Amazon if it's in good condition. You'll get more for it but it won't fully defray the cost of the new unlocked phone. The attraction of this program is that you're basically extending your current contract and the money you get from recycling the 4/4S fully covers the upfront price of a phone on contract.

Ofcourse Europe is left out of this, dammit xD Sent from the iMore App

GET A ANDROID PHONE!!!!!!!!!!!!

Could I give them my 5c for a 5s. Even when I am switching from Verizon to AT&T? Sent from the iMore App

I wonder if I get more $$$ if its jailbroken?? :)

I am eligible for upgrade with Verizon. I have the iPhone 5c. It is in almost perfect visible condition but will not turn on. I was told there is something broken inside. Can I trade my iPhone 5c in for the iPhone 5s? If so, how much and how?

I have an iPhone 5c that is not unlocked. But I'm also still with t-mobile. Can I still sell it?