The new $1300 ceramic Apple Watch Edition Series 2 ships with an ugly rubber band so you'll spend another $1300 on ones you love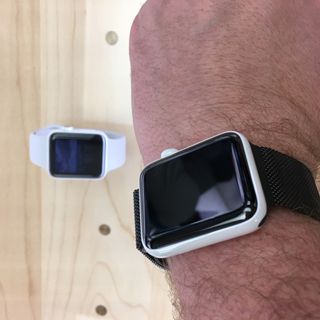 Image 1 of 30
Apple Watch Edition, Take 2
When the new, more affordable Apple Watch Edition was announced at the company's September event, my watch lust / addiction kicked into overdrive. The word from the iMore team and other tech journalists in attendance was that the white ceramic model sure was purrrrty - it was clear I needed to have it.
Back in 2014 when the "iWatch" was still a rumor, I wrote an editorial here on iMore predicting and wishing that Apple would release a high-end version of their smartwatch and that if they ever did I would be the first person to get one. Apple overshot my bank account, though, when they announced the Apple Watch Edition at a $15,000 price point. I'm a little crazy, but I'm not that crazy. I wasn't about to shell out that kind of money for a watch which may not even be upgradeable.
With a $1300 price tag, I could justify myself becoming an Apple Watch Edition owner this time around. Waiting an extra year would pay off in more ways than a price reduction, as well — the Series 2 is faster, promises better battery life, houses its own GPS module and can go for a swim without hesitation. Plus, WatchOS 3 is a lot simpler. All of my gripes from the first generation Apple Watch appear to have been addressed with Series 2.
First Impressions… Meh
Having ordered the Apple Watch Edition Series 2 without having ever seen it in real life, I was excited to unbox it and lay eyes on it for the first time. I was optimistic that I would see it and have a genuine emotional response to it — those tingles of joy / excitement I have had many times over when buying watches — but alas, they never came.
The watch was nicely packaged, but I was actually underwhelmed when I saw it. My wife owns a couple ceramic watches (a Chanel J12 and a Bell & Ross BRS Black Phantom Ceramic), and in comparison, the ceramic housing on the Edition looked a little dull. More matte than glassy, giving it an almost unapologetically plastic look reminiscent of the iPhone 5c. The exception to this was the black ceramic at the end of the digital crown, which is definitely an eye catching detail.
More than the housing, though, what really seemed to mute the entire visual experience of the watch was the color of the rubber band they chose to put on the Edition. Off white / grey in color, it draws attention away from the housing, and not in a way that creates an understated look, which I typically appreciate. Instead, it just made the whole package look kinda cheap. Wearing the watch out and about the next 24 hours and showing it off to friends and family, I could tell nobody was really moved by the look of it.
And then I went to the Apple store and started trying on different bands...
And it immediately became very clear that buying the Apple Watch Edition is only the beginning with this watch. The white ceramic face looks absolutely brilliant with almost every other color band I tried. The dark front-facing display matched to the contrast of the white makes the watch really pop when you put on darker or brightly colored bands. I was thinking there was no way it would look good with the Space Black Milanese Loop attached to it, but I was totally wrong - this gave the watch a much richer look that brought out the shine in the ceramic and made it feel worthy of the price tag.