Apple Watch Nylon Band vs Sport Band: Which should you buy?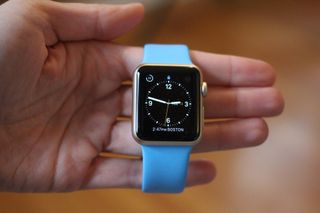 Okay, so you've just picked up your new Apple Watch and you're totally in love with the thing, right? But now you're like, "Ergh. There are so many watch bands to pick from… Which one works best?"
Two of the most popular type of Apple Watch bands for day-to-day use are nylon Apple Watch bands, and sport Apple Watch bands, and while both are incredibly different, they each have features and qualities that make them solid options to partner with your Apple Watch.
But which one is the best for your lifestyle? And why pick one over the other?
We decided to put together a couple of pros and cons that might make homing-in on a watch band a bit more comprehensive and informative. So sport band or nylon band… which is the best? Here are a few factors that may help you make your decision!
Nylon Band Pros
Because you're going to probably be wearing your Apple Watch every single day, you're going to want a band that's comfortable.
A nylon band is designed to feel like a soft, smooth fabric, meaning that you're not going to feel wrist-rash after a few hours of wearing it (of course, if you spring for a poor-quality nylon watch band, you might not get the same smooth feeling).
Save you're $$$: it's inexpensive
Another great thing about nylon watch bands is that they typically won't break the bank like some leather or metal bands. You honestly don't need to spend a ton of money on a good quality one, and even if you do, you won't ever be spending more than $80-$100.
Apple's nylon watch band (opens in new tab) goes for less than $70, but you can easily find them on Amazon (opens in new tab) for much less.
Bright, bold, and colorful
While some watch bands come in a couple of classic – but boring – colors like black, white, and brown, nylon bands typically come in a number of bright and bold customizable colors depending on where you shop for them.
Some can even be designed with rainbow (opens in new tab) or even American flag (opens in new tab) patterns, meaning you can really show off your personality through your nylon watch band!
Sport Band Pros
If you're looking for an Apple Watch band that can keep up to your active lifestyle, then we recommend taking a peek at a sport band. Why? Because they're perfect for people who like to sweat, swim, sprint, and everything in between!
Because sport bands are made from high-performance fluoroelastomer, they are great for people that are always on the move.
Scrub-a-dub-dub, it's easy to clean!
While most watch bands can be cleaned, not many can be rinsed under water quickly or scrubbed with soap if there's a dirt emergency. Leather bands can't be treated that way, and neither can metal or nylon ones.
Spot bands are great because they're made out of a soft silicone, making cleaning and disinfecting your Apple Watch as easy as pie!
Vogue: sport bands are eye-catching
The Sport band has really come into it's own since the Apple Watch first launched. Not only does the official one come in a variety of bright and beautiful colors, but fashion designers have taken to creating even more unique styles (opens in new tab) for you to choose from.
Nylon Band Cons
Sink or… sink: Not waterproof
Unfortunately, fabric like nylon doesn't do too well with getting wet constantly. Not only will it make your wrist incredibly uncomfortable, but there's a posibility of bacteria or even mold growing if it doesn't dry properly.
While you can probably get away with washing your nylon band, keep in mind that this could also fray and damage the band itself.
WARNING: Toxic? Flammable?
While not necessarily the best argument for why nylon isn't the greatest option, it has been noted that nylon can easily melt and burn skin at high temperatures, while nylon textiles are treated with substances like pentene, caustic soda, and formaldehyde, which can cause rashes and allergies for people with sensitive skin.
But this isn't necessarily all nylon: it depends on where you get it from, and chances are if you're buying from Apple or a trusted company, you shouldn't have any issues.
Sport Band Cons
Not worth it for non-fitness buffs
Honestly, if you're not someone who's always at the gym, not itching to run a mile, or not pumped 2 lift, then the Sport band may not be right for you.
The whole point of the Sport band is to look, well ... sporty, but not everyone wants to look like they just got home from the gym.
#Notsoformal: Good luck accessorizing!
While it's true that the sport band is totally eye catching, it's also very true that it's pretty damn near impossible to make it work with your formal gown or tuxedo.
Because of the almost cartoony way the band looks, it's really not that great for wearing with, let's say, formal wear, a ballgown, or a suit. Some may argue that the all-black band could work, but we recommend looking at something else if you want to wear this every day and successfully pair it with a decent outfit.
What's your choice?
Are you a big fan of the nylon watch band? Or are you going to pick up a Sport band? Or are you going to get both?!
Let us know what you think (and why!) in the comments below!
Get the best of iMore in in your inbox, every day!
Cella writes for iMore on social and photography. She's a true crime enthusiast, bestselling horror author, lipstick collector, buzzkill, and Sicilian. Follow her on Twitter and Instagram: @hellorousseau
I've got the black/grey nylon band, Product (red) sports band and a black knock off leather loop for the formal look. Will be looking at getting more as time goes on Sent from the iMore App

nylon al the way - much more comfortable and looks really compliment the watch and your wardrobe

I have the black sport band that came with my watch but now I use the black leather band my wife got me as an anniversary present in the summer for everything.

I got my watch with the sport band. Last week I got a woven black nylon band and really love it. Its smoothness gives it a weightless feel to it that is quite different from the sport band with its grippy fluoroelastomer.

They are popular because few are willing to spend $100+ just for a stupid watch band.

Depends on the size of your wrists. The nylon band doesn't taper out where it joins with the watch, the sports band does. On a smaller wrist, the nylon band makes the watch look like a big chunk whereas the sports band creates more of a single-unit effect. Might not matter to everyone, but if it does then it's a consideration.

Oh man, Is the lady who spilled all the balls on herself okay? I was wondering if that was a stunt double or an actual accident.

I wore the nylon band for a couple of weeks the swotches back to a sport solicone. The main reason is moisture. When it gets wet the nylon holds the water and doesn't dry out fast but the sport doesn't have that problem.
I got a nice brown sport band on Amazon for $8 whcuh looks nice.

Having both is the best, because the nylon is very comfortable for days when you are not sweating, but when it gets wet it becomes a nightmare. So when you are about to get wet the silicon is the better choice.

So, I have been waging this battle with myself now for a week. I've worn the midnight blue sports band since i got mine, and the real selling feature is how the "flappy bit" goes UNDER the band. I feel like the Nylon one SHOULD be my pick, but I HATE that the flappy bit is flappy, and the material is just super stiff. It feels cheap, and I don't actually find it comfy because of the stiffness, where the silicone sport one actually does NOT feel cheap... I hate their metal ones so far, I just don't like any of those options, they don't look elegant to me. But other than the Hermes options which I can't buy til I hit my next weight milestone, the leather ones don't do it for me either...

I can't imagine the Nylon band being more comfortable than the Sport band. It's one of the most comfortable watch bands I've ever had.
Thank you for signing up to iMore. You will receive a verification email shortly.
There was a problem. Please refresh the page and try again.