Photo review: The Woven Nylon Apple Watch bands are fabulous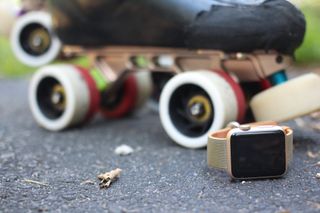 Apple's poor Woven Nylon bands don't get a lot of love around the internet, in large part because the company's product photography for them is, well... lackluster. The 3D woven nylon bands on Apple's website just don't look appealing when compared to the sleek modern buckle or snazzy Hermès Double Tour.
But I've been loving the nylon bands ever since I got my grubby little hands on them, and I finally had some time to sit down and actually show you folks what they look like in real life. Spoiler: They're my second-favorite band, after the Modern Buckle, and SO COMFY.
Why I've switched from Sport to nylon
When the Apple Watch first came out, I collected the Sport fluoroelastomer bands like nobody's business. I ended up having way too many colors, and frequently mixed and matched bands when going out. But once the woven nylon bands hit the scene, my poor Sport straps have been relegated to the back of my watch drawer, never to be seen again.
The $49 woven nylon bands have a few things going for them, even without the gorgeous pin-and-tuck enclosure found on the Sport model: They're lighter than the fluoroelastomer bands and breathe more easily; the two-tone colors match better with a variety of outfits while still popping on your wrist; and they're more comfortable for long-term use than the Sport. (I've never had to take off the woven nylon band for sweat or itching — something I sadly cannot say about the Sport bands.)
Yes, they have the traditional classic buckle closure, and that closure is limited to silver unless you buy an anodized Apple Watch/nylon combo. But I find I barely notice this color clash; it's rare that you'll be using the watch and simultaneously see the underside of your wrist.
Gold/royal blue woven nylon band
Image 1 of 3
Forget mixing and matching Sport straps: Some of the woven nylon bands have dual colors built right into the strap. Take the gold/royal blue woven nylon: It matches my white-gold skates perfectly, and I've worn it for many a derby practice. It also looks great dressed up with a bracelet or two for a night on the town.
Royal blue woven nylon band
Image 1 of 3
The royal blue band has a bit of gold interspersed in its weave, which looks great when paired with my gold Apple Watch Sport. What I love about the royal blue is just how understated it looks unless you wear something with a similar shade: Against most contrasting colors, the band almost looks black, but the royal blue really pops when viewed from the side.
I'm not a huge fan of pink, but it's my fiancé's favorite color — and he loves the pink woven nylon band paired with his rose gold 42mm Apple Watch Sport. He wears it almost everywhere, and I have to admit: The band looks great on him. It's a striking color, and adds a certain sort of Swatch Watch vibrancy to his wrist, whether he's driving his car or swimming in the pond.
Image 1 of 5
The first time I put the pearl band on, I almost mistook it for the Milanese in a photo: The white and black interlacing almost looks like a white gold version of Apple's magnetic bracelet. It's one of the woven nylon colors you can dress up or down pretty easily, and looks great with just about anything. Potentially of interest: When wet, it looks almost identical to the black woven nylon band.
Image 1 of 3
Scuba blue woven nylon band
Though I wear the scuba blue band the least of any of my woven nylon colors, it's not because the strap is off-putting: As with the Blue Jay Modern Buckle, I just don't have the right color clothing to wear this band with on a regular basis. It still looks great when paired with a black or white shirt, however, and I've used it several times for workouts.
Image 1 of 3
Let's be honest, here: If I had to pick favorites, the Black woven nylon band is definitely in my top two. It pairs remarkably well with the gold Sport, and can be used to dress outfits up or down depending on the circumstance. I have a black Milanese, but I find myself wearing the woven nylon much more often: It's lighter, feels better on my wrist, and just looks plain classy.
Image 1 of 3
Any questions about the woven nylon bands?
These are all the woven nylon colors save for Gold/Red, which wasn't originally available in 38mm (though it is now). Have a question about them? Have other feelings about the straps? Let us know in the comments.
Get more iMore in your inbox!
Our news, reviews, opinions, and easy to follow guides can turn any iPhone owner into an Apple aficionado
Serenity was formerly the Managing Editor at iMore, and now works for Apple. She's been talking, writing about, and tinkering with Apple products since she was old enough to double-click. In her spare time, she sketches, sings, and in her secret superhero life, plays roller derby. Follow her on Twitter @settern.