Is Apple's AirPort Extreme the best Wi-Fi router for your Mac?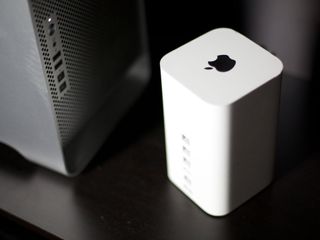 (Image credit: Rene Ritchie / iMore)
Our colleague Haroon Q Raja recently elected not to include any of Apple's devices in his roundup of the top five best Wi-Fi routers for your connected home. His rationale was that there are "faster, more feature-rich, customizable, powerful and cheaper options." He's right about that. But he's also wrong to exclude them from consideration. Let me explain.
Raja made a good case to consider options like Netgear's Nighthawk R700 and R6250, TP-LINK's Archer C7 v2, and Edimax's BR-6478AC. All of them have strengths and weaknesses; some are very inexpensive (less than half what Apple's AirPort Extreme retails for), some have myriad configuration features so you can extensively tweak their performance and abilities. If that sounds good to you, then have at it. But understand what you're giving up.
Simplified setup and management
There's a lot more to recommend Apple's devices than simply "brand loyalty," as Raja dismisses. Apple makes its network devices as easy to use as the Mac and the iPhone. And that goes a long way to effectively targeting Apple's customer.
That's because, put frankly, most Wi-Fi router manufacturers absolutely suck at making their devices easy to set up and use. They require you to use web-based interfaces. They present you with page after page of configuration information, myriad checkboxes and radio buttons that are either not well-described or not described at all, clad in techno jargon.
Setting up a Wi-Fi router can be tremendously intimidating to the layperson. Hell, I worked in IT, and I find setting these things up intimidating.
Most people buying these devices aren't IT people. They're not computer hobbyists either. They're just regular consumers who know they need Wi-Fi in their home. What's drawn them, by and large, to Apple equipment is because they know it's easy to use and comfortable for them.
The AirPort Utility, by comparison, makes it a dream to set up and run an Apple router. It's included in OS X in the Utilities folder; you can download a Windows version, and a free App Store version is available for iOS devices. The software's great at connecting your Apple router to the Internet and making sure it's properly configured for whatever you need to do.
Apple's network device choices
The AirPort Extreme was introduced last year, when Apple's Haswell-based MacBook Air made its debut — the first Mac to support 802.11ac, the faster Wi-Fi implementation that's now standard across the board in every Mac that Apple's released since then.
It comes with three Gigabit Ethernet ports on the back, along with a USB 2 port to attach a printer or an external hard drive that can be shared on the network. A fourth Gigabit Ethernet WAN port is used to connect to your Internet device - a cable or DSL modem or router, for example.
But what really makes the AirPort Extreme special is the software that Apple includes on the Mac and makes available for free download for the PC. AirPort Utility, found in the Utilities folder of your Mac, can help you set up and manage an AirPort Extreme within a couple minutes of opening the box.
Apple's Time Capsule is much the same story — it's the exact same device as the AirPort Extreme, though it's equipped with an internal 2 TB or 3 TB hard disk drive that's visible to the Time Machine software built into OS X. That makes it a cinch to use as a network-based backup system for the Mac. You set it once and forget about it, and every time your Mac is connected to the network it'll back up, so you'll always have a way to recover in the event of a catastrophic failure.
I'll readily admit that the AirPort Express is becoming a hard sell. It's a tiny box with unremarkable network performance — relegated to 802.11n — and it's pricey for a device in its category. But two things make it worth considering: Software and AirPlay. It's every bit as easy to configure because it works with the same utilities that support Apple's other routers, and it doubles as an AirPlay audio router.
In other words, if you hook the AirPort Express up to your stereo or to speakers using the mini jack that's built into it, it will appear in iTunes as an AirPlay device, so you can stream audio to it.
Other considerations
Here's another reason to consider an Apple-branded router: AppleCare coverage. If you've purchased, or plan to purchase, Apple's AppleCare service coverage to protect your Mac, AppleCare also covers an AirPort device. Here's the relevant details from Apple's North American coverage terms:
In other words, you don't need to buy a separate AppleCare coverage plan for your AirPort Extreme, Time Capsule or AirPort Express. It's automatically covered within two years of the AppleCare-covered device's purchase.
What this means is that if you have an AppleCare-covered device and something goes wrong with your Apple router, you can call Apple and expect to get help and expect to get it repaired or replaced at no cost to you. That's certainly better than the standard factory warranties of many other routers from other manufacturers.
Also, good luck getting competent Mac or iOS-centric support from most of third-party router makers.
The bottom line
I've laid out some practical considerations for considering an Apple router for your next Wi-Fi networking purchase, but obviously one size does not fit all, and Haroon Raja makes some great suggestions for people who are more technically inclined and less intimidated by technology. Please read his piece and decide for yourself what your next 802.11ac Wi-Fi router should be. And if this nomenclature confuses you, I also recommend Raja's illuminating How to choose the best router for your connected home to brush up on the latest Wi-Fi technology.
But getting the best "bang for your buck" is about more than which router is the fastest or can be configured the most extensively. It also involves how happy you'll be after the sale, and how seamless is the experience of setting up and using the device.
People don't just buy Apple routers because they're sycophants and acolytes that will buy anything with an Apple logo on them. I'm sure there are a few people out there like that, but many others do it because they've had positive experiences with Apple equipment and expect the same from Apple's routers — and the devices deliver. They're trying to reduce stress, eliminate grief to get connected, and make sure they'll get after-sales support and service without dealing with huge headaches.
Have you purchased an AirPort Extreme or another Apple router? Are you happy with it? Or are you considering one? Let me know if you have any questions or comments.
Master your iPhone in minutes
iMore offers spot-on advice and guidance from our team of experts, with decades of Apple device experience to lean on. Learn more with iMore!