Is Apple's AirPort Extreme the best Wi-Fi router for your Mac?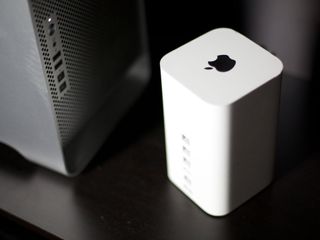 (Image credit: Rene Ritchie / iMore)
Our colleague Haroon Q Raja recently elected not to include any of Apple's devices in his roundup of the top five best Wi-Fi routers for your connected home. His rationale was that there are "faster, more feature-rich, customizable, powerful and cheaper options." He's right about that. But he's also wrong to exclude them from consideration. Let me explain.
Raja made a good case to consider options like Netgear's Nighthawk R700 and R6250, TP-LINK's Archer C7 v2, and Edimax's BR-6478AC. All of them have strengths and weaknesses; some are very inexpensive (less than half what Apple's AirPort Extreme retails for), some have myriad configuration features so you can extensively tweak their performance and abilities. If that sounds good to you, then have at it. But understand what you're giving up.
Simplified setup and management
There's a lot more to recommend Apple's devices than simply "brand loyalty," as Raja dismisses. Apple makes its network devices as easy to use as the Mac and the iPhone. And that goes a long way to effectively targeting Apple's customer.
That's because, put frankly, most Wi-Fi router manufacturers absolutely suck at making their devices easy to set up and use. They require you to use web-based interfaces. They present you with page after page of configuration information, myriad checkboxes and radio buttons that are either not well-described or not described at all, clad in techno jargon.
Setting up a Wi-Fi router can be tremendously intimidating to the layperson. Hell, I worked in IT, and I find setting these things up intimidating.
Most people buying these devices aren't IT people. They're not computer hobbyists either. They're just regular consumers who know they need Wi-Fi in their home. What's drawn them, by and large, to Apple equipment is because they know it's easy to use and comfortable for them.
The AirPort Utility, by comparison, makes it a dream to set up and run an Apple router. It's included in OS X in the Utilities folder; you can download a Windows version, and a free App Store version is available for iOS devices. The software's great at connecting your Apple router to the Internet and making sure it's properly configured for whatever you need to do.
Apple's network device choices
The AirPort Extreme was introduced last year, when Apple's Haswell-based MacBook Air made its debut — the first Mac to support 802.11ac, the faster Wi-Fi implementation that's now standard across the board in every Mac that Apple's released since then.
It comes with three Gigabit Ethernet ports on the back, along with a USB 2 port to attach a printer or an external hard drive that can be shared on the network. A fourth Gigabit Ethernet WAN port is used to connect to your Internet device - a cable or DSL modem or router, for example.
But what really makes the AirPort Extreme special is the software that Apple includes on the Mac and makes available for free download for the PC. AirPort Utility, found in the Utilities folder of your Mac, can help you set up and manage an AirPort Extreme within a couple minutes of opening the box.
Apple's Time Capsule is much the same story — it's the exact same device as the AirPort Extreme, though it's equipped with an internal 2 TB or 3 TB hard disk drive that's visible to the Time Machine software built into OS X. That makes it a cinch to use as a network-based backup system for the Mac. You set it once and forget about it, and every time your Mac is connected to the network it'll back up, so you'll always have a way to recover in the event of a catastrophic failure.
I'll readily admit that the AirPort Express is becoming a hard sell. It's a tiny box with unremarkable network performance — relegated to 802.11n — and it's pricey for a device in its category. But two things make it worth considering: Software and AirPlay. It's every bit as easy to configure because it works with the same utilities that support Apple's other routers, and it doubles as an AirPlay audio router.
In other words, if you hook the AirPort Express up to your stereo or to speakers using the mini jack that's built into it, it will appear in iTunes as an AirPlay device, so you can stream audio to it.
Other considerations
Here's another reason to consider an Apple-branded router: AppleCare coverage. If you've purchased, or plan to purchase, Apple's AppleCare service coverage to protect your Mac, AppleCare also covers an AirPort device. Here's the relevant details from Apple's North American coverage terms:
In other words, you don't need to buy a separate AppleCare coverage plan for your AirPort Extreme, Time Capsule or AirPort Express. It's automatically covered within two years of the AppleCare-covered device's purchase.
What this means is that if you have an AppleCare-covered device and something goes wrong with your Apple router, you can call Apple and expect to get help and expect to get it repaired or replaced at no cost to you. That's certainly better than the standard factory warranties of many other routers from other manufacturers.
Also, good luck getting competent Mac or iOS-centric support from most of third-party router makers.
The bottom line
I've laid out some practical considerations for considering an Apple router for your next Wi-Fi networking purchase, but obviously one size does not fit all, and Haroon Raja makes some great suggestions for people who are more technically inclined and less intimidated by technology. Please read his piece and decide for yourself what your next 802.11ac Wi-Fi router should be. And if this nomenclature confuses you, I also recommend Raja's illuminating How to choose the best router for your connected home to brush up on the latest Wi-Fi technology.
But getting the best "bang for your buck" is about more than which router is the fastest or can be configured the most extensively. It also involves how happy you'll be after the sale, and how seamless is the experience of setting up and using the device.
People don't just buy Apple routers because they're sycophants and acolytes that will buy anything with an Apple logo on them. I'm sure there are a few people out there like that, but many others do it because they've had positive experiences with Apple equipment and expect the same from Apple's routers — and the devices deliver. They're trying to reduce stress, eliminate grief to get connected, and make sure they'll get after-sales support and service without dealing with huge headaches.
Have you purchased an AirPort Extreme or another Apple router? Are you happy with it? Or are you considering one? Let me know if you have any questions or comments.
Get the best of iMore in your inbox, every day!
I own an Airport Time Capsule 3TB and an Airport Express and I love them. Being a Network Engineer, dealing with core and edge routers (Cisco & Juniper) gets very tiring so it's nice to come home and have something easy to manage and gets the job done.

I have the same two devices. But I purchased the TC to replace the APE. Do you use the two devices together? Sent from the iMore App

Yes I've used and APE with a TC at one time. You can configure the APE as an extender to the TC. It works perfectly.

I am having the same setup and it works great. One question that is bugging me, how to chose primary device when computer is connecting?
If the computer is in the range of both devices, I want to be connected to TC by default!
How to set this up?

When I made the switch to AE, my router nightmares stopped. I have owned the flat AE and now the Tower AE. The Tower was easy to set up, has great signal strength and is reliable. My first AE is still being used as a network extender broadcasting the network to far places like my garage. It is there I have a Roku box connected and watch TV while exercising. It also extends my secure network into the yard for device use outside. Airport Utility makes managing and troubleshooting the network so much simpler for us less than expert users.

The real selling point for the airport expresses is that they can be used as extenders of your wireless network with little effort. Just hook up to Ethernet and put in bridge mode and your running in 5 minutes. It also has the side benefit of working as the brain for a pair of airplay speakers

It can also extend wirelessly. I just moved. My last house had CAT-5e throughout the house. So I connected the Express via Ethernet to extend. I recently moved, and one of the things I lost in the new house was the prewiring. Not a huge deal, but my wireless printer had become buggy, and the WiFi stopped working. What I did was connect the Express to extend my Extreme via WiFi, and connected the printer to the Express via Ethernet. My printer now shows up, and allows for the functions (Scanning, specifically) that don't work over Bluetooth. The added benefit is the AirPlay function, plugging in my old powered speakers I had with an old mini. All in a few minutes/easy steps.

It's like using a vendor part for a high performance car. Sometimes you can save money or get more options from a third-party, but sometimes the vendor version just fits exactly right. Money isn't the total cost of ownership.

That really hits it. I've had Linksys, Netgear and Belkin wi-fi routers. I'm no slouch in setting them up (though I'm no IT pro). But I have found that my apple devices, most especially my appletvs, play much more nicely with my AE (tower). Doesn't drop connections mid-stream etc. AppleTV easily sees the network on startup, unlike with my Netgear when I would regularly be confronted with the "two logo" screen.

I own an Airport Time Capsule 3TB and have always used Airport Express since at least 2005 or so. I had one of the first Time Capsules (unfortunately one of the ones with the bad capacitor), and several other models and most have worked flawlessly. The setup, as you note is incredibly easy. I would say that using a networked hard drive in a router for the Time Machine backup is problematic, but I think these are the problems of network mounted drives, not necessarily the design of Apple's gear per se. The "look" of it is also an underrated plus. It's pretty much the only router that you can put on a table in a fashionable living room and have it fit in. LinkSys is great and all but I don't need my living room to look like a server room. A lot of folks feel that way, and a lot of router manufacturers (incredibly) don't even have aesthetics on their "to-do" list.

Why do you say a network drive is problematic? Out of curiosity. I encrypt my backups and have no issues what so ever in network performance. Sent from the iMore App

I have an Airport Express and it replaced a Netgear router. Had connectivity issues to our bedroom. With the Airport Express it stopped. Funny thing is is the Apple is about 3x smaller yet gives off a better signal to further distances. Sent from the iMore App

I recently purchased an Airport Extreme as it combined several functions in one, wireless extender, printer sharing independent of a computer, usb drive sharing across several computers and a 3 port ethernet switch.
I read several reviews and some other devices scored higher for 'features' but the user interface and ease of setup made my mind up, not the brand.
As Rene pointed pointed out, sometimes a vendor part just fits, however for things like Lightning or Thunderbolt to ethernet, HDMI adaptors the third party options work just as well.

Raja also doesn't say anything about beam forming, the technology that shapes the signal coming from the router so it is is beamed directly at your device. Some of the routers he mentions support it, and based on comments I've read in various places, beam forming support is questionable on a couple. But beam forming works flawlessly on the Airport Extreme and it makes a noticeable difference in connection speed and signal strength in some of the more challenging home and office environments.

Beam forming (wireless ac tech) is really a game changer. With an AC router and AC device at the other end the signal will punch through walls and barriers far better than the older standard.

Mine has been terrible -- the only Apple product I have bought that has not performed to par, and, unfortunately, the only one my local Apple Store has steadfastly refused to service :(

Your story sounds really, really fishy to me. Apple doesn't "refuse to service" anything they make, so it's likely what you really mean is "refused to service for FREE." You say it's "terrible" which is a word that implies that it barely works at all rather than just has a few problems, but yet you didn't return it? Did it go all the way through the first few months without any problems at all? If it was having problems from the start, why didn't you return it? Now it has problems but you don't think you want to repair it? Why? It seems way more likely to me that the truth is more like: "I bought one second hand from a friend and it has some problems but I don't want to pay to get it fixed."

Sigh. I bought a 3 TB time capsule from my local Apple Store. For a few months, everything was absolutely fine. The "terrible" performance is similar to the symptoms described here on imore: http://www.imore.com/getting-slow-speeds-or-dropped-connections-your-air... except, with apologies to Ally, changing channels does not help in my case. I find my wireless performance much better with my crappy Netgear. As for service, multiple trips have yielded nothing but admonitions to change the channel, as they find nothing wrong when looking at it. They have returned it to me with a shrug and a comment that it may be environmental. So have they "refused to service?" Strictly speaking, no. But has that service fixed the problem? Not at all. They have looked at it, found nothing wrong, and returned it to me with a shrug and a comment it may be environmental. The thing is, they are probably right -- there probably is something in my environment that is causing interference. Believe me, I have gone up and down both the 5GHz and 2.4Ghz channels, I have moved the capsule to multiple different locations on my property, to no avail. Heck, if you have suggestions the Genius Bar missed, I am all ears. The Netgear manages it, a separate Airport Express (that I keep around for travel) manages it, but my time capsule does not. It is infuriating, especially as it is the only Apple product I have ever purchased that has not performed to expectations.

I had a Linksys WRT54GS that worked like a champ but I wanted to switch to N so I got another Linksys and it sucked. Finally just quit working so I went back to the old one. Since I started switching to Apple stuff I decided to pick up the latest Airport Express. So easy to set up and works great. If I ever have to get another one I'll get the Extreme and use this one as an extender.

I started with an Airport because at the time, you couldn't get an inexpensive router with a USB printer port. That was in the 802.11g days. Then when it came time to upgrade to 802.11n, routers with gigabit switches built-in cost just as much as the Apple router. The cheaper routers all had 100Mbps ethernet. So I bought the Apple one. The one complaint I have about the Apple router is that any configuration change you make results in restarting the router. It seems unnecessary. I guess it saves a lot of testing and support on Apple's end.

I'm curious if the author has actually used the setup for any of the recommended routers. e.g. Netgears setup is brain dead simple and they offer an app for iOS AND Android.

I noticed this too. Other manufacturer also have an app that's very easy to use and offers more options for setup if you want. I recently bought a router and seriously considers AE. But when I discovered the flagship model of other brands, they offer a way better router (with more features) than AE while having the same price.

Have both an AE Base Station and a Time Capsule. They're great devices.
They're fed by a Netgear modem/router. But if I had to choose one and not the other I'm afraid the Apple would go in the bin. The Netgear is massively more configurable.

I think you should do reviews of these at different price ranges because to me price is a primary concern.

We bought our Extreme last Nov after the update and I love it. I never have to mess with a router web interface anymore and the Parental controls and timed access features are, frankly, the first of their kind that actually work for me. My wife asked me why this router doesn't have all the flashing lights like our old Netgear did, and I asked her if she knew what all those lights meant and she said, "No, do you?" I told her I had no idea.

I haven't read Raja's article yet, but I don't know that I care to go back to another router. We had a Netgear that was probably 4 years old, with a password that was obnoxious to type in, that just wasn't cutting it. Netflix issues, multiple computers/phones trying to use internet at same time would leave at least one product out. It was awful. Bought an Airport Express, set it up in ten minutes, and it was like a whole new world opened up. Suddenly everything worked at the same time. Netflix stopped buffering. I could actually play Pandora on my dvd player. All was right with the world. Still hasn't disappointed me yet.

Same experience here. I enjoy knowing the firmware/software is kept UTD by Apple as well.

Between my workday apartment, my house and my GF's place we have a total of 12 Apple Airports and Time Capsules now. Got the first one in 2003 and have not really looked at something else again; even my first Express from 2004 still works to drive the powered speakers in the master bathroom. What I do miss to some extent (compared to the Cisco devices in the office) is a mean to create some simple VLANs, e.g. to properly shield some NAS volumes and home automation from the children without messing with a gazillion passwords that end up on sticky notes all over the place. Apple, as with most of their software, improved things to a point and then obviously lost interest.

I went through every router I could get my hands on and I always had problems. It was always the same thing. either the signal was weak or my computer would not connect. Then, about 6 months ago I bought the AE. I have not had a single problem since. My computer always connects and I always have three or four bars of signal. the only thing I cant get working is my slingbox. When I read the article of top routers I was honestly surprised the AE was not included.

The downside for all Apple Routers....user limit! The apple extreme limits itself to 50 users(im not sure). Unfortunately, im in one of those BIG families who live together with almost all rooms have smarttvs, each has more than 1 mobile phone and tablet, wireless home security cameras, media players, internet connected appliances...etc. Thats why im kinda stuck with Cisco and Dlink for now.

This is total nonsense really. Both the idea that the Apple Airport Extreme will stop working at 50 users, and the idea that you have 50 simultaneous devices working in your home in the first place. Even if true, a description of a weird edge-case problem encountered by an atypical user with unusual and unreasonable demands, is hardly a refutation of the design of a product that works for everyone else. Anyway, if you can afford all those devices, you can't afford an extra router to handle the traffic?

mister_grey, you sound like an inconsiderate Luddite and a uninformed technology noob. I have a family of seven dedicated to the Apple ecosystem (iMacs, MacBooks, iPhones, iPads, Apple TVs). We also use a Sonos music system. We have Wink controlled lighting and thermostats. There are Withings health-mate enabled devices. Our garage doors are run by myQue from Chamberlain. We have smart TVs and smart devices connected to them. Our Tivo's speak wirelessly (as well as through ethernet and MOCA). Not one of us is a network engineer, but I can tell you that just a part of our requirements brings an Apple router to its (generally unexplained and undocumented) knees. So, know this: Airports (in any version) are useless when you need more than 50 ip addresses. We are using technology as a part of our entertainment, health, educational, professional and personal lives. We may be an "edge-case" now, but not for long, when you will be the outlier, left way behind by the new generation of technological wunderkinds, raised in an enlightened environment. Good luck to you and your 50 ip address router.

The reason I get apple
Is because I know if I need to extend my network I can go to the apple store and just get a airport extreme and extend the network. Sent from the iMore App

It's almost criminal to have a device that tall and limit it to only 3 Ethernet ports. It should have 8 minimum.

This post echoes my sentiments exactly. I have an asus router which was hell to set up. The browser interface was confusing and I kept getting prompted to verify my network connection or something. Wasted an entire night setting it up. That said, once I did figure it out, I didn't have to touch it again for the next 2 years (when I signed up for a faster optic fiber plan with a different service provider, where again, I had problems setting up the asus AC router they supplied me). So one can argue that for a feature you only use once, making it easier to use isn't really that huge of a deal. That said, I am thinking of getting one just to complement my other Apple devices, and would like to know what other advantages it has compared to netgear? Sent from the iMore App

Have an Extreme and an Express and they have been the best routers I've ever owned. And the easiest to setup and maintain. Worth every penny!

While some consider the Airport configuration software Airport Utility a negative, I found one feature about it I didn't even know about that makes me appreciate it more. I did like how easy it was to initially setup when I replaced some older routers about 2-3 years ago with an Extreme and 2 express (one set just for AirPlay audio with a stereo). Took much less time to setup than the web interface setups I'd done hundreds of times with different routers, and setting the express to extend the network was essentially one or two clicks. Not for the feature I didn't know about:
More recently the main extreme had failed (every router will eventually fail) I picked up a replacement and plugged it in. Airport Utility recognized it was new and asked if I wanted to replace the missing extreme, when I pressed OK, it loaded the config and was up and running again - didn't have to find the last config I'd saved to load, it just did it direct from the Airport Utility. All of the changes I'd done for port mapping and everything else was all there. Just had to update the firmware as one last step (that it notified me should be done, although I would have checked anyway, I do for all equipment)

The one thing I miss from the Airport Extreme is any type of QoS management. I had to reconfigure my network setup to allow our Ooma VOIP box to manage QoS, since we were having call audio cut out. Other than this, I don't have any complaints about the AE.

I used to recommend Apple routers to friends - especially those who had Apple equipment. I've set up enough routers over the years to find the ease of use argument very compelling. Unfortunately the current version of the AirPort Extreme comes with a fan that's audible in a quiet environment. That's an epic fail for a product that shows up in a residential setting and a shock coming from a company that usually pays attention to such issues. It's why I recently purchased a Nighthawk instead.

As someone who owns an extreme and has it inches from my face right now on a table beside the couch in the living room, I can say with as surety that this is total BS. If your fan is audible and running, then your room is too hot or the device is faulty. Even the ones with the hard drives are literally almost impossible to hear with your ear pressed to the case. If it's one thing that Apple has always done for years and years and years is make every computer they make far, far quieter than any other computer out there.

That said, if I'm in the market for a wifi router, and if the only Apple products I own are an iPhone, an iPad and an iPod nano, does AE make a good purchase for me?

AE being AirPort Extreme or AirPort Express? :)

I bought the new 2TB Time Capsule and I will say it is the best, maybe not the fastest, but most reliable. My Internet plan comes with 30mbps dls, I usually average 40 so I don't need a router that can handle 100+ dls. I've owned multiple routers and multiple brands and always ended up having to reset or reconfigure because of horrible speeds or drop in service completely. I take reviews with a grain of salt because they may test well in labs but fail over longer periods of actual day to day use. Sent from the iMore App

I gone through Linksys and Amped Wireless routers with issues, even with extenders in big house. I am very happy with older Extreme as base station and current Express routers as extenders for my home network. They work problem free. I use PCs, Mac, Android tablets, and iPads within my network without any hiccups at all. Been problem free for past 4 years! Sent from the iMore App

I agree. If you are in the Apple ecosystem, why would you want to all of the sudden deviate on this one component by going with another brand?

Thanks Peter... I read the article you mentioned and was taken aback by his lack of inclusion of the Apple offerings... I also thought he completely missed the point. Now, i have a Gen 1 Airport Express, running on the 5ghz band (exclusively) with 40 khz wide band coverage in that set of channels, 100+ mHz thruput to 5 devices consistently, great Airplay thru all devices including two 32" HD TV's thru my Apple TV, A MBP, TWO iPad Air's and an iPhone 5... Never drops a single bit... So, let's not toss out the little engine that DOES - LARGE, just yet.... Although the Air Port Extreme beam-forming tech is intriguing.... The other routers that Raja mentioned.... Not even in the game....

Been running a 2 Gig Time capsule now for over 3 years. Had an Extreme before that. Will not under any circumstances go back to Dlink/Netgear/Whatever for wifi/network requirements. Prior to using Apple network gear, gaming with my PS3 was an unmitigated disaster. No amount of futzing with port forwards and what have you would stabilise my network connection. I broke down and shelled out for an apple router and never looked back. "It Just Worked". When the time came to extend my wireless network, I looked at the recommended extenders and the price difference between them and an Apple Express was minimal. Bought the Express, plugged it into a network jack, powered it on. Opened the Apple network app and almost immediately was asked "would you like to extend the existing network". Clicked yes and that was that. That kind of convenience is worth money, no matter what anyone says. You have to ask yourself "what is my time worth?" It's why I ditched my home PCs and finally bought a new iMac 24" in 2012, having previously gotten 5 years out of a 266 G3 PowerMac, and then not having a desktop Mac for about 5 years.

AirPort Utility APP for iOS devices is a convenient bonus as well.

I've have an AirPort Express and a Time Capsule. To be honest, the AirPlay features on the Express are overhyped. AirPlay never worked as well as say an AppleTV that IMHO had the better, more reliable AirPlay features. I couldn't count as to how many times I'd had to "powercycle" the router because AirPlay wouldn't work.

Wow, I couldn't agree more! I actually wrote the NYTimes writer (BRIAN X. CHEN) and said pretty much the same thing. His article, as a result of burying in links all of the competition, basically sounded like a PR piece for Archer. Never heard of Archer before this. I wonder how the stock has done over the past few days… Hmm… ;-) We work 60 hours a week as Mac specialists, but we're not Kool-Aid drinking guys anymore. Apple can be brutal and arrogant and we're seeing more and more evidence of designed obsolescence. That being said, it's pretty dumb to ignore the power of a backup device and high end router all in one. The TimeCapsule is the best backup device out there for the average Mac user bar none. Apple networking is easier for most end users and it was clear to me that the The Wirecutters were quite eager to use iPhone and iPad in there key words, but to completely ignore (or nearly ignore and then dismiss) Apple's hardware offerings just reeked of PC snobbery and too much shopping at Walmart. Saving even $100 on an always on, crucial device in any home or office seems a silly reason to tout it especially when their own reviews show that the interface is complicated. The Wirecutter is also either ignoring (or not getting) the importance of backup and a manageable interface. Are there things we'd like to see improved? Of course! Love to see more advanced controls, an extra ethernet port or 2, and a yet again improved interface with both everyday user access, Parental controls and then more advanced functions under the hood. But getting our clients to really get the necessity of backup has been made easier with TimeMachine and the TimeCapsule. If it's easy, works in the background, doesn't require plugging and unplugging, it's much more likely to work. Hey, Apple computers are not cheap by anyone's yardstick. Why would you buy a cheap router just because it's cheap and still have it really challenging to set up and maintain? I think these reviews are written by and for broke college kids and they're missing the real market of end users out there who don't have the technical knowledge or INTEREST in something that should just work, take up any of their time.

This thing sucks it keeps dropping its connection

My Airport Extreme worked great for almost two years. No it keeps dropping the internet connection. I was calling my cable company blaming them, then discovered it is the router. I called a tech savvy friend of mine and he is experiencing the same issue. He gave me some techno-babble about what he thought the problem is but I didn't grasp most of it. Comments on the Apple support page for AE reflect the same, unreliable service after 1.5 to 2 years. Usually happens when I wake the computer to use. I have to unplug then re-plug the AE, then it works fine again, for a while.