Apple's swipe keyboard refuses to spell out 'hot chocolate'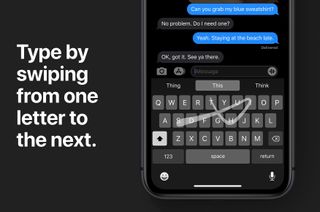 What you need to know
Apple's new swiping keyboard is having serious problems spelling out the word 'hot chocolate.'
Instead of properly spelling it out, it offers odd words like 'hoot chocolate,' 'got chocolate,' and 'joy chocolate.'
It doesn't matter the type of angle you use, it will not spell out the delicious hot beverage.
Apple's new swiping keyboard in iOS 13 has been one of users' favorite features in the update. While it makes typing a much more seamless experience, it still needs to iron out some of the kinks like spelling out a common word like 'hot chocolate.'
Currently, if you try spelling out the word hot chocolate using the swipe keyboard, it will not do it. The bug first came to our attention by a user on Reddit. Piqued with curiosity, we attempted to spell it out (using an iPhone 11 Pro on iOS 13.1.2) and could not spell out the delicious hot beverage.
Instead, we were presented words like 'hoot chocolate,' 'hot coconut,' 'joy chocolate,' and 'got chocolate,' but never hot chocolate. Its recommendations after the fact are not any better. 'Hit chocolate' and 'hoy chocolate' do not sound very appetizing.
This seems to be a bug affecting the swipe keyboard. It doesn't really struggle with other words, to the best of our knowledge, but this one seems to be stumping it. It's actually quite comical. Many users on Reddit also attempted spelling out the word but could not do it either.
Give the bug a try and see if you can manage to spell out hot chocolate using the swipe keyboard. Should you fail, let us know in the comment what words the swipe keyboard spelled out instead.
Works ok for me although I'm on iOS 13.2 which might have fixed it. That being said sometimes the swipe keyboard will just not recognize a word, but I've had that with every swipe keyboard I've used, so I've never been a big fan of them

How about the word "will", it's almost impossible to get it with swiping.

Not really, for me anyway. Just stay on the "L" key for a moment.

Train it and it will eventually have Hot chocolate as one of the suggestions. At least Gboard is trainable, which is what I used previously.

Apple's keyboard is trainable too, but that's one big reason I've never been a fan of autocorrect or swipe keyboards because they always rely on training, whereas I just want to start typing and get a message across regardless of what phone or device I'm on

I think I can manage to peck out the word "hot" without swiping. I'm a bit more concerned about the number of times I have had to reboot my Apple TV on tvOS 13 because multi-tasking freezes up or it won't let me navigate downward on the home screen -- especially after playing an Apple Arcade game with a connected MFI controller. Also the fact that none of the Apple Arcade games will even launch on tvOS 13 unless the current user is the Family Organizer in our Family Sharing plan -- trying with any other user leads to a promo screen telling me I am subscribed to Apple Arcade (hooray). Forget about the fact that they excluded "Game Center" account from the fast user switching and require a manual sign-out and sign-in for Game Center. I think Apple needs to keep those updates coming fast for tvOS 13, watchOS 6, iOS 13 and iPadOS 13. This is the buggiest set of releases since iOS 11 and iOS 7 before that.

"This is the buggiest set of releases since iOS 11 and iOS 7 before that" Yep. Which is why I am still on 12.4.1.

I'm not sure it's the buggiest, most new major iOS releases have had some annoying bugs, I've managed to avoid most of them luckily

It works for me if I manually put in a space after swiping the word hot instead of letting the keyboard out in the space automatically. I get the same results as every one else if I don't manually put that disc in though

What's this? You say there is a bug in iOS 13? No way.

To be fair the swipe keyboard is new, although there are other bugs in iOS, but really, there have been bugs in most iOS "X.0" releases (where X is the major version). You're best waiting for "X.0.1" or "X.0.2", or even "X.1". Reminds me of when people used to wait for Service Pack 1 before upgrading to the next version of Windows, software has never really changed in this regard
Thank you for signing up to iMore. You will receive a verification email shortly.
There was a problem. Please refresh the page and try again.