Swipe keyboard is the other new iOS 13 feature people are loving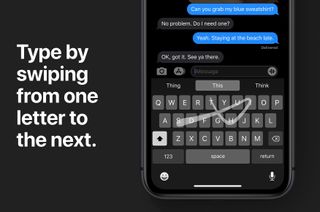 What you need to know
The non-Dark Mode feature iOS 13 users are really loving is the new QuickPath Keyboard.
The new keyboard feature lets people swipe instead of typing.
The feature is definitely not new, but now that it's available on iOS 13, people are really happy with it.
Today Apple released iOS 13 to the public after months of beta testing. People can now download the latest iPhone software and test out all of its new features. We've already confirmed users love the new Dark Mode, but what other new feature in iOS 13 are people really digging?
The new swiping keyboard (opens in new tab).
Swiping keyboards are not anything new. In fact, they've been around for years on Android and even through third-party iOS keyboards. But Apple refused to adopt the feature until it finally relented with iOS 13. People are very thankful for the change of heart. Apple officially calls the new feature QuickPath.
Here are some reactions to the new Swipe Keyboard in iOS 13.
Close behind Dark Mode, the QuickPath seems to be the other major new feature iOS 13 users are really gravitating towards. Many point out they can finally get rid of the third-party keyboard they've been using.
What do you think? Is the swiping QuickPath keyboard something you're enjoying as well? Let us know in the comments down below.
If you haven't already, you can download iOS 13 now.
I love the new swipe keyboard. Probably more than dark mode, although I love that too!!! But I have a question maybe someone can help me with. How do you download and use fonts? I've looked in the App Store, and all I find are keyboard apps with fonts built in.

I'm loving the swipe keyboard.
I've been using the Google keyboard, but have found it glitchy and often times frustrating.
I was so happy to uninstall it, and other, keyboards. I am enjoying dark mode, but it was never something I actively wished for. I find it amusing how much joy I'm getting from a simple keyboard upgrade.

If only Apple would release it for my language too. Such a big company, but can't bring it out to everyone. It's pretty much the old keyboard, with my language, added with swipe. Thanks Apple!

Been using a swipe keyboard for over 5 years-always with issues. Had to continually change from Apple keyboard to Gboard as it never defaulted correctly. Those problems are over-swipe works great from Apple and now I only need one keyboard installed! Took some time but I think they nailed it.

I guess this is a great case study in the "tyranny of the default". This feature has been available since iOS 9 or 10 with 3rd party keyboard access. Great that Apple finally got the memo, but still, I've had it on my iOS devices for years.

"I've had it on X for years" not like it really matters, the main thing that matters is that it's here now. I've been using a mix of the swipe keyboard and normal typing, the swiping isn't perfect but none of the ones I've tried has been, at the end of the day it's word prediction and sometimes the computer gets it wrong

I am just not a fan of the swipe keyboards, so this is a feature I just won't use.

I'm not a huge fan, it's sped up my typing a bit but not significantly, and when it gets the word wrong it's really frustrating. Give me a physical keyboard any day

I have been using swipe keyboards forever. I think MSs on earlier Windows Phones was one of the best. Almost clairvoyant in its accuracy. (Went down over time) Haven't spent a lot of time with Apple's yet, obviously, but ditched Google Keyboard to give it a fair chance. One thing I did like on Google was that it put up a number row. Made typing in passwords way easier, even if you can't really swipe most of those. Really about time Apple did this. Hoping the delay was to get it right the first time, which Apple is pretty good at.
Get the best of iMore in in your inbox, every day!
Thank you for signing up to iMore. You will receive a verification email shortly.
There was a problem. Please refresh the page and try again.