Best apps for observing Lent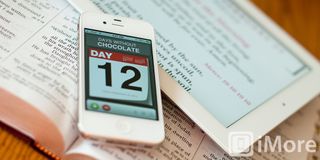 We're a few days into the Lent 2012 season and what a better way to have an excuse to not give up your iPhone and iPad than collecting a few apps that help, encourage, motivate, and inspire you to give up something else during this time.
Here's a few apps we think think will do just that.
Magnificat Lenten Companion 2012
This universal iPhone and iPad app is designed to help you live all the graces of lent through daily prayer, liturgy, meditation and inspirational essays and poetry. The content is presented in a day-by-day format, similar to a devotional.
The layout of the app is very simple and strait-forward. However, I think the font size on the iPad is too big and there isn't a way to adjust it.
40 Days - Lent Observance Tracker
With Lent, comes commemorations, and 40 Days - Lent Observance Tracker offers a way to stay true to your vow to abstain from chocolate, candy, beer, and whatever else you decide. With each of your commitments, you assign a dollar value and every time you slip up and sneak that piece of chocolate, you must record it in 40 Days - Lent Observance Tracker with the idea that once Lent has passed, you donate your total to charity. This, of course, is not a requirement, but if you commit, it's a great way to stay motivated (or forgive yourself for those few times you do slip up since it ultimately benefits charity).
Days Without
If assigning dollar values to your commemorations isn't your thing, Days Without is an app that simply keeps track of how long it's been since you gave something up. It's not specifically designed for Lent, but still a great motivator nonetheless. Watching the number grow as the days pass will make you feel proud of your accomplishments.
Days Without allows you to track multiple goals and includes an automatic counter. The icon will display a badge that tells you how many days it's been for the selected goal.
Your favorite Lent app?
Have you run into any other apps that you've found useful during this lent season? Do you have a favorite Bible app? What are you giving up for lent? Share and encourage in the comments below!
Former app and photography editor at iMore, Leanna has since moved on to other endeavors. Mother, wife, mathamagician, even though she no longer writes for iMore you can still follow her on Twitter @llofte.
With all the Political Correctness overtaking the world, I appreciate that you guys have the courage to post these apps. Thank you.

Didn't know those apps, I'll give theme a try. So far I'm happy with Many+ on iOS, which I use to give up on cigarettes and reduce my caffeine needs. It's pretty effective so far.

I actually purchased the Magnificat Lenten Companion 2012, earlier this week and it has been great. Simple and to the point. If you are one of those rare people looking to do extra this Lent, rather than give up something (other than the required sacrifices), I recommend this app. It gives the universal Morning, Evening, and Night prayer. As well as the daily Mass readings and daily Lenten meditations. There are also other Lent bonus features which are great pluses. They even have a few Lenten chants that can be played while praying and meditating. I give it 5/5.

I find it sad that more people refuse to be without their iDevices than good ol' sex!

Sad, yes... surprising, not so much really (we live in in a over-sexualized culture, that really doesn't have much actual sex any more).
That said, do realize that many use their iDevices for work, so giving them up isn't really that much of a realistic option. So, if you were forced to that choice, you'd probably have to give up sex. I vote for not giving up either one (why would we?).

I find it odd that some non-catholics are trying to participate in lent. Protestants don't do lent.

According to Wikipedia, Lent is observed by Roman Catholics, Lutherans, Methodists, Presbyterians, Anglicans, as well as some Baptists and Mennonites. Would you not consider Lutherans, Methodists, Presbyterians, Anglicans as Protestant ?

Many Protestants don't observe the same traditions as our Catholic friends, but in general, all Christians recognize the Lenten season.

As others have responded... sure we do, just like we have other 'seasons' of the church-year such as Advent. We just don't share some of the same practices or significance/theology behind them as the R.C. do.

The You Version Bible app is wonderful. It has several lent devotional plans that even a Protestant like me can love.

I am giving up man made rules.

You should give up a name like Thor ....lol

Carbs. Lent is not just giving up Lent is also for doing things to enrich others like doing random acts of kindness. My husband suggests I walk the dogs more often.

Xt3Lent: Excellent resource with daily recommendations for Lenten acts
WordonFire: the Lenten homilies and reflections of Fr. Robert Barron
iBreviary TS: Learn to pray the Liturgy of the Hours, a great Lenten exercise
Divine Mercy and Mary apps from the Marians of the Immaculate Conceptions: full of devotions and resources
Fulton Sheen: dozens of audio talks by 20th century's greatest preacher

It's worth mentioning that Liturgical Press has a great devotional called "Not by Bread Alone" that was one of the first Catholic devotional apps on the app store... Apple has DENIED the app this year because it isn't interactive enough, even though it was previously approved.
Thanks Apple! Now they're deciding if my chosen faith is interactive enough...

Another one to check out is Reflections for Lent http://t.co/mHBSTKTg - the Lent version of the popular Reflections for Daily Prayer app
Get the best of iMore in in your inbox, every day!
Thank you for signing up to iMore. You will receive a verification email shortly.
There was a problem. Please refresh the page and try again.