Apps of the week: Calca, Beamer, Tiny Thief and more!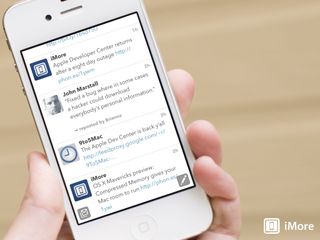 It's that time of the week again, when the iMore writing staff comes together to share with you some of those apps we've been using the most this week. Once again we've got a good spread, covering both iOS and Mac, with apps for getting stuff done, apps for leisure time, and something for social networking time!
Calca - Ally Kazmucha
Calca is hands down one of the most interesting calculators I've ever come across. It works as a plain text editor that recognizes number input. This means it can associate and label variables as you use them. For anyone who works with numbers on a regular basis, that pretty much means the possibilities are endless.
Need a future value payment of a mortgage? No problem. Want to work out complicated equations with tons of variables? You can do that too. From coders to engineers to math students, Calca is a great little resource. It's especially great for anyone that needs to work out a problem by walking through it with words attached. Calca knows and analyzes what you mean and outputs answers as you ask for them.
Calca is available for both iPhone and iPad as a universal purchase. You can pick up Calca for the Mac as well as a separate purchase.
Tiny Thief - Simon Sage
Tiny Thief adds a point-and-click adventure spin the standard three-star puzzle game. Players have to guide a wily medieval thief through a series of capers, each with their own unique story. Though the controls themselves involve little more than walking up to an object and tapping the interaction button that pops up, every level element reacts differently, and the way to earning certain bonus objectives isn't always clearly laid out for you. Tiny Thief requires a bit of guile and imagination to get through, which is a refreshing change from the usual grindfest of most puzzle games. The artwork and animation are altogether adorable, and combined with the childish glee of swiping other people's stuff, it's hard not to love this game.
Riposte for App.net - Joseph Keller
Riposte is an App.net client that's all about customization. You when logging in, you can choose to either log in manually, or use either 1Password or App.net Passport to log into your ADN account. From there, you have a wide range of options to customize your experience. You can switch between light mode and dark mode, turn menu color on or off, have the app display in full screen mode, and add inline images. You can also choose the text size for posts in your stream. Upgrade to Riposte Pro for more extras, like more typefaces, the ability to save posts as drafts, and a three-finger screen brightness gesture. Pro also lets you upload images of better quality, hide the status bar, and use QuickView for Messages. This places a small button on the bottom-left side of your ADN stream that quickly launches the private messages section of Riposte, or, if you choose and have it installed, Whisper, another app made by Riposte that's focused on private messages. Riposte is a truly solid, well-made app that enhances your ADN experience. Riposte is a free app for the iPhone, while Riposte Pro costs $2.99, so if your looking for a great ADN experience with a lot of options, give Riposte a shot.
If you download a lot of videos from the internet then you know how awesome AirPlay can be for streaming that content to your Apple TV and such. Sadly though, AirPlay doesn't play nicely with all formats of video and to get past that hurdle, one has to convert the files or, in my case, use Beamer. Beamer is a paid app that can play a wider range of video formats such as AVI, MKV, MOV, MP4, WMV, FLV on your Apple TV without hassle. The catch? It's pricey at $16 but well worth it if you don't mind paying for convenience.
$16 - (Download Now) - (http://beamer-app.com)
A Ride into the Mountains - Peter Cohen
It's easy to look at this screenshot of A Ride into the Mountains and dismiss it as another retro game designed to appeal to children of the Atari generation, but that would be a big mistake. Despite its obvious (and lovingly done) visual reference to the Atari 2600 era, this game is a challenging action adventure with a deep storyline and simple gameplay mechanics that are surprisingly difficult to master. The game's protagonist is Zu, whose family has protected a magic relic that keeps evil at bay. One day it goes missing and that evil is loosed upon the land; Zu has to get it back. So he sets out on horseback with a bow and arrow to protect him. You have to master the skill of hitting the monsters that molest Zu and his horse, which is easier said than done - you have to draw the bow and aim the arrow while avoiding being hit the objects the monsters are throwing at you.
What makes Ride challenging is that little extra bits of gameplay challenge are thrown in, like manipulating the speed of the horse by tilting the screen, or learning "focus" which activates a bullet time-style slowdown, to help you with tricky shots. The perspective of the game shifts from side-scrolling to top-scrolling as well. The game's script was clearly by someone who isn't entirely fluent in English - there are some awkward sentence constructions and grammatical errors - but that doesn't detract from the overall beauty of the game and the challenging gameplay. Really nice soundtrack, too. Definitely worth a look.
SuperDuper! - Rene Ritchie
Confession: Time Machine always kinda annoyed me. Like any time I wanted to get something done, Time Machine would spin up and start copying stuff, and I'd have to wait for some drive or whatever, and I just kept turning it off. And that's not great. Especially considering I'm a firm believer in backups. Local backups and cloud backups. I keep my Document folder in Dropbox, so cloud is done. For local I use SuperDuper!
Every night at 3am, SuperDuper! incrementally updates a bootable clone of my computer's hard drive. That's it. Main hard drive fails, I can boot from the other one and keep right on going. Nothing could be simpler, expect getting the app. There's a free version that offers basic cloning, which is fine. But the paid version, which does all sorts of scheduled, incremental stuff, is magic.
Try the free version as a demo, buy the full version because it's awesome. And the developer, Dave Nanian is a huge smartphone geek.
Calendars+ - Richard Devine
I've tried many different calendar options on iOS, but the one I've settled with is Calendars+ by Readdle. It gives me everything I could ever need or want from a calendar app, in a more traditional format than something like Fantastical. The thing that got me hooked was its seamless, and speedy Google Calendar sync. I've had issues with some other apps getting all my Google Calendars to sync properly, but Calendars+ has no trouble with that whatsoever.
Pair this with a fantastic looking interface, drag and drop features, repeat event creation, SMS reminders, offline management and more, Calendars+ is a power calendar for those who need something they can rely upon. It's a little pricey, but you get what you pay for. A faultless app.
$6.99 - [Download Now](https://itunes.apple.com/us/app/calendars?at=10l3Vy&ct=UUimUdUnU19557 -by-readdle/id371434886?mt=8&at=10l3Vy&ct=d_im)
Your picks
So, those are our picks for the week, but what about yours? Found a great app you think others might like? Share it with us and the community in the comments below!
Master your iPhone in minutes
iMore offers spot-on advice and guidance from our team of experts, with decades of Apple device experience to lean on. Learn more with iMore!