Apps of the week: Flint, Felix for iPhone, Pocket Trains and more!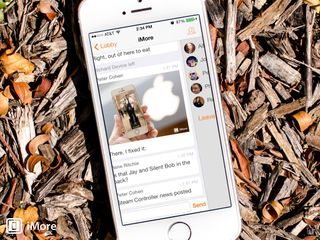 It's Saturday again, and that can only mean one thing. The iMore editorial team has come together once more to share with you some of their favorite apps. We've got a spread of categories covered once again, so without further ado lets jump in and take a look!
Flint - Ally Kazmucha
We use Campfire for group chat here on iMore. I've been a huge fan of Flint for Mac since it came out but was left sorely disappointed when I couldn't find any iPhone or iPad apps that didn't suck. Giant Comet has answered my wishes and made it so with Flint for iOS.
Flint is by far the best Campfire app I've used on iOS and I think I've probably tried all of them. I love that I can set up notifications for only things I'd like as well, such as my name. That way I know instantly if someone mentions me. Creepy and cool all at the same time!
If you use Campfire for chat, you don't want Flint for iOS, you need it.
Felix (iPhone Edition) - Joseph Keller
Felix has been one of my favorite ADN apps to play around with so far. Like many apps, Felix was recently updated with support for iOS 7. In fact, Felix is now iOS 7 only, and brings several new features with the transition, including some new themes and enhancements for the Puck. The Puck can now be moved to one of the four corners of the screen, or it can be kept open as a bar at the bottom of the screen. To move the Puck, press and hold to bring up its settings, and pick one of the available areas. You can also decide which items appear in the Puck, like replies and direct messages or the dashboard.
Other improvements have been made to gestures and general navigation. Gestures have been improved with more responsive feedback. Swiping left and right on a post will immediately let you know what will happen. Patter rooms have also been separated from direct messages into their own section. The most recent version of Felix restores TextExpander functionality, which requires access to your Reminders. Grab Felix for iPhone right now on the App Store for $2.99.
Pocket Trains - Peter Cohen
NimbleBit, makers of Tiny Tower and Pocket Planes, are back with another free to play game that is crazily addictive. Pocket Trains follows the same format, except instead of airlines it's trains carrying freight and passengers. Get them to where they need to be and earn coins, which are used to build new railroad lines and new trains. You collect (and buy) train parts, pay to open new rail lines between big cities and gradually increase your transportation empire. You make your way up from simple steam engines to powerful diesels to bullet trains, pulling more cars more quickly. The free to play curse isn't too bad here; you can pay to buy crates containing parts or packs of "bux," in game currency you can use to upgrade stations and more. But you can get by without ever spending a dime if you're patient and careful.
Dragon Finga - Chris Parsons
I'm a big fan of fighting games so when I saw Dragon Finga in the app store I downloaded it without really reading what it was, it just sounded cool. When I opened it up and started playing it, I realized it was a neat new twist on the fighting game genre. Rather than mashing buttons, you actually 'flick' and 'tap' your way around the game with your fingers, which makes for some fun action. The environments built into the game look great and overall the gameplay is fantastic. Flicking your hero around and fighting off bad dudes while racing against the clock is pretty good fun. Dragon Finga is a free download with not a lot of pushy IAP's. Gets my vote for all ages.
Citymapper - Richard Devine
With my first trip to New York City on the horizon, I'm loading up my iPhone with all the travel apps that I'm going to be able to put to work in the Big Apple. Top of the list is Citymapper, because it's so fantastic to use in London there's no reason to expect anything less when I get Stateside. Offline subway maps, routing tools, bus times, disruption alerts, if it's going to affect your journey using public transportation, Citymapper probably has it covered.
And, it looks great, and it's recently been updated for proper iOS 7 support. A definite winner.
Your picks
So, those are our picks, but what about yours? If you've discovered a great app in the past 7 days, drop us a line in the comments and share it with us all!
Master your iPhone in minutes
iMore offers spot-on advice and guidance from our team of experts, with decades of Apple device experience to lean on. Learn more with iMore!