Apps of the week: Indie Pixel, Editorial, StuntCopter and much more!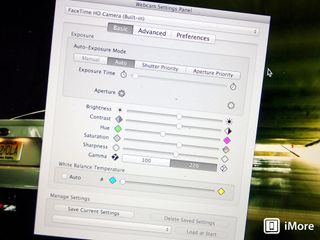 It's a holiday weekend in the U.S. and Canada, and that means it's time for iMore's editorial Oompa-Loompas to share with you a selection of our most used apps.
Webcam Settings - Richard Devine
There are some great webcams out there in the world to use with your Mac, such as the Logitech C920, but the support software is less than great. By less than great I mean non-existent in many cases. Being able to plug in a webcam and have it just work is fine, but what if you want or need to adjust the sharpness, or the white balance, or many other settings? That's where Webcam Settings comes into play.
It's nothing fancy, it's basically a settings panel that lets you adjust various different settings of your webcam on the fly. There's more simple stuff such as contrast, brightness and sharpness, as well as more advanced tools such as backlight compensation and anti-flicker. It would be nice to get such software from the manufacturers like Logitech, but in the absence of anything this works just fine. Well, more than fine actually. If you regularly use a webcam with your Mac, it's a must have.
I'm digging way back for this one because it's just really nostalgic. I remember when I was maybe 6-7 and sitting at my kitchen table using an old Mac my mother's friend had passed onto me. It was really cool to me and the thing I remember most about it is playing a game. That game was StuntCopter and I spent hours on it. [Editor's note: sigh Young'un! I remember when this game was new!] Lo and behold, someone actually ported the original to iOS. I know I'm hitting a very small niche here, but it's still awesome to me to sit down and play even today. The whole 1 bit graphics are amazing!
Editorial - Joseph Keller
Editorial has changed how I think about working on my iPad. It's a Markdown editor with some powerful features, including Dropbox support, Python scripting and support for workflows. When it comes to simply writing text, Editorial has an extra set of keys sitting on top of the normal iPad keyboard. The keys are the most commonly-used Markdown symbols, as well as other useful keys. Press and hold on the keys with a shaded upper-right corner, and they'll display options for more characters. As an extra treat, dragging your finger along these keys moves the cursor back and forth along the document. Editorial also supports snippets, bits of text that expand into something else, with both TextExpander support, as well as snippets created in the app.
But the real meat to this app are the workflows. Workflows are what make Editorial so flexible and powerful. One of my workflows, for instance, copies all of the text of my current document, then opens the built-in web browser to the iMore posting page, all with one button press. You can also assign snippets to your workflows allowing you to activate them with moving your fingers away from the keyboard. While the power of workflows is really unlocked by creating your own, Editorial comes with several pre-made actions, and there are already several places around the web with resources to help you get the most out of the app. If you're serious about writing on the iPad, Editorial is most definitely worth a look.
Indie Pixel - Simon Sage
Indie Pixel is an interesting social game that came out earlier this week. Players control a little square on a grid that's shared with other players online. Every 10 seconds, all of the players on the grid are provided with a shape that they have to collectively make before the timer runs out. This has to be done without any form of communication besides the odd beeping noise. Toss in a few bonus point zones and power-ups, and that simple premise gets a fair amount of depth. Players earn points for being a part of successful shapes, which can be spent on decking out your little pixel character with all sorts of threads. Trying to cooperate and work with others without being able to talk is an interesting challenge, and a nice spin on the usual brand of multiplayer gaming on iOS.
Coda 2 and Diet Coda - Rene Ritchie
I used to work in web design and development in enterprise. For a while that meant the torture that was Macromedia/Adobe DreamWeaver. Then came Panic's Coda. Coda was a breath of fresh, clean air. For anyone who loves hand-coded HMTL, a wonder. I used it until I quit that industry and came to iMore and Mobile Nations, and I've used it whenever I've had to roll up my sleeves and get into the servers since then as well.
Last year Panic updated their wares to Coda 2, and added a version for iPad called Diet Coda. As the name suggests, it's just one Coda calorie, and while I don't use it for real web work, it's super useful for small changes and fixes while on the road and away from the Mac.
Battle Train - Peter Cohen
Lionel - makers of model trains that generations of model railroaders have known and loved - has gotten into the app game with a new game app called Lionel Battle Train. You're the engineer of a well-armed and well-armored train surviving in a post-apocalyptic world where roads are a thing of the past, but train tracks are the dominant transportation. Bandits are trying to rob you. Using weapons at your disposal, crafty track switching and a good idea of what's ahead, you can dispatch your foes and get your cargo to where it needs to be on time.
You can upgrade your train along the way, with better engines, better defenses and better offenses, using coins you get in-game for completing missions. Predictably, this free title has in-app purchases that let you buy bags of coins to get a leg up if you need it.
Trello - Ally Kazmucha
Rene and anyone here at Mobile Nations could tell you that I am one of the most compulsive people ever when it comes to organization. I literally have lists for my task lists. Really, I'm not kidding.
When Rene told me about Trello and how he was intrigued with how it could potentially work for us here at iMore as a content planning tool, he asked me to give it a look and see how I thought it could work for us. So far, I love it. Whether or not we start using it for content planning here on iMore, I plan on using it as a tool to keep my own stuff organized. It functions as a system of cards and boards. You can assign users, make notes, assign due dates, and set labels.
Not only does Trello have apps for iPhone and iPad, but it's web based too. You can use Trello for free unless you need business options and more control over boards and users than what the free version gives you. The pricing is also extremely reasonable.
Your Picks
Your turn! What apps have you downloaded from the App Store, Mac App Store or elsewhere that really turns you on? Share it with us in the comments!
Master your iPhone in minutes
iMore offers spot-on advice and guidance from our team of experts, with decades of Apple device experience to lean on. Learn more with iMore!