Apps of the week: #nwplyng, Felix for App.net, Trakato and more!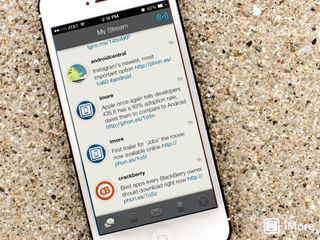 Another week, and another selection of the apps which have been gracing our iOS devices. This week we're trying something new, and we're breaking apart our picks. Today we have apps, absolutely no games. Then, following along tomorrow, we'll be posting a selection of the games we've been playing in the last seven days. So, here's the app picks!
#nwplyng - Joseph Keller
A lot of social networks let you share the music that you're currently listening to, as do music services like Spotify, Rdio, and Pandora. But #nwplyng is the first app that I've come across that acts like Foursquare for music. Much in the same way that you check-in to locations on Foursquare, creating a kind of miniature travellog, #nwplyng does the same thing for the music you listen to. While you can simply type in the name of your current song into #nwplyng's search field to find it and share it, it's much more interesting to let it listen. A song comes on that you don't know, but your like it and want to share it with your friends, so you tap the blue button in the top right corner of the app, then tap the microphone button that takes its place to activate #nwplyng's listening feature. When it identifies the song, you can then share the song on Facebook, Twitter, and Foursquare. You can also share your location separately, as well as a picture.
There's also a bit of a gaming element to #nwplyng. You can earn 'records' for different milestones, much like Foursquare's badges. As you share songs with #nwplyng, you'll earn these records by for such achievements as sharing your first song, or sharing on World Music Day. You will also increase in rank, with new users starting at 'Rookie'. A unique take on social music that adds a fun gaming component, #nwplyng is a great way to show your friends the music you love.
Felix for App.net - Ally Kazmucha
I'm starting to get into the habit of using App.net on a pretty regular basis again. Or at least remembering to check it on a daily basis. I've found a lot of the conversation over there is more technology oriented and I enjoy that.
Obviously an ADN client that works well and looks good is on top of my list. I've yet to find anything I like more than Felix. It has a clean interface, unobtrusive notification sounds, and really fast push. The layout also just makes sense. I've tried using others such as Netbot but found myself confusing it with Tweetbot on my iPhone. Felix is the next best thing and after using it steadily for a while, I actually prefer it over the others.
If you are on ADN, definitely check out Felix as it truly is one of the better ADN clients available for iPhone.
I've been watching Doctor Who a lot lately but with the new series all said and done with for now until the Christmas special, I've been going back and watching all of the original classic series of which there is plenty. In order to help keep track of the episodes I've watched though, I've turned to Traktato. It taps into Trakt.tv and from there, you can 'check off' which episodes and seasons you've viewed. It's a free, basic app that kind of only serves one purpose and that's why I like it. It's not filled with stuff I don't need like suggested viewing, what others are watching, just a list of what I've watched and what i haven't.
Guidebook - Peter Cohen
I go to a lot of trade shows and other events, and I hate to be saddled with the paper associated with them - show guides, maps, schedules and so on. It's a lot of unnecessary clutter that ends up in the recycling bin the second the event is over. Guidebook is a great solution for that problem. The app enables the coordinators of those events to provide all their content online, so people can download those materials straight to their phones or tablets. Features include a to-do list tied to the schedule, so you can better plan your time, connections to social media and the ability to upload photos, rating functions so you can let show management know what you think of events and sessions, and more. Guidebook will even let you know if the schedule gets updated, so you can avoid missing anything. Guidebooks are also available for schools, community centers, museums, and more.
ISO500 for 500px - Richard Devine
I'm no photographer, for sure, but I do enjoy browsing the excellent range of content on 500px. For that, I've been using ISO500 on the iPhone. It offers all the same browsing features as the official app -- editors choice, upcoming, popular, fresh -- as well as view the photographers profiles and favorite snaps you like. If you have a 500px account yourself, by upgrading to the premium version of the app you can also add photos to your account. You can also share to Facebook, Twitter, Tumblr, and even Instagram so long as the Instagram app is also installed on your iPhone. 500px offers some truly outstanding photography, and ISO500 is a simply gorgeous way to view it.
Get the best of iMore in your inbox, every day!
Pretty apps, but aimed to a tiny part of the users. I would like to see more good and slick apps for the masses reviewed here...

What exactly do you mean by "apps for the masses?" Though this isn't a review section, this is a series of apps picked each week by our editors because it's something they've been using :)

Well, they all either need you be part of community, already subscribed to a service, such things... they're not usable out of the box. Path for exemple provides its own network. That's what I meant. Apart from that, I'm still curious about productivity apps that would help me in my job, or my daily life. Or games, or just new experiences, but apps presented here just provide an enhanced experience of something that already exists.

At first I thought this was "new or updated" apps, and ISO500 is a lovely app...but hasn't been updated since February, so I was confused. It is a nice app though, yes. Very metro-esque (which can be good or bad depending on your tastes I suppose)

The point of apps of the week is for us to share an app that we found over the week that we find particularly interesting. There are no categories and no time frame on how old the apps are. There are hundreds of thousands of apps in the App Store making app discovery harder for users. This is just for us to share ones we personally like and it's up to each writer or editor to choose that. For new apps, those are what we cover all week long, every day, as they are released. Would it be helpful to have a roundup of new apps linking to those reviews? Would it help to clarify if we titled it something like iMore's picks of the week or something along those lines? You're the readers, you tell us what you think would make these types of articles more valuable to you! :)

Someone other than Rene to do an ADN review. What exactly it is. And what's it purpose. I still don't know. Yet it seems every week someone on here is talking about it. As far as I know, it's a paid twitter client with storage. I don't get it. Why would I want that??

I gotta agree. I don't see the appeal of ADN. Seems forced. I've seen many posts about clients yet I've almost never heard it mentioned outside of imore/techblogs.

maybe if you put "Editors" somewhere in the title or something. This section sort of reminds me of the old video store "Employees Picks" section. I think Apps of the week sort of infers that it is the best new apps this week.