Apps of the week: On/Off, Anomaly 2, Yahoo! Weather and more!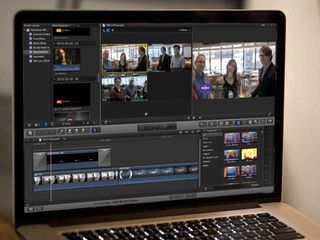 Each week, the writers and editors here at iMore select some of our favorite apps for iOS and OS X, and share them with you, our fantastic readers. This week, we've got a great selection of games for you -- it is Talk Mobile gaming week after all -- along with a weather app, and a photo editor. Here's what we've been using this week.
Kingdom Rush Frontiers HD - Joseph Keller
Just last week I was telling you all about Kingdom Rush, and this week marked the launch of its sequel, Kingdom Rush Frontiers. Frontiers takes you across deserts, underground, and through the jungle, battling enemies with a variety of towers. Gameplay is much like the original: you set up soldier, mage, archer and artillery towers in order to halt the progress of your enemies through the given level. But Frontiers adds new towers, a stable full of new heroes, and interesting new enemies. Speaking of enemies, while the original Kingdom Rush mostly featured goblins, spiders and the like charging towards their goal from obvious entry points, now your foes will also climb up and down walls, rise from the water, or cut new paths through jungle. Kingdom Rush Frontiers for iPad is a worthy sequel to the original, and you can pick it up on the App Store for $4.99.
On/Off - Simon Sage
On/Off is a polished puzzle game with a flat UI and a unique concept. Players are presented with a new grid of squares every level, each with their own little color. You can scroll these rows and columns two ways, and have the colors wrap around from the other side. The goal is to match up colored squares with the appropriately marked edges somewhere on the grid. This can get difficult when you start bumping into black squares, which stop you from scrolling past an edge on a row. The number of slides you need to solve a puzzle are counted, and if you're feeling stuck, you can buy your way past a level with in-app purchases. I'm on a flat kick these days, and I find the simple sound effects very nice.
Anomaly 2 for Mac - Peter Cohen
11 bit studios turned the venerable "tower defense" strategy game genre on its head with the release of Anomaly: Warzone Earth, which put you in charge of a team of human soldiers making their way through a turret-strewn battlefield manned by alien invaders. Now they're back with a sequel, Anomaly 2.
Anomaly 2 continues from where we left off: Earth has now been overrun by alien machines, and mankind is on the verge of extinction. Humans search the wasted landscape for food and supplies. You command a convoy that has to thread its way through the hostile terrain. But Anomaly 2 adds a number of improvements over the original: your troops can morph into war mechs with specialized abilities. You can create a battle squad using a variety of different tactical combinations to find the right one to win each round.
What's more, Anomaly 2 adds multiplayer gaming: You can either play as the towers and destroy the humans, or lead the humans to destroy the towers.
Yahoo Weather - Ally Kazmucha
I'm super picky about weather apps and go through them probably almost as much as I do Twitter clients. A few weeks ago one of my friends on Twitter posted a photo of weather in their area and I was intrigued by the new design of Yahoo weather. Not only is it clean and simple to read, it's absolutely gorgeous. It also filters in photos from Flickr of the area you're currently in, a neat little addition.
While Accuweather is still my go to app for extensive weather info, Yahoo Weather is what I now use just to check conditions and short term forecasts. It's simply much more enjoyable to look at than most other weather apps out there.
Although there is a ton of apps in the App Store that can ad text and filters to your images, the one app I've grown fond of using is PicLab thanks to its simplicity and offerings. PicLab includes around 30 fonts with more available through in-app purchase, 10 different filters you can make use of and all the fine grain photo tuning you'd expect in a photo editing app like brightness, saturation, exposure and more. Overall, it's just a great simple app that gets the job done. I do however feel I should note that while the app is free to download, it does watermark your images with the PicLab logo unless you throw down $0.99 for the in-app logo removal purchase.
Final Cut Pro X - Rene Ritchie
A lot of people have given Apple a lot of grief over Final Cut Pro X, and fair enough. For traditionalists used to a traditional non-linear video editor, FCP X was probably confusing, confounding, and consternating, and the new approach likely made up nothing for the loss of features. But once again that reminds us that Apple doesn't focus on the small, high-end niche. They focus on the masses, and FCP X really does make better editing more accessible to more people than anything that's come before.
Case in point: Yesterday I needed to edit a 3-camera shoot into our very first Talk Mobile podcast. I've never done that before, and anticipated hours of work, trial, failure, and eventual success-enough in my future. Instead, Martin Reisch showed me how to make a multiangle clip, FCP X lined everything up automagically, and I spent a short time getting better than expected results. It was so easy I was up and running with an entirely new (for me) process and workflow within 5 minutes, and the video was edited in less time than it took YouTube to upload it.
And the price -- and ability to install on all my Macs, thanks to the Mac App Store -- just can't be beat.
Fix it Felix Jr - Richard Devine
I can't say I'm playing this because I've seen Wreck it Ralph; because I haven't. I am playing it though after seeing a child playing it on an iPad and thinking to myself that it looked like fun. And it is. Fix it Felix Jr is the official game from the movie, but unlike the Wreck it Ralph game, it's isolated on its own, and is a free download. It's a little old school style game where you have to climb a building fixing the windows that have been smashed. It's a perfect casual, mobile game. Pick it up, play it for a little while, put it down, and do it all over again. It's hard not to love it!
Get more iMore in your inbox!
Our news, reviews, opinions, and easy to follow guides can turn any iPhone owner into an Apple aficionado
I love FCP X too, amazing app. Just the other day I was looking at a workflow I had for multi-cam editing in FCP 7, and I marveled at how much easier I find it to edit in X. One thing though, it is $299 in the Mac App Store. Still an amazing price.

I could never find a weather app that I fully liked until I stumbled onto yahoo weather a couple of months ago. It has everything I need, looks great, easy to use, no ads and FREE.

I was about to buy FCP X as I thought it was reduced to $199. Never mind I will watch for the next sale .

I used to have a videography business and used Adobe Premiere and their whole suite of products. I would like to do some simple edits but I don't want to pay $700 when I won't be making money off of it. I wanted to try FCP X as a viable editing solution. I tried iMovie on my MacBook. I was able to get the job done but found it somewhat difficult. Sometimes a product is created for the masses and makes tasks that you're used to harder. Thanks Rene for recommending it. I would love to try FCP X out, but I don't want to shell out $300 and wish I could get my money back. Maybe I'll do some research and see it in action, to help inform my decision.

They do have a 30-day trial: https://www.apple.com/final-cut-pro/trial/#mn_p

Awesome. Thanks for the info. I will try it out.

Just grabbed PicLab... Awesome app!! Thanks. Sent from the iMore App