Apps of the week: Warhammer Quest, Mapplore, Steam Mobile and more!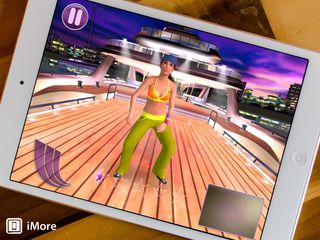 It's that time again, the time of the week when the iMore team shares with you some of their most used apps from the past seven days. This week we've got a good spread, with a few games partnered by a couple of travel tools, a note taking app, a gaming tool and a great app for getting video from your iPhone to the TV. Let's take a look!
Warhammer Quest - Joseph Keller
Warhammer Quest is a top-down, turn-based dungeon crawler taking place in the Warhammer Fantasy setting. You control a party of adventurers traversing dungeons and caves, fighting monsters and collecting loot along the way. You take a turn moving each of your adventurers, either advancing them through the area or attacking enemies. Once a party member attacks, they can't move any more that turn. Move through the dungeon until it is clear to collect your reward. Each party member has different abilities to aid in the adventure. Warriors are great with swords, axes and hammers, while wizards use different spells to help allys and defeat enemies. Use the map view to travel to different dungeons and towns. Towns let you buy new items, along with selling those that you find on your travels. You can also find different quests in towns, as well as level up your party members after they gain enough experience. If you're a fan of Warhammer Fantasy or dungeon crawlers in general, Warhammer Quest is worth a look.
MappLore - Ally Kazmucha
Summer is a time that a lot of people do some traveling. Whether that's with a family or close friends, there are lots of things to discover around you. Apps like MappLore make traveling even more interesting by gathering your current location and showing you points of interest around you.
Along with point out things that you may not have otherwise found, you'll also get a brief history and links to related products whether those are App Store or external links.
If you find yourself on a trip looking for something to do that will occupy your time, MappLore may be a good resource worth checking out.
Steam Mobile - Simon Sage
Guys! The Steam summer sale is on, which is gamer code for "it's time to empty your wallet." Lots of Mac and PC games are on sale for ridiculous savings. For example, I just snagged a $40 game, X-Com, for $10. Steam Mobile on iOS lets you keep tabs on those limited-time flash sales, see what's new today, add games to your wishlist, and fill up your cart and check out. There are also the usual social tools there, so you can see which new games your buddies are picking up. The summer sale is also taking full advantage of Steam's new card system, ultimately leading up to some unique achievements.
NoteSuite for Mac - Peter Cohen
Designed to work hand-in-hand with the Notesuite application for iPad, NoteSuite for Mac is a turbocharged note-taking app that also provides to-do management, web page clipping and document organization. You can type in your notes, organize them into bulleted outlines and keep track of what you have to do using expanding sub-lists. The built-in to do manager lets you set reminders, due and start dates and more. Web pages can be saved, along with PDFs, MS Office files, images and more, with complete search functions. And best of all, it syncs with the iPad without requiring you to subscribe to anything (goodbye, Evernote).
Zumba Dance - Michelle Haag
I've wanted to try Zumba for a long time now, but classes are intimidating and I've never gotten around to buying the game for our Wii, so when I saw that Majestic Entertainment had released the Zumba game for iPad, I was super excited! For a fraction of the cost of the same game for Wii or Xbox 360, you can get Zumba on your iPad and take it with you wherever you go. Featuring superstar Zumba instructors Beto Perez, Gina Grant, and Kass Martin as well as chart topping hits and Zumba original tracks, you can follow along with pre-programmed classes or create your own workout with combinations of routines. Motion tracking technology ensures you get the most out of your workout, and you will stay motivated with the Progress Tracker that helps you create fitness goals and tracks your calorie burn. This game is suitable for everyone from beginners to advanced users of all ages. The basic game is $4.99 which will give you a taste of Zumba so you can decide if you like it and will stick with it. You can buy additional classes via in-app purchase.
Teenage Mutant Ninja Turtles - Rooftop Run - Chris Parsons
The Teenage Mutant Ninja Turtles are back and they're totally awesome, dude! Well, that's according to my 9 year old son who has taken to playing the rooftop run game starring them. Having played a bit of the game myself, I can say it's certainly a bit of fun for adults and children alike though some adults may find the graphics a little on the subpar side. Kids however don't really care about that stuff and in this case TMNT: Rooftop Run is a pretty decent pick for them and it's available for free. Watch those in-app purchases though. The idea is to run across rooftops to collect coins and beat up bad guys but your bank account might end up with far fewer coins should someone grab that $50 level-up I saw available for purchase.
Air Video - Rene Ritchie
It's that time of year again - the summer holidays where I end up visiting family members who still haven't joined the HDTV age. That's right, they're still using the giant CRT screen with nothing by way of inputs other than coaxial cable, RCA jacks, and a dream. Since I pretty much live off streaming to Apple TV, and that requires HDMI, it's difficult to share the movies and TV shows I want to share with them.
Enter Air Video. It's an iOS app you buy and run on your iPhone, iPod touch, or iPad, as well as a server app you run on your computer. What Air Video does so well is take any video file you have on your computer, transcode it on the fly, and play it on your iPhone, iPod touch, or iPad. MKV, AVI, Xvid, X264, it really doesn't care. It just plays them. If you have a modern HDTV with an Apple TV, it can AirPlay right to it, so you're good to just load and go.
If you have an older TV, however, you need to get a little more creative. Here's what I did: I took an old iPod touch, an old Apple Dock to video cable, loaded Air Video on the iPod touch, plugged the cable between the iPod touch and old TV, and that's it.
Sure, you have to get up and manually choose what you want to play on the iPod touch - there's no remote - but that's a small price to pay for getting your new video on an old TV.
Air Video can even handle DRM'd iTunes video - which most of mine is now - by punting it to Safari on the iOS device. As long as you're logged into your iTunes account, it almost always works great. Well, except for that retro 4:3 aspect ratio, but vacationers can't be choosers…
Travel List - Richard Devine
I'd forget my head if it weren't firmly attached to my shoulders, and so when I'm packing for a trip I need to keep track of what I need to pack, and what I have actually packed. Since I also lose pieces of paper with lists on, an iOS app is a much better solution for me. Travel List is an extremely simple app, that looks great, and helps you keep track of what you're packing.
You create a list by trip, and then pre-built into the app is a huge list of items in different categories that you might need to pack. If it's not there, not a problem, just add it in yourself into the relevant category or create a new one. You also get to add quantities of each item, set reminders for items and on the iPhone, add your trip itinerary too. It really does cover all the bases. Sometimes, it's the simplest apps that do the best job, and Travel List is one of those.
Master your iPhone in minutes
iMore offers spot-on advice and guidance from our team of experts, with decades of Apple device experience to lean on. Learn more with iMore!