Apps World: New features coming to Zeebox TV app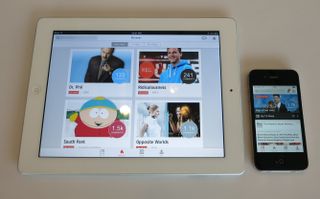 This week's App World event in San Francisco was been dedicated to mobile games and apps. One section of the show – TV Hackfest - specifically showcased apps relating to television and video viewing.
Inside of the TV Hackfest area, we met with Anthony Rose, Co-founder and CTO of Zeebox. Zeebox is a second-screen TV app with features like a customizable TV guide, news feeds for users' favorite shows, and discussion rooms for those shows. Anthony was kind enough to show us some of the things Zeebox can do and provide iMore with an exclusive look at the iOS update that's due out in a few days.
More about Zeebox
Zeebox is a free service that users can experience through the Zeebox website or by using the mobile app. Whichever platform you access it from, your profile, shows you follow, and other settings follow you on the cloud. The mobile apps are of course most ideal for the second-screen experience (using while watching), and provide some enhanced interactivity beyond what the website offers.
When you think second-screen TV app, you probably imagine using the app to chat or read about television programming while watching the show. Zeebox of course includes those features. Many program offer interactive content, such as polls to gauge how viewers feel about the latest reality show or news event. Or you can read more information about a topic that comes up – without having to search for it. And social users can chat in rooms dedicated to each program or comment via Twitter and Facebook.
Some shows like American Idol are tailored to that social experience, and their viewers like to discuss the show as it happens. Others require more viewer concentration; you don't want to miss what's going on in an action-adventure or drama by constantly looking away from the show itself. Zeebox still has something for people who just want to focus on the shows themselves. Whatever shows you follow, the app provides content and news to read about as well as opportunities for discussion after airing. The goal is to keep users engaged even while they wait for the next episode to air.
Not sure what's coming on? The Zeebox TV Guide has a full channel listing. Once you find the show you like, follow it or interact with Zeebox's content for it.
New Features in the update
The new Zeebox update will take the TV listings concept a step further by giving users a "My TV Week" feature. The feature basically constructs a customized listing with only the shows that you follow. At the top you'll see the show you follow that will come on next. Below it are listings of all of the programs you follow that will be airing that week. Select a show and you'll get a notification when it's about to start. Planning your TV viewing (or digital video recording) schedule couldn't be simpler.
The TV Guide itself will also be getting a significant upgrade (current version pictured above). Depending on the television provider you subscribe to, the app will act as a remote control for your service. Select a show from the guide and you'll switch directly to the proper channel. This feature is supported by Comcast Infinity in the US and in the UK by Sky set-top boxes and Samsung and LG smart TVs. Zeeboz is always working to expand compatibility, so expect more supported devices in the future.
A two-screen future
Nobody needs a smartphone or tablet just to watch TV. But in this day and age, many of us love to look up information on actors and plot points or just tweet about the show as we're watching it. Zeebox caters to those people and even people who love TV but don't hold onto a device while watching. Check out the Zeebox website or grab the app for extra features – both are completely free to users.
Get more iMore in your inbox!
Our news, reviews, opinions, and easy to follow guides can turn any iPhone owner into an Apple aficionado
Paul started writing about games in 2003 with his first strategy guide (Bomberman Land 2) for GameFAQs. He continued writing guides while earning his B.A. in Literature. When Windows Phone launched in late 2010, the Xbox integration lead our hero to jump on board the platform. He joined Windows Phone Central as Games Editor at the beginning of 2011, going on to review over 125 mobile Xbox titles over the years. He now leads Windows Central's Xbox One coverage, personally specializing in developer interviews, indie games, controllers and accessories, and Twitch broadcasts. Paul loves games on all platforms; he goes where the games are. Although very busy with console coverage, he sometimes contributes gaming articles to iMore and Android Central.