DirecTV Now FAQ — Everything you need to know!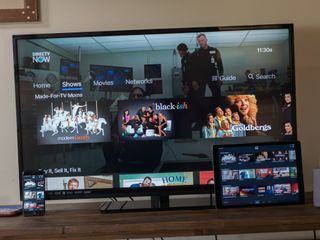 DirecTV Now (opens in new tab) is the TV streaming service from AT&T and DirecTV. Available throughout the United States, the service offers both live and on-demand video from dozens of popular cable channels, while also offering the same for broadcast channels in select cities.
Just like similar services from Hulu and Sling TV, DirecTV Now lets you watch its live content on your iPhone, iPad, or Apple TV. Here's everything you need to know about this streaming service.
See more on DirecTV Now and streaming TV at CordCutters.com!
(opens in new tab)
What is DirecTV Now?
It's a TV streaming service from AT&T, which owns DirecTV. With DirecTV Now, you can watch live programming from cable channels like ESPN, USA, and FX. There are also premium channels that you can add on to your subscription.
Do I need to be a DirecTV customer to use DirecTV Now?
No, DirecTV Now is a separate service with a separate price. All you need for DirecTV Now is an internet connection.
How much is this going to cost me?
You can choose one of four plans at $35, $50, $60, and $70 per month. You can also add the premium channels HBO and Cinemax for an extra $5 per month each while adding Starz is an additional $8.
Before committing your money to at least a month of what DirecTV Now has to offer, you can sign up for a 7-day free trial to see if the service is right for you.
Are there any sort of free options?
Sort of. You can also check out FreeVIEW, DirecTV Now's ad-supported free service that offers content from DirecTV-owned channels like Audience and Otter Media. However, for the standard DirecTV Now channel lineup, you'll need to pay.
So exactly what am I getting for my money?
Here's how all of DirecTV Now's plans break down:
Live A Little - $35 per month, more than 60 channels
Just Right - $50 per month, more than 80 channels
Go Big - $60 per month, more than 100 channels
Gotta Have It - $70 per month, more than 120 channels
While each plan includes live and on-demand content for most of the available cable channels, content from broadcast channels like ABC and NBC are also available live in select cities.
You can get a full breakdown of which channels are available with each plan right here (opens in new tab).
Exactly where are local channels available?
Even in cities where local channels are available, the channels are not available on a consistent basis. Just because, for instance, NBC is available to stream in Dallas doesn't mean that it's available in Cleveland. The channel distribution breaks down like this?
Atlanta: FOX
Austin: FOX
Boston: Telemundo
Charlotte: FOX
Chicago: ABC, NBC, FOX, Telemundo
Cleveland: FOX
Dallas: NBC, FOX, Telemundo
Denver: FOX, Telemundo
Detroit: FOX
Fresno: ABC, Telemundo
Gainesville: FOX
Grand Rapids: FOX
Greensboro: FOX
Harrisburg: FOX
Hartford: NBC,
Houston: ABC, FOX, Telemundo
Indianapolis: FOX
Kansas City: FOX
Los Angeles: ABC, NBC, FOX, Telemundo
Los Vegas: Telemundo
Miami: NBC, Telemundo
Milwaukee: FOX
Minneapolis: FOX
New York: ABC, NBC, FOX, Telemundo
Oakland: ABC, NBC, FOX
Orlando: FOX
Philadelphia: ABC, NBC, FOX, Telemundo
Phoenix: FOX, Telemundo
Raleigh: ABC,
Sacramento: FOX
Salt Lake City: FOX
San Diego: NBC, FOX
San Francisco: ABC, NBC, FOX
San Jose: ABC, NBC, FOX
Seattle: FOX
St. Louis: FOX
Tampa: FOX
Washington D.C.: NBC, FOX
Why is the live local channel selection so limited?
The availability of live local channels is dependent on deals that AT&T can make with local affiliate stations in each city. In most cases, the company needs to negotiate with the affiliates directly, rather than the major networks (NBC, ABC, FOX, etc.), in order to show their content on DirecTV Now.
What about DVR?
As of now, DirecTV Now lacks any sort of DVR feature. However, the service points customers toward its on-demand offerings. A beta version is currently in testing which does indeed include cloud DVR services.
(opens in new tab)
Tell me about on-demand
With some exceptions, most of the DirecTV Now channel lineup offers its programming on-demand, letting you catch up on your favorite shows when you're not able to catch them live.
Additionally, you can sign in with your DirecTV Now account in on-demand apps from content providers, including HBO Go, ABC, and the Disney Channel apps.
How many people can watch simultaneously?
Currently, DirecTV Now allows each account to stream to two devices at the same time. Anything beyond that requires an additional account.
What devices can I use to watch DirecTV Now?
DirecTV Now can be viewed through apps on the iPhone, iPad, and Apple TV, along with Android phones and tablets, the Amazon Fire TV, Chromecast (with an Android device), and modern web browsers.
Sounds good. Where do I sign up?
You can sign up on the DirecTV Now website (opens in new tab). Unfortunately, you cannot sign up in the app at this time.
Any other questions?
If you have any other questions about DirecTV Now, let us know in the comments.
Get the best of iMore in in your inbox, every day!
Joseph Keller is the former Editor in Chief of iMore. An Apple user for almost 20 years, he spends his time learning the ins and outs of iOS and macOS, always finding ways of getting the most out of his iPhone, iPad, Apple Watch, and Mac.
If you have AT&T Unlimited Plus, you also get a $25/mo discount on DirecTV Now and free HBO. DirecTV Now is probably not the best service out there (I think the Hulu offering is), but for net cost of $10/mo plus free HBO it's the way to go if you have an AT&T Unlimited Plus plan.

Will it work with a VPN? I travel outside the US often and the DirectTV app does work with my VPN. This would interest me if it did work the same way. Any idea?

I had this for 3 months and mainly got it for the free apple tv. All in all the thing that annoyed me the most was the constant freezing of channels. At first I thought that it was my network until I read that this was an ongoing issue with many users. In the end though while I think that it was and still is a great deal there are other services out there that are better.

I did the same thing. The freezing issues have gotten a lot better. I don't recall getting any lately. I like DIRECTV now better than Sling, but haven't looked into Hulu yet.
Thank you for signing up to iMore. You will receive a verification email shortly.
There was a problem. Please refresh the page and try again.