ArtRage review: A cheaper alternative to creating digital art?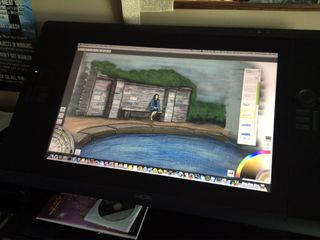 Ambient Design, Ltd., a New Zealand based company, is the developer behind ArtRage. According to their website, "ArtRage gives you real world painting tools on your computer in a stylish, easy to use environment that lets you get down to the process of creating without digital distractions." I needed to see this in action, so I decided to check it out. But, as a die-hard Adobe and Toon Boom user, I wasn't exactly sure if I would find ArtRage useful. As it turns out, it's a pretty cool app.
ArtRage for Mac
Of the tools available in ArtRage, I love the Natural Painting Tools the most. Each one behaves like the real thing. The Oil Brush creates realistic strokes of paint which can be blended with other colors. While the Paint Tube allows you to squeeze out blobs of paint that can be spread with the Palette Knife. Using the Watercolor Brush and the Airbrush, you'll be able to bring your canvas to life by adding translucent strokes and fine sprays of paints.
Another great feature of ArtRage is its canvas. There are a variety of Canvas Presets from which you may choose. Or, you can customize some of the Canvas Properties (texture and roughness, to name a few) to give your canvas a personal touch. You can also add a color bitmap to your canvas, or remove all of the textures and make the surface transparent.
With the range of tools available in ArtRage, and the ease with which these tools may be used, you'll be digitally painting happy little tress in no time. Bob Ross (https://www.bobross.com/) would be proud!
The interface, however, was a little strange at first. While the important functions and tools are front-and-center, the application uses something referred to as Pods to keep the deeper functions out of the way until you're ready to use them. Navigating your way through the Pods can be daunting, but once you start using the program, you should have no trouble using them.
An interesting point to mention about the interface elements is that they are automatically hidden whenever the brush approaches. Initially, this threw me off, but after a few minutes, I began to question why other apps don't do the same thing. This feature is amazing, and I absolutely love it.
For the most part, ArtRage is a solid application. I did, however, experience times when the application would hesitate and lag. Although it never crashed, the lag was noticeable and frustrating. Luckily, it only seemed to happen when I was mucking with the canvas position and/or the zoom functions. I'm not sure if this was because I was using my drawing tablet, but, nonetheless, it was annoying and distracting.
My overall impression of ArtRage is positive. I would definitely recommend this to anyone who is looking to create digital paintings. I'm still not convinced it's a Photoshop or Toon Boom replacement, but for $50 it's a nice addition to for any art tool collections.
ArtRage for iPad
If you're looking to create that digital masterpiece on the go, and more importantly, you're looking to do it on a budget… ArtRage for iPad is a good place to start.
If you look at the comparison chart, you'll notice there are some tools that are present in the desktop versions that are missing in the iPad version. The iPad version comes with most of the tools with the exception of the Effects Tools ('Gloop' Pen, Sticker Spray, Selection Tool, Transformation Tool, Text Tool) and the Utility Tools (Cloner, Gradient Fill, Pattern Fill). Honestly, it has so much to offer, that I didn't miss those tools at all.
And wow, did I love this interface.
All of the tools are accessible by tapping on the designated corner, and the color wheel is accessible by tapping on the opposite corner. An excellent feature is having the option to keep the toolset and color wheel present at all times. Alternatively, you may choose to minimize the panels, only showing the currently selected tool.
My only gripe with the iPad version is how the file management (Gallery) is handled. It feels cumbersome. It's also not intuitive. I found myself having to tap a few of the buttons in order to find the options I needed.
Overall, ArtRage for iPad is an absolutely a keeper! Whether you're on the go, or just sitting on your favorite couch… ArtRage for iPad is an excellent creative companion for both the novice and professional.
ArtRage for iPhone
Just like the iPad version, the iPhone version doesn't include all of the tools present in the desktop versions. Surprisingly, some of the tools present in the iPad version and missing in the iPhone version. It boils down to this… the iPhone version only comes with the Basic Artist Tools: Oil Brush, Pencil, Palette Knife, Paint Tube, Color Sampler, Crayon, and Eraser. But, considering the small screen size, the tools present do seem adequate.
While it's not as robust as it's iPad counterpart, the interface is clean and intuitive. Accessing the toolset and color wheel is identical in the iPhone version as it is on the iPad version. The only difference is that the iPhone version brings up a full screen for tool selection. There is also no option of keeping the entire set present while working. The reason for this is the obvious lack of screen real estate available on the iPhone.
Similar to the iPad variant, the iPhone has a clunky file management interface. In my opinion, this is their weakest area in the software.
ArtRage seems to be turning out top-notch iOS applications. The application is quick to respond and has yet to give even the slightest indication that it's remotely capable of crashing. Trust me when I say… Murphy was an optimist… if an app can crash, I can make it happen.
Overall Impression If you're looking for a full-fledged art program for your iPhone, you may want to keep looking. On the other hand, if what you're after is an easy to use tool for creating on the go art… this is the app for you!
Get the best of iMore in in your inbox, every day!
The problem I've found with the majority of Photoshop alternatives is they don't have CMYK color spaces, nor do most have PMS colors. Art and design programs must be able to take the final product to print, not just assume that online is the final file format for everything.

ArtRage is more of a virtual paint app than a design app (i.e. not a Photoshop alternative). If you were going to print then you'd probably want to use something else.

It's a pretty cool app. But, I'm not convinced it's a Photoshop or Toon Boom replacement. Is it worth the $50? Yeah... what the heck. It's fun! =}

Tammy, why would it even be considered as a possible Toon Boom replacement? Does Art Rage have animation features?

I do a lot of drawing - w/o animation - in Toon Boom simply because I like "the feel" of its drawing tools. Believe it or not, I also do a lot of drawing in Flash. In fact, I'm currently using Flash, along with Photoshop, to illustrate a children's book. And, to make it even more fantastic (can we call it that? maybe nuts would be better?) I did the original sketches in Toon Boom. Ha! But wait... I just started using Manga Studio 5EX and --- whoa!!! It may just be my new favorite drawing app. We'll see. Disclaimer: Clearly, I'm out of control with these drawing apps! Send help before it's too late! =}

Art Rage has an excellent reputation. I can't say enough good things about it. Strictly draw and paint though. Sent from the iMore App

Honestly, Art Rage hasn't had a decent update in years, and lags like crazy even on bang up to date hardware. The developers show no interest in fixing this - they don't improve the app at all. I think you need to do a little more research for your reviews. You don't mention any alternatives, and there are many. I have given up on ArtRage because the developers do not support it, the interface is horrible and the entire app is dog slow. I disagree with the comment above - ArtRage had a terrible reputation, because it isn't supported (beyond basic basic bug fixes, and even then, slowly) and it is so laggy as to to be embarrassing. ArtRage for iPad is categorically *not* a good place to start, and if you think the interface is lovely, honestly where have you been for the last 3 years? I would say that Pencil by 53 is a good place to start, especially paired with a Pencil (although that is expensive), or ArtSetPro for simulation of real world paints. ProCreate is also super slick and responsive, with an actual example of a good interface. For just one example of an app the reviewer really should have mentioned, Art Set Pro for iPad has the same natural media simulation as ArtRage, but the interface is way better (although still not great), and it is 1000x more responsive. Plus it has a paint mixer. Also, of COURSE ArtRage is not a photoshop replacement. It's a natural media simulator, not a digital layer based painting tool. If there were any pro comparison it would be Corel Painter - although that program is in a whole different level. ProCreate, and more recently Pixelmator, are aimed at Photoshop style painting (and do an incredible job). No mention of them either.

Yes, the lag is noticeable and was mentioned in the review. It's one of my biggest gripes with the app (along with its file management system - also mentioned in the review). Are there alternatives? Absolutely... there are tons of apps available for drawing and painting. But, this review focuses on ArtRage. And while it's not the perfect app, or even the best one on the app store, it's still a lot of fun. Will it ever replace the big boys? I have no idea. My guess is that it won't... at least not for me. I bought the app to have fun with it, and it's living up to my expectations. I apologize if you felt the review was lacking in alternatives. My goal was to review ArtRage, not compare it to other apps. Have a great day! P.S. I still love the interface. =}

Your positivity in the face of my narky tone is admirable : P Honestly though, I can't understand how you could recommend this app - it's just wholly and tantamountly worse than the competition. Part of a review is evaluating the value proposition of something in light of where it sits in the market. You can't just pretend the others don't exist. Why not review the iPad 1, at the same price as the iPad Air, and pretend there are no other options? It's much the same thing. Art Rage is so poorly supported that it - formerly a premium iPad showpiece - is now right at the bottom of the pack. And it's still expensive too. I will say that the Mac app is a damned sight better, and there it's not for as much to compete with. Anyways, to end on a positive note - I *highly* recommend you get a hold of Art Set Pro (make sure it's the pro version), and have a go of the paint tool and colour mixer in that. I think you'll have a ball! You have a good day too!

"Your positivity in the face of my narky tone is admirable : P" Ha! I have two boys and a husband... you'll have to be way more narky to ruffle my feathers. =} My devices are filled (almost too much) with drawing, painting, and writing apps. And, I *really do* love ArtRage. Crazy, right? In any event... you owe me $6.99. Thanks to you... I now have *another* drawing/painting app on my device. Ha! Ha! All kidding aside... Art Set Pro looks really cool. Maybe after I play with it for a bit, I'll review that one next. I enjoyed our exchange immensely. Not everyone on the Internet is a big jerk. I think there's far more folks who enjoy having a nice conversation rather than having one that spews hate. Thanks for being cool. I'm off to go play!!

I'm grateful to see a painting app reviewed, wich seems to be a rare event, but Art Rage does lag a bit behind its competitors. I hope we can look forward to reviews of ProCreate and Art Set Pro in the near future.
Thank you for signing up to iMore. You will receive a verification email shortly.
There was a problem. Please refresh the page and try again.