Ask iMore: What's the best way to share lists between iPhone and Android?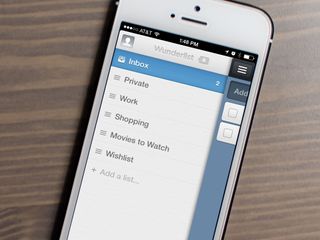 Shopping lists and reminders are easily shared between iPhones with the stock Reminders app. That means adding something to a shopping list on one iPhone automatically updates it on the other person's. While this is a great option if both parties use iPhones, what if one of them uses Android? That's exactly the question one reader asked us. He currently uses an iPhone while his wife is sporting an Android. They want to be able to share lists and notes with one another but aren't quite sure what the best solution is. Luckily, there are some awesome third party apps that are available for both iPhone and Android that do just that. Here are my suggestions...
Wunderlist
My top recommendation is Wunderlist since it supports every platform I can think of and doesn't cost a dime, unless you want the extra premium features. Not only can you create and share lists, you can collaborate and leave notes on them. If you want to get even more serious, Wunderlist Pro is $4.99 a month or $50 a year and lets you add attachments and assign tasks and add due dates. This is geared more for work groups but is a nice option for more time sensitive type lists.
If you're more concerned with list making than note taking, Wunderlist is the best option.
Evernote
Evernote is more of a note taking app than anything but you can create lists inside of it and share them. It's also available for a huge variety of platforms which include iOS and Android. Like Wunderlist, it's also free unless you need premium features. One thing Evernote does without a premium subscription that Wunderlist does not is attachments. The only catch is you're limited in storage space each month. You'll also need Evernote Premium on both ends if you want to edit each other's notes and lists, otherwise they're read only. A premium subscription is $5.00 a month or $45 per year.
If you want free hand notes and image uploads more than true lists, get Evernote.
Thanks to Wilson for the question! We hope this answered it for you and that you and your wife can enjoy grocery list harmony now! If you have a question for Ask iMore, please email it to podcast@imore.com, or tweet it to @iMore with the hashtag #askimore.
What apps do you use for cross-platform notes and lists?
If you've been in a situation where you've had to find a solution to sharing notes and lists cross-platform, let us know what service you went with, and why. Also, if there's any pricing involved, let us know that too!
iMore senior editor from 2011 to 2015.
Any.do is another good one.

The best! Point. Blank. Period.

I had myself search for solution and found two apps that I have been using now for 2 years.
Two apps because to me there are really two differents needs: Grocery list, Reminder of Tasks to do. My criteria was that I wanted the apps to work on iPhone (iPad), Android and on my Windows Desktop (or on the Web). - Groceries List: OurGroceries http://www.ourgroceries.com Free
- ToDo Tasks: Tooodledo http://www.toodledo.com Free BTW, these apps are perfectly suited for the job. I do also use Wunderlist and Evernote but for others usages. Hope this help your reader!

Remember the milk, all the way. Nothing else had come close.

I am looking for one that can be shared between my (with an Android phone) and me iPhone. We used to use couple but there was a terrible lag.

That's exactly that this article covers...

Yeh. I meant to put "thanks" first my bad.

no worries, glad it helps

Evernote is an awesome app. Sent from the iMore App

Evernote is an awesome app. Sent from the iMore App

will avocado share IOS Platform to Android Platform?

Evernote after the latest update for iOS is usable again, I love it.

Anylist. It's free but has a subscription option as well for a few extra options. Sent from the iMore App

Agree! AnyList is really great — I use it all the time with my girlfriend!

I use Microsofts onenote to keep it simple. Sent from the iMore App

Thank you Ally, this does answer my question :-)

Evernote for general notes and lists, GroceryIQ for shopping lists. Sent from the iMore App

My wife and I have been using Wunderlist for about 6 months and it has worked perfectly for us. We work on opposite sides of Atlanta and we often shop simultaneously on our way home from work. Sometimes you have to wait out rush hour(s). It's great to see what the other one is picking up to avoid redundant purchases while we are both in stores. We use the free versions.

Thanks! Wunderlist has been working well for my fiancé and I as we plan a move to our new apartment. Just wish it looked better. Sent from the iMore App

I use GoTasks and my wife uses Task Lists synced through Google.

Wouldn't anything that can synchronize with Google Documents / Google Drive work? I use NoteMaster in iOS (I don't use Android), which syncs my docs to Google. I then also sometimes edit things in a web browser in OS-X, and can sync back to my iOS devices.

I've been using MobisleNotes for a few years. It's my go to app for notes and lists. Cross platform IOS, android and PC.

Quip is simply the best app for this now. Actually it's perfect for any sort of document collaboration or sharing. I've used Evernote and Wunderlist and they simply don't compete. Quip is also free.
Get the best of iMore in in your inbox, every day!
Thank you for signing up to iMore. You will receive a verification email shortly.
There was a problem. Please refresh the page and try again.