Attention: Don't trust iPhone alarm clock during Daylight Savings Time changeover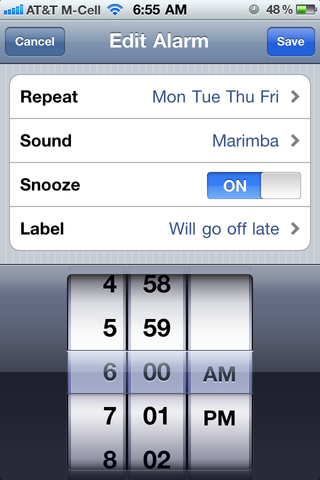 The switch from Daylight Saving Time to Standard Time happens tonight at 2 am. But as we learned from Australian and and European iPhone users, the iPhone's alarm clock will not recognize this change. In fact, your alarm is likely to go off an hour late.
This is a very strange bug. Australian users were reporting that their alarms were going off early after the time change, and European iPhones were going of late. Even stranger is that we received reports of people in the US already being affected by the bug - their alarms are going off early.
The key thing to note about this bug is that it does not affect one-time alarms. So if you have a recurring alarm that wakes you up for work each morning, change the repeat interval to "never". It's very frustrating to need to set the alarm every day, but it's the only option until Apple releases a software fix.
The good news is, it is fixed in iOS 4.2 which might be coming as early as next week. The bad news is that's a week too late to help with this bug. I don't know about you, but I'm really disappointed in Apple for not releasing a quick fix for this bug. They knew about it, so they should've fixed it before the time change.
Get more iMore in your inbox!
Our news, reviews, opinions, and easy to follow guides can turn any iPhone owner into an Apple aficionado
Former app and photography editor at iMore, Leanna has since moved on to other endeavors. Mother, wife, mathamagician, even though she no longer writes for iMore you can still follow her on Twitter @llofte.
Thanks for the reminder, just switched all of mine to Never. What a PITA, thanks Apple :(

Is this only a iOS 4.1 issue or does it affect 3.1 and earlier as well?

Well, my recurring alarms have been going off an hour early for the past week, so if they start going off an hour later than they currently are, they'll be on time again... Seriously, seriously disappointed in Apple about this one.

The time changes tonight so it shouldn't hurt many people on a Sunday. What if I make a new recurring alarm tomorrow after the change?

I hope apple has more to worry about than an alarm problem.

So I don't have an alarm set for Sunday. I do have a recurring for Mon-Fri. I need to delete the M-F and set one for each day for the same time?

The official spelling is Daylight Saving Time, not Daylight SavingS Time. Just saying !!

All recurring alarms (even ones created after the time change) seem to be affected.
Don't set one for Mondays, one for Tuesdays, etc. Those are still recurring. Tue only alarm you can trust is one set for "never". You'll have to set a new alarm each day.
Annoying.
@jimi what, other than making sure their products work correctly, should Apple have to worry about?

Sorry Justin. I got it right in the article but messed up the title. Fixing.

I thought my phone broke and that I turned crazy when my daily alarm at 5:30pm kept going off at 4:30pm instead. Thank goodness my other alarms set for school were fine. Hopefully it all gets fixed soon.

Alarm going off an hour too late? You're setting it wrong.

i honestly have to set a new alarm every night?
thats pathetic.

I am actually very disappointed in Apple this should have been fixed a month ago. My iPhone has let me down

4.2 will be out tomorrow. :)

Does it affect calendar alerts to or just alarms

Will this affect iPhone users in Arizona???

Can't you just set your alarm an hour early so when it is an hour late it's actually on time?

Sooo... When will Apple finally develop a patching mechanism that doesn't require the entire OS to be reloaded? This is not exactly rocket science here!
If they had such a mechanism (which most OS's have), they could roll out patches much more easily to bugs like these.

I've been luck enough for none of my alarms to be affected yet :)

Set an alarm daily? Why not just move your recurring alarm up or back an hour as needed until the fix? Of course, I'm in Arizona, where our CALENDAR seems to be off about a hundred years.

I'm disappointed, too. In people. Trivial people. There are so many...I mean seriously? This is THAT big a deal??? A life. Get one.

Was wondering why my alarms kept going off at times they were not set for.

Why not just set alarm(s) before you sleep? It's not that hard. It takes 10 seconds! If you can't even do that, you're absolutely LAZY!

What's up with people complaining? Why don't you try to create flawless software and hardware. If you want disappointing, use a PC with Windows. Apple users gets spoiled and when something doesn't work properly, you act like it's the end of the world.

@Ron I'm not disappointed that the bug ever existed. I'm disappointed that Apple has known about it for nearly a month and hasn't fixed it.

To those that asked can you not just set your recuring alarms an hour early or late depending on which way it affects your time zone, yes you can, that's what I've done sinse our daylight saving changed in Europe last week. On Monday my 6am alarm went off at 7am so I canged it to 5am and it now goes off at the correct time of 6am Mon-Fri

So far so good, all test alarms and events went off as scheduled. 2:05am EST

Thank you Steves71.
Such a simple solution for all the hopla generated.
The end.

Here in the states, my recurring alarm when off an hour early a week ago, when I believe this bug was happening in some other country. A confusing way to wake up, not being sure what's up -- groggily checking times on other clocks, unclear as to why the alarm says it's going off on time, but is chirping away an hour earlier. By the time I figured things out, it was too late to get back to sleep :(

If I remember corectly Apple has made quick patches before and pushed them OTA and a few at manual dowload fixes maybe they think that their users would be able to hadel it for a few days for the 4.2 update to come. who knows maybe they have one person coding for update and he needs finish it by an internal date and can not if he works to send out an patch then can not meet his died lie. second why do not you update to 4.2 GM if you are that lazy.

I live in the uk and it did catch me out and made me an hour late!! However it works perfect if you put your alarm to go off everyday god knows why but it does :) hope that's some help.

I live on the East coast of the U.S. as well and my alarms have not been affected.

My alarm worked like always and it is set to repeat.

Can anyone tell me if alarm clock pro or night stand are affected by the bug?

@Ron. We're not lazy. Just forgetful. If the iPhone has an option to set recurring alarms, it should work. Period.

Doesn't affect me. 4.2 GM on my phone. Suckers.

It's funny cause for the last two weeks my alarm has been going off at 5:00 in the morning instead of six like it's supposed to but today it actualy woke me up on time... I live in Tucson just for reference

It hasn't affected me but i have had iOS 4.2 on my iphone and ipad since 4.2 beta 1.
To everybody that has an ipad you'll be happy with iOS 4.2.
Find us on the iphone app store. link below:http://itunes.apple.com/us/artist/tnt-itech/id385493713

If Apple knew about this, they should send all of their Arizona customers, that clock in for work this morning, a check for the hour they missed and should tack on $100 for the goodwill they lost with their managers. My phone says it is 6:23 but it's 7:23. We don't have daylight savings in Arizona. Is there going to be a patch for this? #BushLeague

No problems with my alarm clock this morning. 715 and the baby's feeding alarm at 745

If you live in Arizona here is the fix. Settings> General> Date and Time> Turn "Set Automatically" off> change "Time Zone" from Cuppertino to wherever you live and click the closest location below> click the "Date & Time" button at the top of the screen to go back> then turn "Set Automatically" back on. For some reason the whiz kids at Apple set your location to Cuppertino. Not sure why this matters though, I've traveled to different time zones with my iPhone 4 and it changes the time to adjust automatically.

My alarms are working fine. iPhone 4, 4.1, Houston, TX

I woke up at 2:30 AM (PST-correct time, 11/7/10) and the phone set itself correctly back to Pacific Standard Time from DST. The (non-recurring) alarm also went on at the correct PST time too.
Strange though, at 11:00 AM PST the iPhone set itself at 12:00 noon back to DST setting. I discovered it while leaving church at 10:30 AM for lunch with friends. When I got to my destination, it was already 12:11 noon in my iPhone's clock. That place is only 30-45 mins (max).

I heard that if make a new recurring alarm after DST takes affect it work fine just old recurring alrams are affected.

It's not just apple, but a lot if companies will wait for the next version update to fix a bug. This is really a pain. Bug fixes used to be common. I do not believe the alarm problem to be minor. A simple fix could have been released.

My alarm went off at the time it was set for BUT my phone fell back 2 hours instead of 1! So that was weird and confusing for a while this morning!

I'm on iOS 4.0.1 and I haven't been affected. My test alarms went off at the right time.

Had the phone bug but seems to have fixed itself after the DST change today. I'm on EST in Florida.

It got me..one hour late now. Mon - Fri repeating alarm CST. Hope my boss buys the iPhone bug excuse lol

yup, went off an hour late for me, its a good thing i have a pretty good internal clock.

I'm on the east coast. Alarm went off an hour late. Mercifully, my internal clock and then the sun rising awoke me.
As for those apologizing for Apple's flaw here, they can't have it both ways. Mr. Jobs argues repeatedly about how his products are superior. Therefore, Apple should expect the ire of it's customers when they fall beneath expectations - especially those with real world consequences for many people. They knew about this. They should have acted in a more timely way to correct the problem.

I'm an hour late and missed my workout today. I'm in Arizona, which doesn't observe DST. I'm hoping the fix works for us and isn't operational just for the folks in the normal time zones. We normally are a "stand alone" when it comes to those pull down box choices (eastern, central, Arizona, mountain, etc.).

Yup my alarm just went off an hour late @ 8am instead of 7am I'm glad my girlfriend wakes up at the same time that I do.

Same here. An hour late in Chicago.

I use the 'Best Alarm' app and it woke me up on time. Not sure how the default alarms are working. I only use those for events and reminders.

My alarm went off an hour late..... My question is if i delete my current recurring alarm and redo it will the ios recognize it and make it work? or is it that the alarm is working off its own time and no matter what i do it wont recognize my change (unless i set my alarm time for an hour earlier, DUMB!)?

@DavidB
I think that will work. I just deleted my recurring alarm, and set up a brand new one (for a minute from the time I set it up) and it went off on time.

To all of those that call us that use the alarms and need the fix petty and lazy, I have 17 alarms. Yes, I am forgetful. I wouldn't have used the feature if I had known it wasn't that reliable. But I care for my disabled mother as well as my five year old, and those alarms help with medications, when therapists are coming, and who needs what when. If the alarm isn't that big of a deal to you, then yay for u.

OMG, i totally got late to school because of this bug, it's not fare, apple should at least warn us !!

Dear friends,
as per last night, I think this bug (Apple BUG ID# 8427270), is NO MORE a BUG any more...
What I mean is, either Apple send through iTunes - while iphone was on the dock - a silent update to iOS 4.1, or I fixed it by mistake, just bypassing an alarm...
What I mean is that I tried to make a repeat alarm firstly in the alarms list (eg. 07:00 Weekdays - I named it "work" but didn't make it valid (OFF))
Then (secondly) I made a repeat alarm (eg. 07:30 Weekdays, but do not name it!!! and make it valid (ON))
Try to do it and Test it, before you apply !!!
Mine is working, perfectly !
Cheers,
VAD

Has anyone tried setting the clock manually - does this make a difference?

I used to be suggested this blog by way of my cousin. I am no longer sure whether or not this publish is written by means of him as no one else realize such particular about my difficulty. You're incredible! Thanks!